Heineken dominates in London, John Smiths is top choice in Yorkshire and Tennent's rules supreme in Scotland.
New research published in YouGov's Beer and Cider report reveals what makes each region unique in terms of their beer choices. It shows which brands are significantly more likely to be chosen in certain regions than across the nation overall.
The study, based on YouGov Profiles data, indicates that in London those who drink beer are more likely to go for Heineken compared to the national average. The rest of the South East moves away from a lager to real ale, with London Pride the most likely choice – perhaps no surprise as Fuller's has its roots in the area.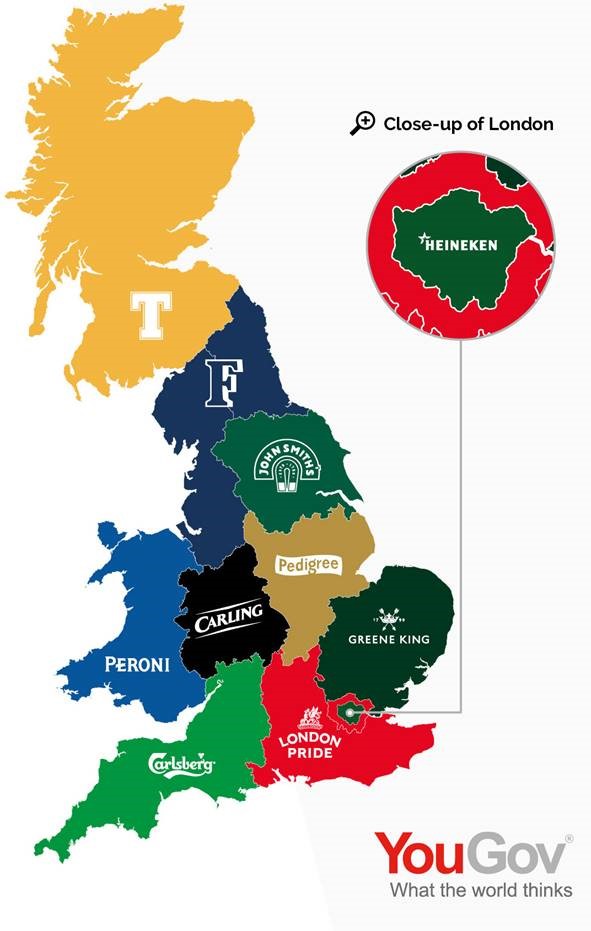 North of the border in Scotland, Tennent's is the undisputed king. Elsewhere, John Smiths remains a hearty choice for those in Yorkshire, while Carling continues to have a good brand strength in its West-Midlands base. Finally, those in the East of England are more likely than the average to plum for a Greene King, while Australian lager brand Fosters refreshes punters in the North East (NB YouGov does not track Newcastle Brown Ale). 
Nowadays, Britain's drinkers have more choice than ever when they go to their local. However, our research is telling for brewers and ad planners alike. There appears to be a strong amount of loyalty to those with roots in the area, with London Pride and Tennent's particularly strong with those live where the beer is produced.
Image Getty