Almost four in five business financial decision makers surveyed believe there is a gender pay-gap in UK companies – but only one in five say it exists in their own company, new research from YouGov Omnibus reveals. 
YouGov Omnibus surveyed 504 financial decision makers across a variety of business sectors. The results show that 78% think there is a gender pay gap in favour of men across companies in the UK, with just 13% believing there is none (7% don't know).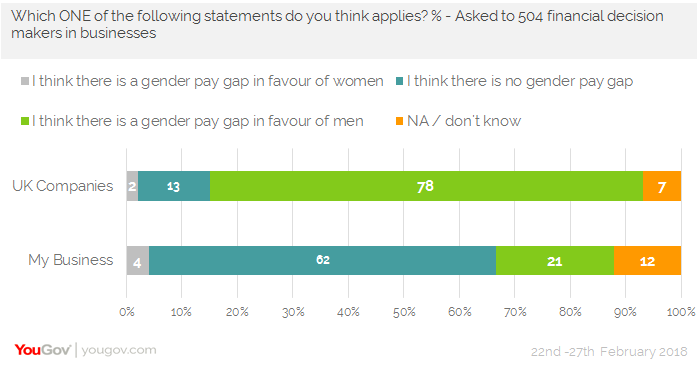 However, when it comes to their own organisation, only 21% think there is a gender pay gap in favour of men. Over six in ten (62%) do not believe there is a disparity in pay at their own business.
YouGov's research shows there is one place where this is different. Among business financial decision makers in London, the split is much more even, with 42% saying there is a gender pay gap in their organisation and 44% saying there isn't one.
By now, all organisation in the UK with 250 or more employees should have reported on the gender pay gap in their business. However, going into this month although 63% of respondents were aware of this, 37% were not.
As the deadline passes for firms to reveal the gap between male and female pay, our research indicates that there are many senior figures within companies that may well be in for a nasty surprise when their business posts its figures, due to the contradiction that our data reveals.
Image Getty
You may also like: Half of the UK public believe that the gender pay gap will never close