At one time, the NME was an essential part of popular musical culture, with a host of iconic stars gracing its cover over the years. However, it has announced that after 66 years it is to cease its print operation and instead focus all of its efforts on its digital offering.
In September 2015 NME had attempted to arrest its decline by altering its strategy. The magazine went free, with a greater emphasis on film, celebrity and entertainment to complement its music offering. However, it has stated that with a tough print advertising market, as well as production costs, this strategy was no longer viable. 
Using YouGov Profiles data we are able to examine the behaviour of music obsessives and whether this can help explain NME's struggles. 
YouGov data indicates that 9% of adults in Great Britain describe themselves as music obsessives, against 46% that say they are music lovers and 37% that say they like it but it is not a big part of their life. Only 6% say they have a slight interest, and 2% say they don't care about music at all.
Looking specifically at music obsessives, 44% say they have ever read a music magazine but just 11% say that they have read the NME in the last three months (against 2% of the public), despite it being free. This hints at the lack of loyalty and excitement the brand created towards the end of its print run among what would arguably be its core audience.
Those who are obsessed by music are more inclined to say social media is their main source of news (18% vs 11% of the public), while online newspaper websites is the main source for 11% (vs. 9%). They are also less likely to have read a printed newspaper in the last month (41% vs. 47%).
While the NME may have been criticised for the lack of journalist rigour towards the end of its print run, it appears as though music obsessives were already going elsewhere for the in-depth content they want. They are more likely than the general population to listen to podcasts in their spare time or on their commute to and from work (8% in the last week, against 5% of the public).
Music obsessives are also naturally much more likely to read blogs about music, with 23% doing this, compared to 6% of the public.
One major trend from the last couple of years with regards to the consumption of music is the re-emergence of vinyl. As you'd expect, music obsessives are much more likely to have listened to music on a vinyl record player in the past six months (25% vs 9% of the public). However, this does hint that they can be attached to something that can be regarded as out-of-step with the modern, digital world.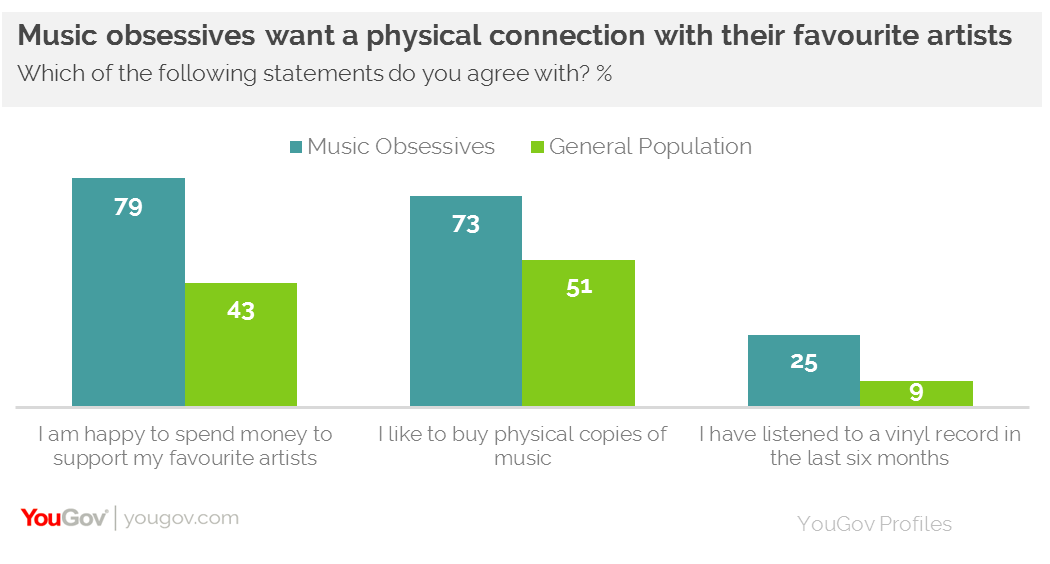 The desire to have a more immersive music experience is also evidenced by the fact that 73% of obsessives like to buy physical copies of music (vs. 51%). Added to this, almost eight in ten (79%) of this group is happy to spend money to support their favourite artists (vs. 43%). There is evidence that the group wants to support the industry, and have items they can look at and touch, adding an element of exclusivity to the content.
In all likelihood, existing music publications will face a similar battle to survive as they are faced with dwindling sales and a range of alternative sources of information, criticism and comment about artists.
Image NME