The 'Me Too' movement has gained the most traction
Today marks International Women's Day (IWD), commemorating the movement for women's rights, highlighting achievements across the political and social spectrum and calling for gender equality.
In 2017, the issue of women's rights dominated the news agenda and moved the spotlight firmly to the treatment of females across and within industries.
New YouGov research explores how far campaigns on women's rights – and other issues affecting women – have had an impact on the public.
Over half of Brits (56%, including 57% of women and 55% of men) are aware of at least one movement or campaign surrounding women's issues and rights. The 'Me Too' campaign against sexual assault and harassment, which was sparked by the Harvey Weinstein revelations, has gained the most attention by far, with a plurality of Brits (45%, including identical proportions of men and women) having heard of it.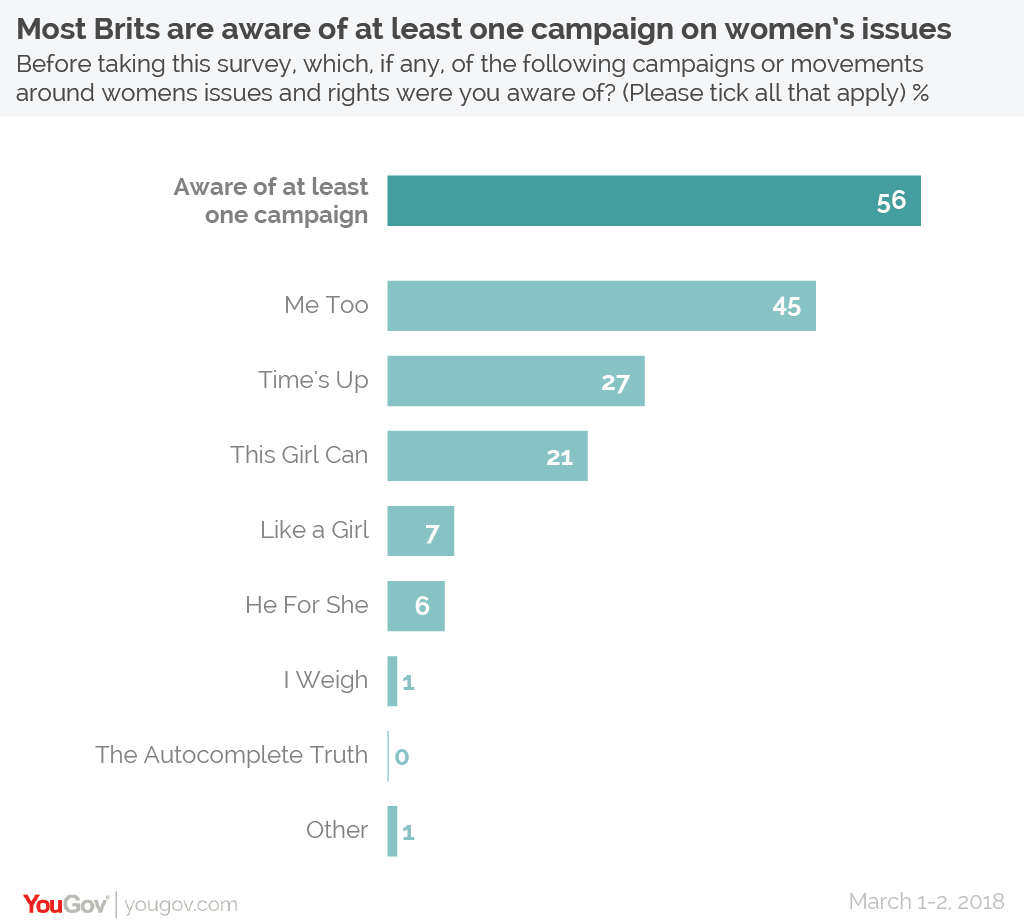 Other relatively well-known campaigns are the Time's Up campaign, which also confronts sexual harassment, assault or abuse in the workplace (which 27% of Brits have heard of) and This Girl Can, a campaign to get more women physically active (that has 21% awareness).
This Girl Can was the campaign with the largest recognition gap between men and women. While a quarter (27%) of women are aware of the campaign, this falls to 15% of men. Likewise, the younger Brits are the more likely they are to have heard of any of the campaigns; 76% of 18-24 year olds have heard of at least one campaign, compared to 48% of 65+ year olds.
Only two groups are less aware of any women's campaigns than 65+ year olds: Brits in the C2DE social grades (of whom only 47% have heard of at least one campaign) and Leave voters (46%).
The impact of such campaigns on behaviour is seen as being positive, but limited
A quarter of Brits (27%) believe that women's campaigns and movements have had a positive impact on their own personal behaviour and opinions, including 30% of women and 23% of men. Only 8% say it has had a negative impact (including 12% of men and 4% of women). However, the majority of Brits (53%) believe they have made no difference.
A similar story plays out among other social groups – 19% believe there has been a positive impact on their family's behaviour and opinions, and 21% feel the same about their close friends, but around half (55% and 49% respectively) don't believe the movements have made any impact on either group.
The survey also reveals how many Brits are getting involved in the movement, and in what ways. One in seven people (15%, including 19% of women) say that they have used their voice to have an impact on the issue in the last year (e.g. by signing a petition). A similar proportion (14%) have shared or forwarded an article about the movements and issues involved in the last year, 12% have shared their opinions about the issues online and 8% have interacted with a community focused on the issue.
Photo: Getty