UK consumer confidence continues to improve, data from YouGov and the Centre for Economics and Business Research shows.
The latest analysis finds that the YouGov/Cebr Consumer Confidence Index stands at 109.3 this month – up from 108.7 in September. Any score over 100 means more consumers are confident than unconfident and this month's score is the highest measured since March. 
Consumer confidence continues on its upward trend. While more people than not expect to be worse off in a year's time, that gap has narrowed. Further to this, employees are seeing more business activity. The news is offset somewhat by house owners believing that the value of their properties has decreased.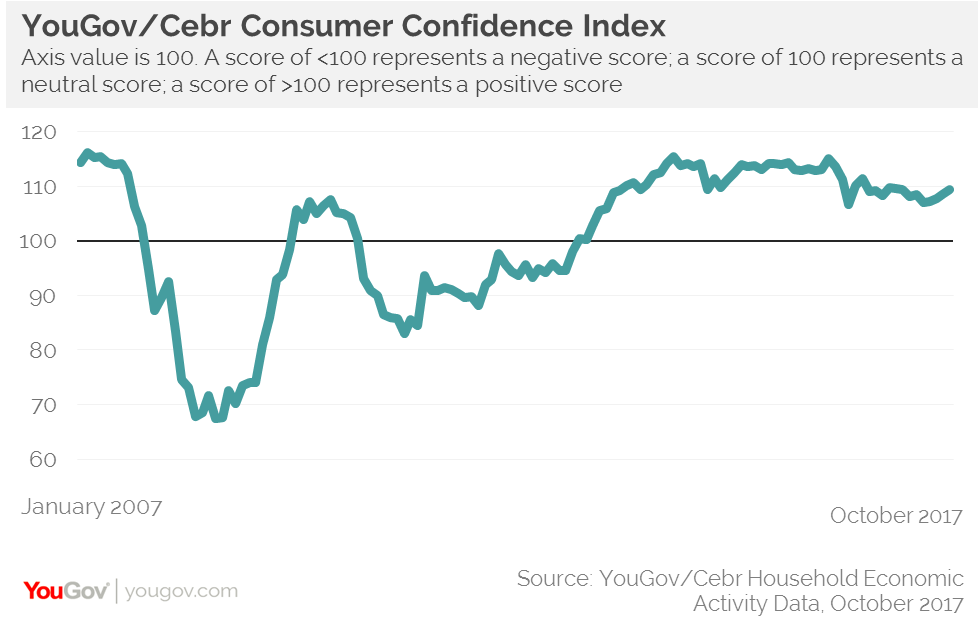 YouGov collects consumer confidence data every day, conducting over 6,000 interviews a month. Respondents are asked about household finances, property prices, job security and business activity, both over the past 30 days and looking ahead to the next 12 months.
Although more people than not believe that their current financial situation has deteriorated over the past month, this gap has closed over most recent period (90.5 to 91.7). This is also reflected in the forward-looking household finances metric, which has moved from 92.3 to 94.0 (the highest this score has been since September 2016). Both have contributed to the rise in Consumer Confidence. It should be noted that both measures are still below their pre-EU Referendum levels.
Meanwhile, although the backward-looking job security score dipped, forward-looking job security rose to its highest level since May 2017. Both business activity scores also rose in October.
One word of caution is that the data also shows that both house value metrics have fallen in October. The forward-looking house value score dropped to 133.3, ending the run of three previous months of rises.
Overall, October marks the highest consumer confidence score since March, which bodes well for households and the economy more generally. The downtick in the house value measures is a concern, however, given that one's perception of own home value has direct implications on their future willingness to spend.
Download the data here
Image Getty