Our latest analysis with Centre for Economics and Business Research finds that UK consumer confidence has improved to its highest level in six months
The latest data shows that the YouGov/Cebr Consumer Confidence Index stands at 108.6– up from 107.8 in August. Any score over 100 means more consumers are confident than unconfident. Since the election, consumer confidence has been relatively subdued but over the past month it has risen greatly and now stands at its highest level since March. But despite the notable improvement, it is still below where it was ahead of the EU referendum.
To download the topline results, click here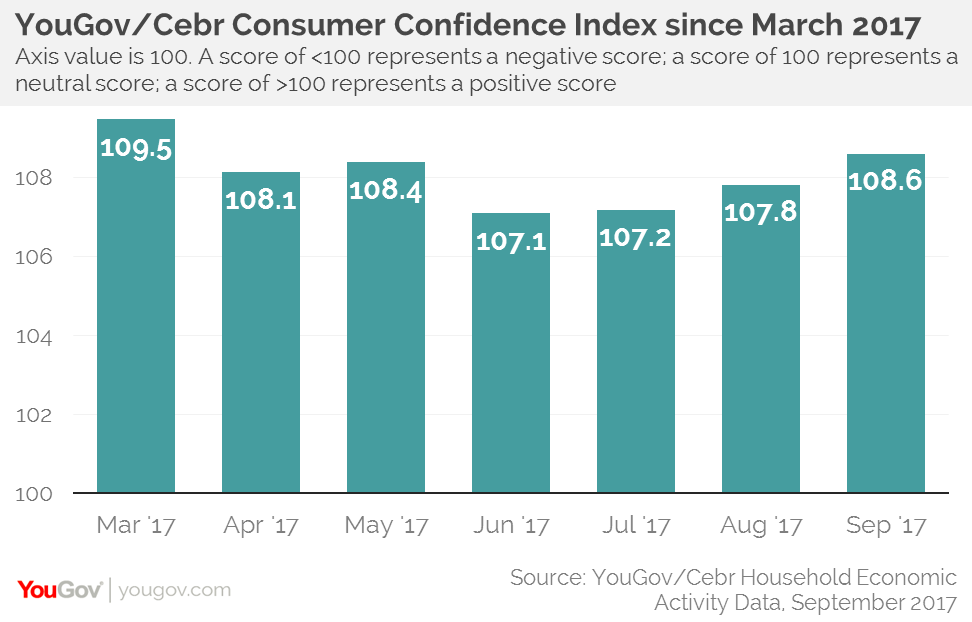 YouGov collects consumer confidence data every day, conducting over 6,000 interviews a month. Respondents are asked about household finances, property prices, job security and business activity, both over the past 30 days and looking ahead to the next 12 months.
Four measures declined in September, while four improved. The data also shows that both household finance metrics have fallen, with the measure looking back over the past 30 days declining for the sixth month in a row, something that has not previously happened since YouGov began collecting data on this in 2009. Meanwhile, both the backward and forward-looking job security scores have also fallen.
While household budgets continue to feel the squeeze from inflation, other measures have rebounded somewhat. The backward and forward -looking house price metrics saw the biggest increase over the past month, though it should be noted that both measures are still below the level they were at before the general election. Both business activity scores also rose in September.
Despite various sources of uncertainty both politically and economically, consumer confidence in the UK is proving to be remarkably resilient.
To download the topline results, click here
More information about YouGov reports
Image from Getty