With the Premier league season upon us, a new YouGov study assesses how brands can best appeal to football fans. 
The 'Marketing to Premier League Football Fans' report uses YouGov Profiles data to explore the attitudes and behaviours of those who follow top flight teams. It shows that as a group, supporters of the top 20 clubs consider themselves to be patriotic, have firmer views on aspects of society, and can be more culturally nostalgic than the rest of the population.  
The study indicates that supporters look to back Britain where they can. Over eight in ten (81%) say they're proud to be British (vs. 77% of the public), while a similar number (78%) make a concerted effort to support domestic businesses (compared to 75%), while just over seven in ten (71%) say they prefer to buy British brands (vs. 68%).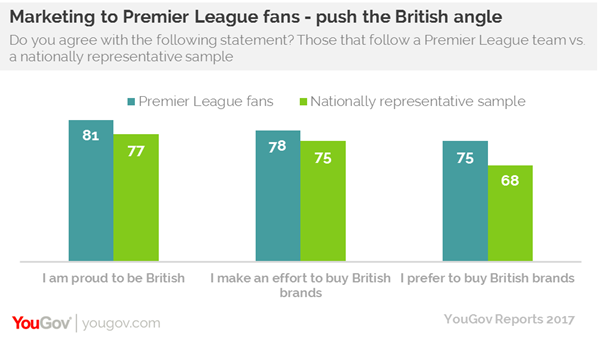 YouGov's data suggests that many of them look back when it comes to culture. For example, looking at fans' TV viewing habits we can see they a more likely than the average to watch programmes from days gone by, such as Dad's Army, Only Fools and Horses, Fawlty Towers and Blackadder.
They are more likely than the public at large to have a robust outlook on society. The data shows 85% of top slight fans believe people get far too easily offended these days (vs. 81%), while 53% agree with the statement 'an eye for an eye, and a tooth for a tooth' (vs. 44%).
And if brands are looking for an impactful medium in which to spread their message, billboards are a solid option. The report shows that 35% trust the advertising that they see on posters or billboards, and 45% agree that they help them become aware of new products and services.
Of course, as with any other large group, there are plenty of normal divergences, based on all manner of behaviours and characteristics, but our data does point towards the starting points campaigns can be built on. 
Image: Getty