YouGov Profiles reveals the unique sense of humour traits that set potential and current Pizza Express customers apart from the public in general
In a bid to boost falling sales, venerable pizza chain Pizza Express recently launched a new programme called 'Pizza Express Live', featuring stand-up comedy nights.
It remains to be seen how successful the move will be, but YouGov data suggests that the strategy has potential: both current Pizza Express customers and those who would consider purchasing from the chain are much more likely to enjoy live stand-up comedy than the general public as a whole (54% and 41% vs 27%, respectively).
In a bid to help Pizza Express figure out which acts they should be booking, we used data from YouGov Profiles to identify which stand-up comedians both the chain's current customers and those considering eating there are more likely to want to see than the population as a whole.
Eddie Izzard and Ricky Gervais might be Pizza Express' best bookings
According to Profiles data, two stand-up comedians appear in the top five rankings among both current customers and considerers: Ricky Gervais and Eddie Izzard. The two comics rank first and second respectively among considerers, while Izzard ranks third and Gervais fifth among current customers. Among current customers, the top spots went to Sarah Millican and Jo Brand.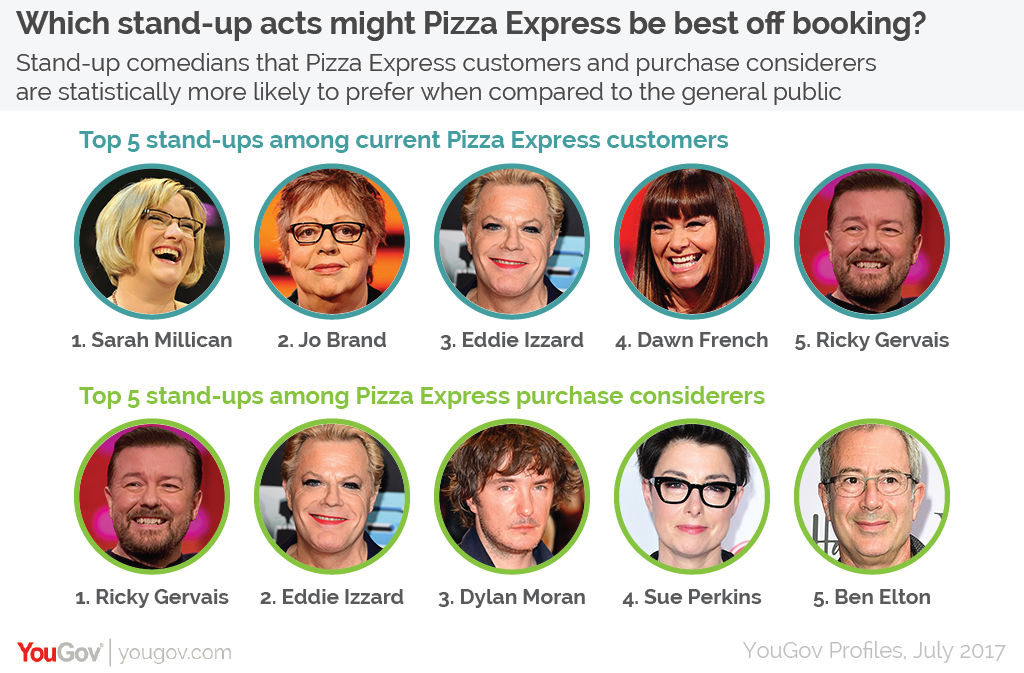 Observational comedy will play best in Pizza Express restaurants
People who either already eat or might eat at Pizza Express are both more likely to appreciate "observations on news and current affairs" when it comes to their preferred type of comedy than the nation as a whole.
Current customers are also significantly more likely than the general public to appreciate "cringey and embarrassing situations", whilst considerers are more likely to enjoy "wordplay", "improvisation", "impressions" and "controversial or taboo subjects" (although admittedly the latter may not be the best fit for a family restaurant).
Photo: PA