New research from YouGov's Brands Ageing Badly report explores what can happen when a brand stagnates and doesn't offer a new generation of consumers what they want.
One brand our study touched on that was once seen as an untouchable high-street force is Gap. However, while the company still has a strong presence around the world, it is now no longer the regular choice shoppers it once was.
This is not solely due to changing tastes or retail conditions. Our brand tracking data underlines how Gap's customers have grown older with the brand. However, they have not been replaced with more youthful consumers as those in younger age groups view the brand differently to the previous generation.
Gap's Index score (which indicates overall brand health) among UK consumers demonstrates this. Looking at those over 25, its Index score has remained relatively stable over the past five years, dropping only slightly (from +10 to +8). Yet, among those aged 18-24 the decline has been steeper. In July 2012 its Index score was +11, before dropping to a low of +4 in July 2015. While it has improved slightly in the time since, reflecting efforts Gap has made to address the decline, it has not recovered to its former level yet.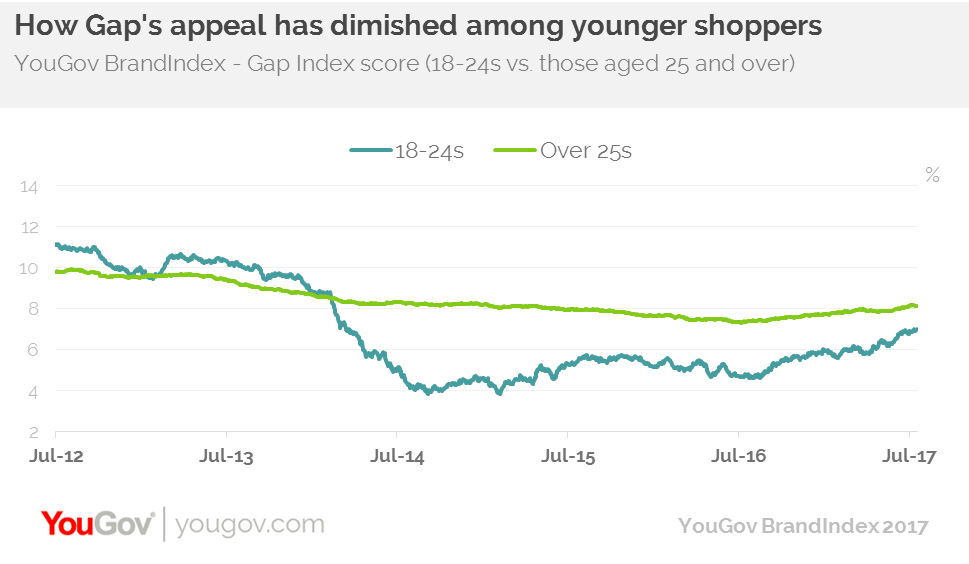 In recent times several rivals to Gap have emerged and many younger customers see these brands are a more attractive proposition. Looking specifically at 18-24 year-olds' view of brands in the high-street fashion sector, Gap loses out in terms of Impression score to the likes of Zara and H&M. Similarly, both also outstrip it in terms of Value for Money. Furthermore, Gap has also faced pressure from 'basics' competitor Uniqlo, as well as the obvious online threat from Asos.
This is important because YouGov Profiles data reveals that among all of those that would consider shopping at Gap, 78% say they will happily switch shops for greater speed and convenience. Additionally, while approaching three quarters (76%) have favourite brands, they would choose a different one if it was on offer.
With bricks and mortar stores under threat, the need for Gap to reassert its relevance with younger shoppers is becoming even starker.
Image PA
This article orginally appeared in City A.M.