Last week, United Airlines ticked every box in the 'how not to react to a PR crisis' handbook, turning an already damaging incident into a disastrous one. 
The video of a passenger being forcibly dragged from one of the company's plane was shared widely on social media, made headlines around the world and elicited widespread condemnation from communications professionals. United's corporate response only compounded the situation, as its CEO apologised for having to 're-accommodate the customers.'
YouGov brand tracking data points to the detrimental effect on consumer perception the event has had, particularly among American respondents.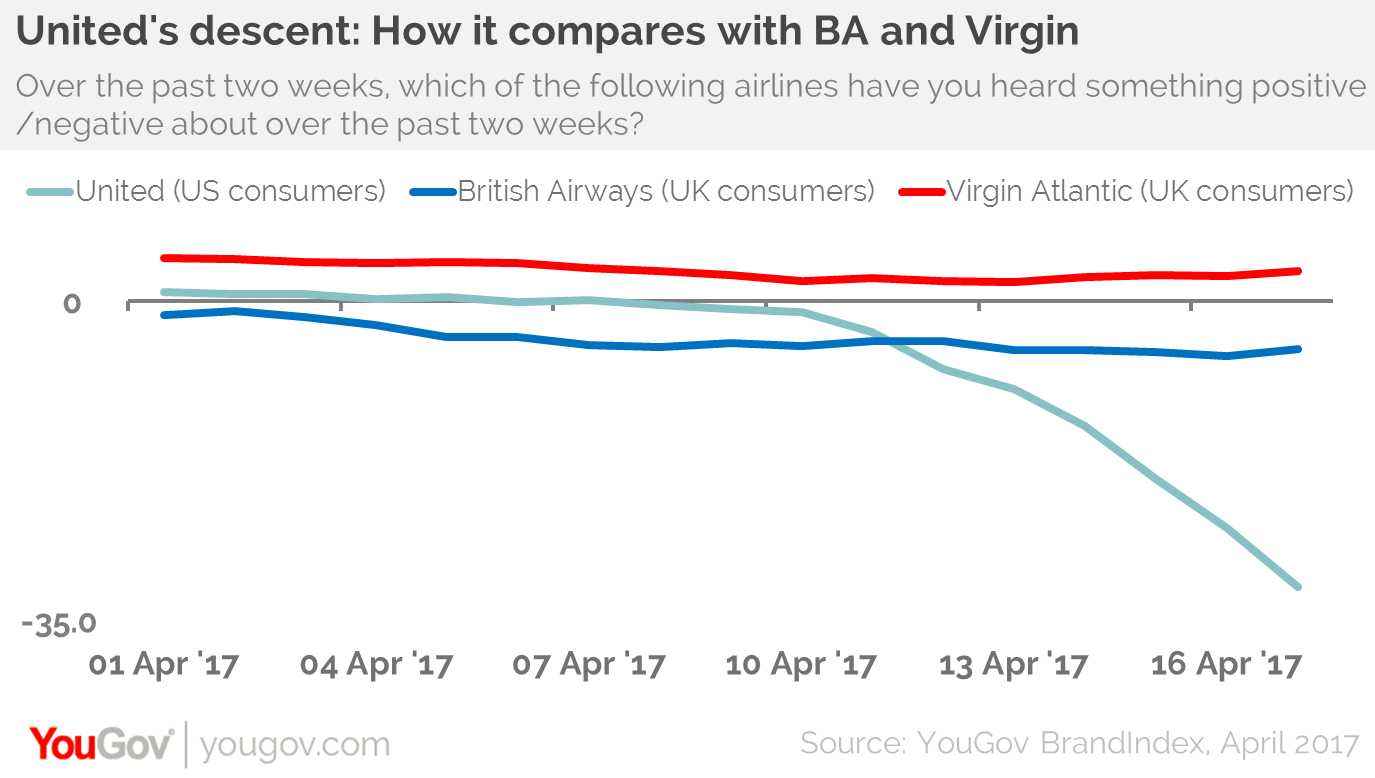 In the past week, BrandIndex data from the US shows that United's Buzz score (whether someone has heard anything positive or negative about a brand) has decreased from -1 to -34 since the video emerged, dropping it to its lowest level on  record.
It's one thing to be in the news for negative reasons, but as we have often seen it's quite another thing for the story to really damage underlying brand perception. In this case, United has the worst of both worlds. Its Impression score (whether someone has positive impression of the brand) has also collapsed, falling from +18 to -8 since the video emerged.
Similarly, its recommend score (whether someone would recommend the brand to a friend or family member or tell them to avoid it) has also collapsed from 14 on the day the video emerged to -6 now. Furthermore, its consideration score, which looks at whether someone would use the carrier next time they are thinking of booking a flight, has fallen to its lowest recorded level.
However, the data indicates that the crisis is very much within United and has not affected UK-based transatlantic carriers. Virgin's and British Airways' Buzz scores have remained stable in the past ten days and their Recommend scores have actually risen slightly.
United has had poor consumer perception before and has rallied. With a softening of its CEO's public stance, it may do so again this time as well. However its tone deaf response to this crisis has made its fall greater and recovery harder.
Image PA