Brands are putting too much emphasis on advertising to millennials on social media and not enough on appealing to baby boomers, new data from YouGov shows.
The Social Media report finds that almost seven in ten (69%) baby boomers are active on Facebook and one in five (21%) use Twitter.
However, although more than half (55%) of older consumers say they have received branded emails and a third (33%) say they have had online newsletters, just 16% of older consumers have received communications from brands through social media.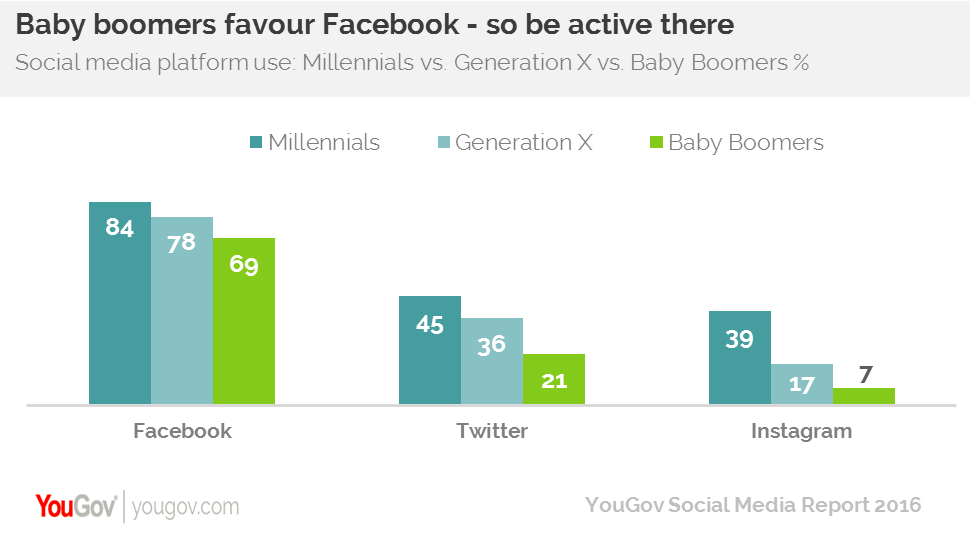 Tellingly, despite accounting for 76% of the UK's financial wealth, only 3% of baby boomers have been led by brand communication to purchase through such platforms. This suggests brands are missing a trick by not making more of social media to reach baby boomers.
However, the report finds there are some hurdles that brands need to overcome. Baby boomers spend the least online compared to either Millennials or Generation Xers and approaching two thirds (65%) of older Facebook users do not notice internet ads (compared to 51% of millennials).
While younger people may have been the early adopters of social media, its widespread use by baby boomers has made it a mass market and mainstream advertising channel. Naturally, there are challenges to be overcome such as older social media users being the group least likely to notice adverts online.
However, with baby boomers holding so much spending power, it would be worth the effort. Brands are missing a trick by not tailoring social media content to baby boomers to develop them as online consumers.
Image iStock