Yesterday, Kingfisher, owner of DIY stores B&Q and Screwfix reported growth in sales for the third quarter, which it attributed to strong performance in the UK, Ireland and Poland.
Screwfix in particular, has performed well over the last 12 months. Indeed, the brand showed a 12.7% rise in sales in the UK and Ireland.
In recent times the company grown to 400 stores nationwide and has plans for even greater expansion in the coming years. Chief Executive Veronique Laury has implemented a strategy based upon improving operational efficiency whilst embracing digital trends.
Screwfix is a retailer of trade tools, hardware products and other construction accessories. And while it is foremostly aimed at those working as electricians, plumbers or builders, our data indicates that perception has improved among the public as a whole as well. 
Indeed, among all respondents, Screwfix's Impression score (whether people have a favourable impression of this brand) has risen by 3 points since this time last year.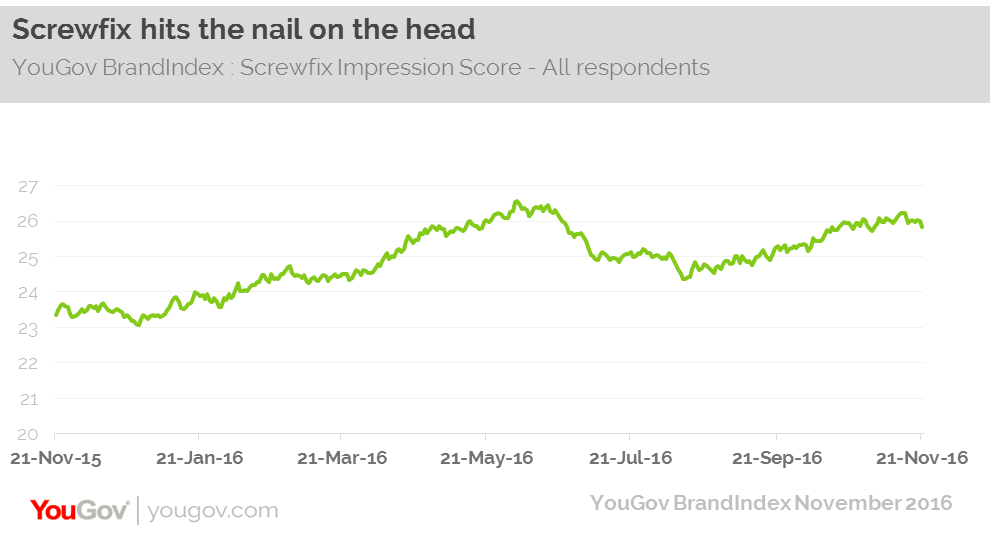 It has built a strong proposition among current customers. Looking specifically at this group, over eight in ten (85%) say they are satisfied with the retailer, while over seven in ten (71%) say they would recommend Screwfix to a friend or colleague.
The brand also has a long standing sponsorship of England football games on ITV. From this season, is also has a partnership with the English Football League.
YouGov Profiles data indicates that this association is a sensible strategy for Screwfix. Our data shows that almost four in ten (39%) of those working in the construction sector regularly watch football live, compared to one in five (22%) of the general public.
So not only does the advertising resonate with Screwfix's current customers, but it also helps to target its potential future clients.
Naturally, the DIY and construction industry is still competitive, and adapting to new technologies as they emerge will be key for the future of brands like Screwfix, especially as it competes against emerging competition.
Image PA
This article originally appeared in City A.M.