More than six in ten renters aged 18-34 say they would move out of London and the surrounding area in order to buy a property to live in
The appeal of living and working in London is coming into conflict with young people's desire to be a part of the UK's property owning democracy, a new YouGov survey reveals today. With the average London house price rising above £600,000 for the first time earlier this year, 61% of 18-34 year olds say that they would move out of the immediate London area in order to buy their own home.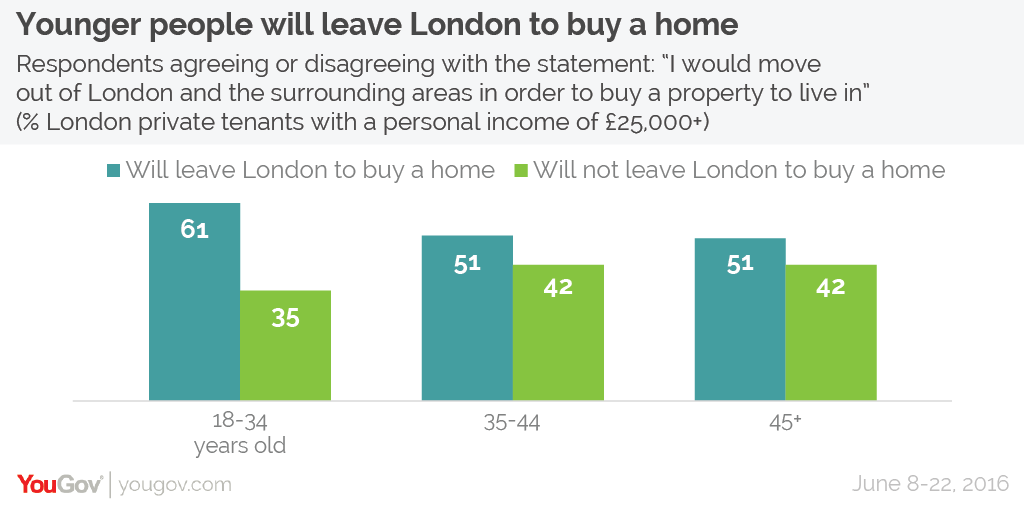 The renters surveyed – all of whom had a personal income of £25,000 or more – are highly pessimistic about their ability to afford to buy a home in the capital. More than eight in ten (86%) say they don't believe they will be able to buy a property without help from someone else.
Nearly a third of young renters (32%) say they are not proactively saving money to buy a home. This could potentially point to large numbers of young people who either can't afford to put money aside despite their income, or else despair that whatever they can save will not come close to covering the costs of buying in London.
Renters also want to see that landlords are prevented from significantly jacking up the cost of their rent. With the average rent in Greater London rising by 7.7% to £1,543 a month in the 12 months to April 2016, 84% of young renters say they want the government to impose rent controls on all privately rented properties – as they do in Berlin and New York.
Despite the pessimism about their home-buying prospects, renters are at least broadly getting on with their landlords. More than half (57%) of young renters say they like their landlord a lot or a little, compared to the 15% who say that they dislike them a lot or a little. A further quarter say they neither like nor dislike their landlord.
Photo: PA