Compared to early Cameron, Theresa May is seen as less endowed with charisma and leadership skills - but she does better with Labour voters
Theresa May has been Prime Minister for one week, facing Jeremy Corbyn for the first time at the despatch box yesterday. So how does Theresa May compare with her immediate predecessor, David Cameron, after his first week on the job?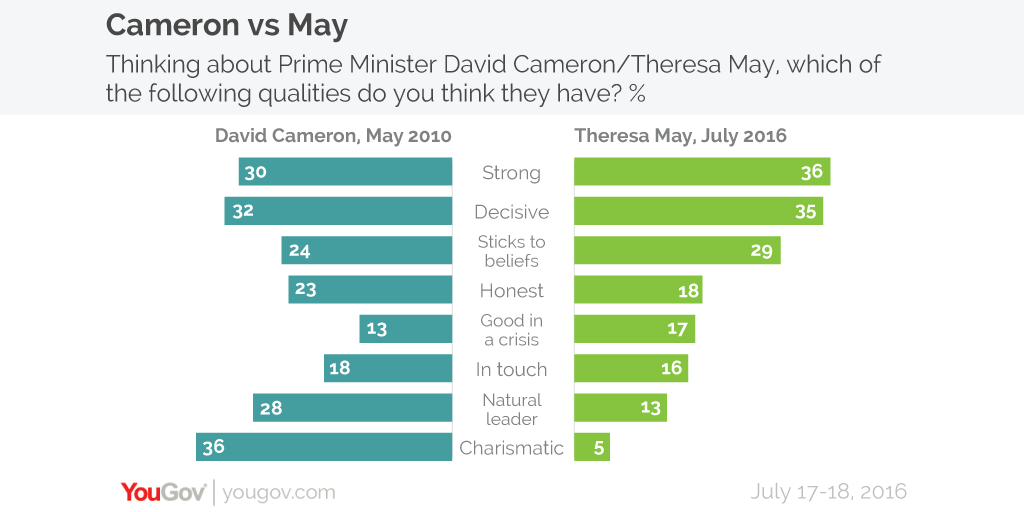 A new poll repeats the questions asked about David Cameron when he was at a similar point in his premiership, and the similarities are striking. May and Cameron were both judged favourably in the areas of being "decisive" and "strong", scoring 35% vs 32% respectively for the former and 36% vs 30% respectively for the latter. May is seen as more likely to stick to what she believes in and better in a crisis than Cameron, but less honest and less in touch with the concerns of ordinary people.
"I know I'm not a showy politician"
The most striking difference between David Cameron and Theresa May is that voters consider May to be far less charismatic than Cameron, and less of a natural leader. Just 5% of all voters consider May to be charismatic, and 13% a natural leader. For Cameron those figures were 36% and 28% respectively.
Even among Conservative voters, who as a group are a lot more charitable toward May than the average voter, just 8% consider May to be charismatic, and 24% a natural leader. Back in 2010, Cameron scored 55% on both of these measures among Tories. In fact, May comes behind Cameron in every single measure among Conservative voters, except for "sticks to what she believes in" where they tied.
Theresa May will doubtless be pleased to find that she significantly outperforms David Cameron among Labour voters, often improving on his scores by double figures. Whereas 9% of Labour voters said Cameron as a strong figure in 2010, 31% see May as strong in 2015. Likewise, May beats Cameron 28% to 8% on decisiveness and 26% to 7% for sticking to what she believes in.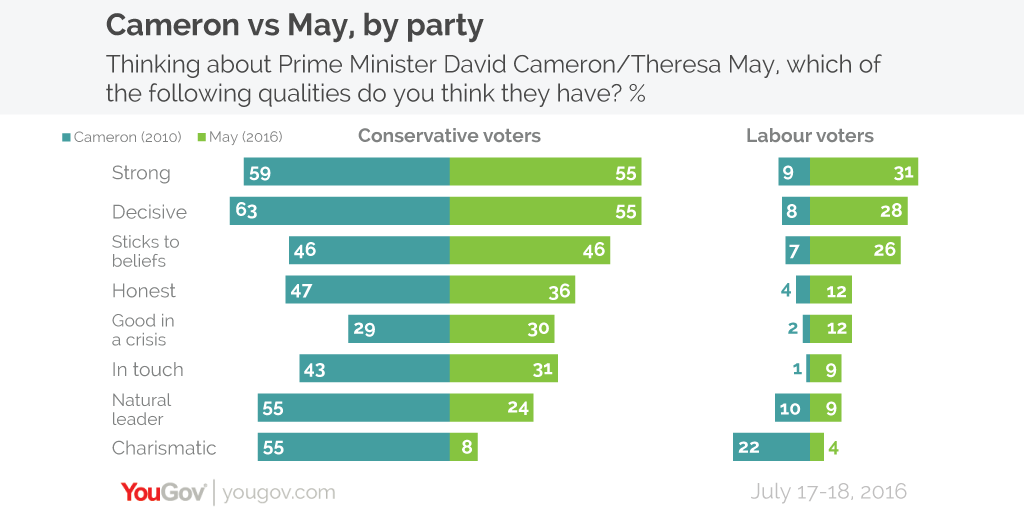 Besides from actual differences in personality, the results could also be down to differing levels of scrutiny and experience afforded to the two politicians. In 2010 Cameron had only just entered government, whereas May has just finished a stint as one of the longest serving Home Secretaries in recent history. Likewise, in 2010 Cameron had been the figurehead of his party for four and a half years, whilst May has only been front and centre for a week now. It's also worth pointing out that David Cameron would have been standing in contrast to ­– and just defeated – Gordon Brown, whereas Theresa May is facing Jeremy Corbyn and Labour disarray.
Image: PA