Under Jeremy Corbyn's leadership Labour has seen public trust in the party's ability to make decisions on Trident drop to just 13%.
Only 13% of voters trust the Labour party most to make decisions on Trident, Britain's nuclear defense system, nearly a third lower than a year ago and a full twenty percentage points behind Theresa May's Conservatives. In April last year, the party under Ed Miliband had already been trailing behind the Conservatives with the support of just 20% of voters compared to 32% for the Tories.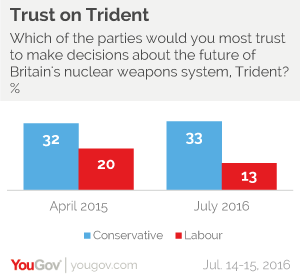 Labour does not even have the support of its own voters on the decision – just 36% of Labour voters most trusted their party on the issue, compared to 71% of Conservative voters for their own party.
The research was carried out before the Commons vote which saw MPs vote to renew Trident by 472 votes to 117. After concerted opposition to his disarmament stance from the PLP and trade unions, Jeremy Corbyn was forced to allow a free vote on the issue, with 140 Labour MPs voting for renewal and just 47 against.
The Commons debate during which the vote took place saw new Prime Minister Theresa May declare that she would be prepared to launch a nuclear strike that would kill 100,000 innocent men, women and children, arguing that the whole point of a nuclear deterrent was that Britain's enemies must know that she is prepared to use it.
Voters choose replacement over disarmament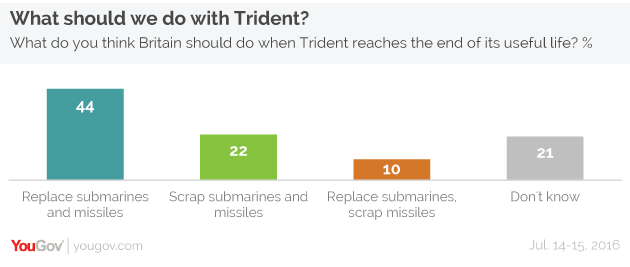 More voters back renewing Britain's nuclear deterrent than wish to scrap it. A Trident replacement is backed by 44% of voters, whereas 22% of voters want to see the scrapping of both Trident missiles and the submarines used to launch them. A further 10% of voters back Jeremy Corbyn's preferred choice of replacing the submarines but no longer arming them with nuclear missiles, and 21% are not sure.
Image: PA