For most Remain voters the economic future of Britain, and their own household, is bleak. Leave voters do not feel they will be so badly hit.
As the political implications of Brexit become more complex the short term economic effect has been clear. For global markets, at least, the decision to vote to leave the European Union has come as a major shock.
The latest research from YouGov shows that for the British public, expectations of how the economy and their own household finances will fare depend heavily on whether or not someone voted to Remain or Leave. Remain voters are overwhelmingly convinced (82%) that the British economy will get worse over the next year, and 56% say that they expect their personal financial situation to deteriorate too.
Most Leave voters (62%) expect their personal situation to remain the same, but Leave voters are roughly evenly split on their expectations for the British economy. 27% of Leave voters expect the economy to get worse, while 32% expect it to get better. 34% think that in 12 months time the financial situation of Britain will be about the same as it is now.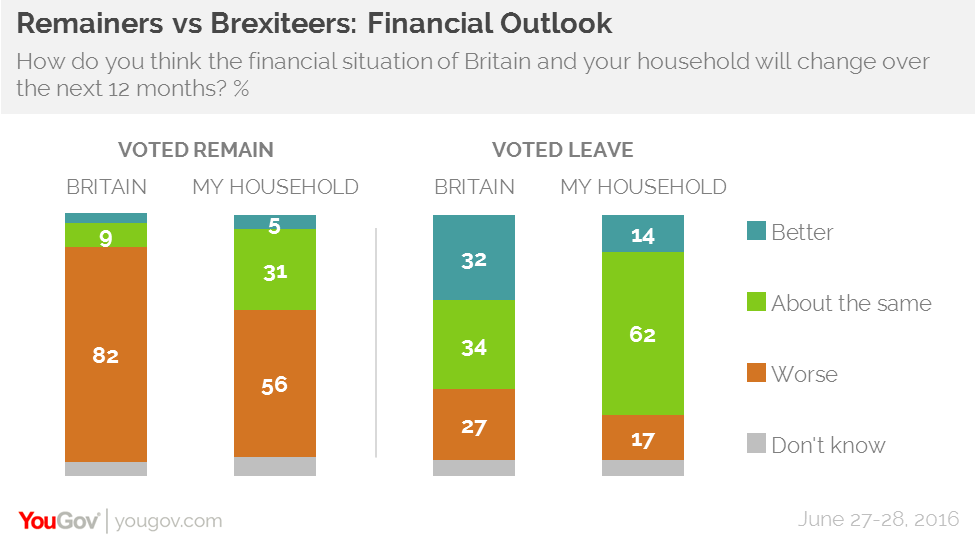 These expectations for the next 12 months reflect a broader divide on the future of the country. While 79% of Leave voters say that they are optimistic for Britain's future, 80% of Remain voters say that they are pessimistic. 
Full poll results available here.
Image: Press Association