Just over one in four British adults think young people get a better start in life by going to university first, with conservative and older voters more likely to favour going straight into work.
As part of ongoing research for the YouGov Centre at Cambridge, the following question was posed to a nationally representative sample of British adults in December:
Thinking about education in Britain, which of the following statements comes closest to your view?
<1> Young people get a better start in life by going to university
<2> Young people are better off going straight into work than to university
<3> Neither
<4> Don't know
According to results, little over a quarter of adult voters now see university as the better start for young people (28%), compared with 38% recommending the workplace instead. Roughly a third chose either "Don't know" (11%) or "Neither" (23%).
---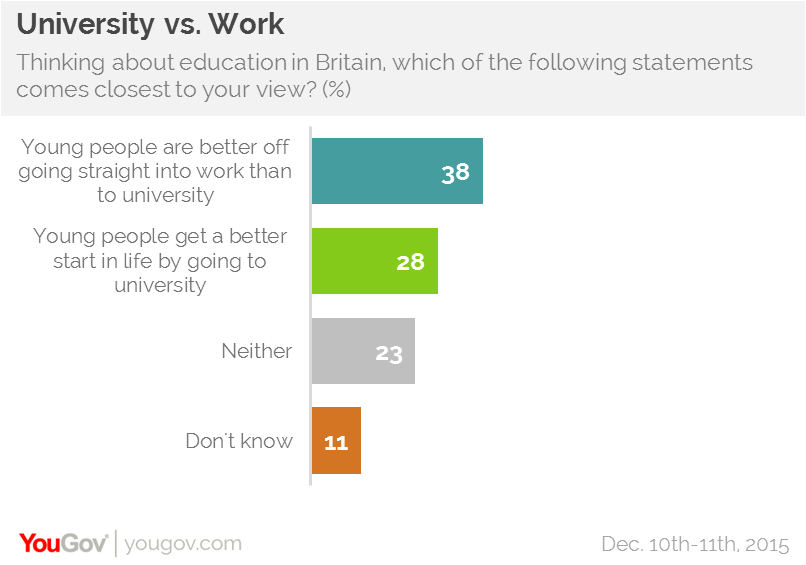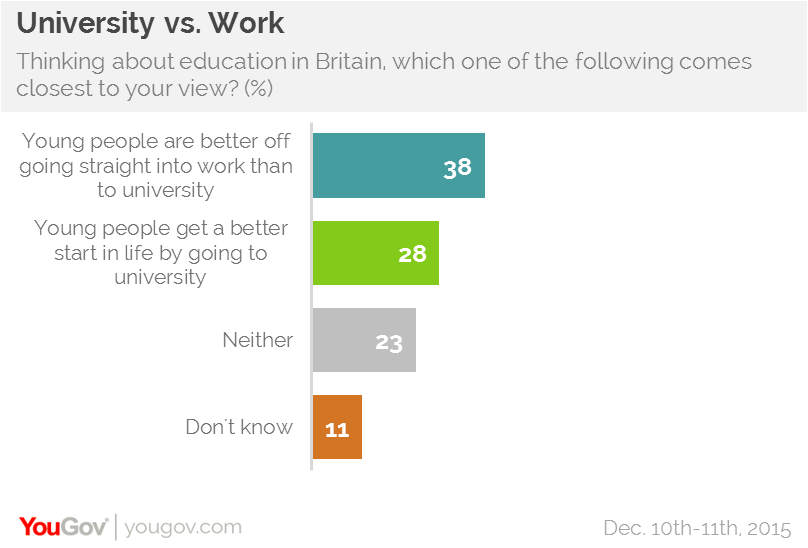 ---
Perhaps unsurprisingly, younger respondents were more likely than their elders to see the merits of student life. Among those aged 18-24, 35% favoured university for young people while 29% advised the job route. By contrast, only 27% of those aged 60+ saw university as a better start, with 41% recommending "straight to work".
Politically speaking, respondents were more likely to favour work over university if they supported either of the two major conservative parties at the last election: 54% among UKIP voters and 44% among Conservatives, compared with 32% among Labour and 24% among Lib Dems.
Answers were also naturally influenced by education level: among those with no formal qualifications, 46% chose "work" compared with 26% for "university".
However, even among degree-holders, little more than a third (36%) favoured the university route for young people, compared with (31%) advising the workplace instead.
---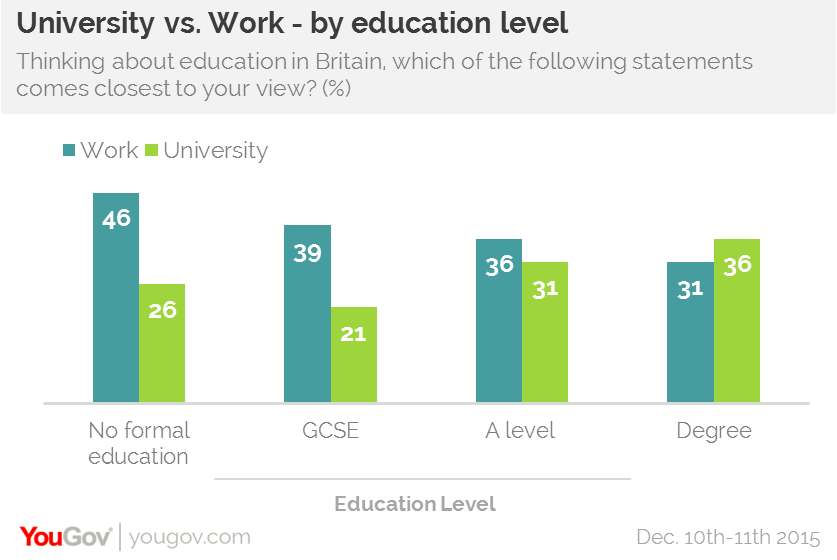 ---
As Head of Education Policy at the think-tank Civitas, Anastasia de Waal commented on the results: "The bottom line is that the toxic combination of a significant hike in tuition fees alongside escalating graduate unemployment has rocked the public's confidence in university".
Only recently, the UK Government announced plans to boost apprenticeship numbers in the UK and to make non-varsity careers a 'new norm' for school-leavers.
For large numbers of the British public, it seems, they already are.
---
Methodology: Fieldwork was conducted online between 10-11 December, 2015, with a total sample of 2039 British adults. The data have been weighted and results are representative of all British adults aged 18 or over.