In 2013 fully 74% of British people said MPs' decision not to take military action in Syria was the right thing to do – but the percentage is now only 42%
In 2013, as Britain prepared to go to war with President Assad's forces in Syria – who had been accused of torturing, gassing and barrel bombing their own citizens – public opinion was at the heart of the forced de-escalation of British military involvement. Parliament was reconvened after YouGov research showed only 9% of British people supported sending troops to fight Assad in Syria and public opinion was at the heart of the debate in the Commons as MPs voted to reject British military action.Now, as Britain may once again be preparing to bomb Syria, the first signs of regret over Britain's opposition to involvement in 2013 are apparent in public opinion.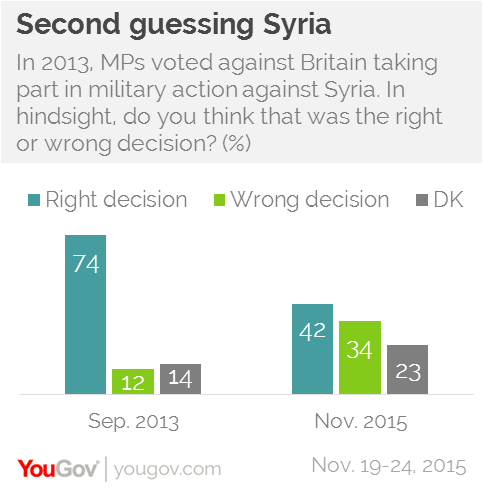 After the Conservatives' motion to bomb Assad in 2013 was defeated, 3 in 4 British people said MPs had made the right decision and only 12% disapproved. Now, however, only 42% say MPs made the correct move and 34% say they did not.
Coupled with continued support throughout 2015 for RAF air strikes on ISIS in Syria, the results reinforce the impression that the public are now committed to British military action in Syria.
There has also been a slight shift in approach to the 'dirty hands' aspect of foreign affairs. While in 2014 41% said British foreign policy should be based at least in part on ethical considerations and 42% said the national interest should take precedence, now 45% say sometimes we should act unethically and 36% say ethics should be the priority.
American president Barack Obama is the most trusted international figure when it comes to handling Syria and ISIS, with most British people (54%) saying that they trust him to make the right decisions.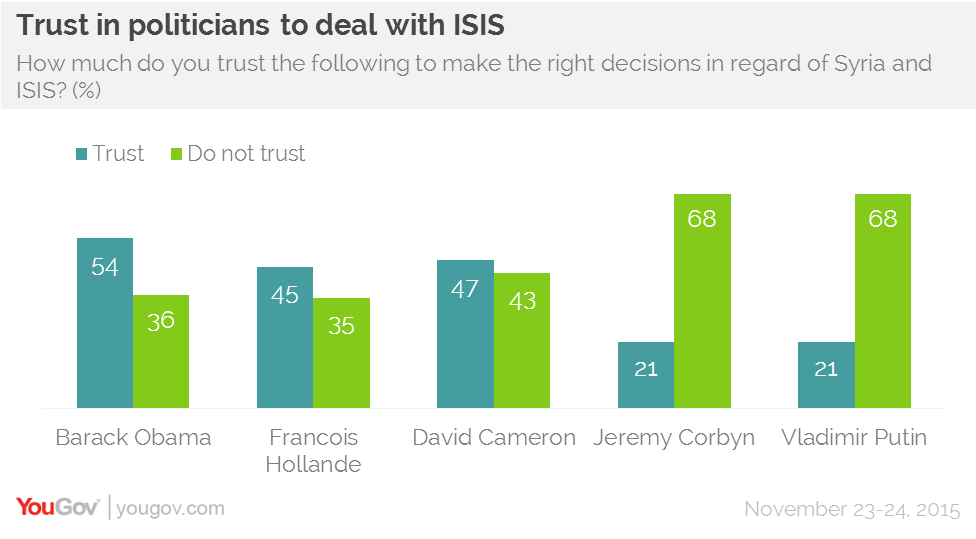 David Cameron is narrowly more trusted (47%) than distrusted (43%) on Syria and ISIS, but Jeremy Corbyn is trusted by only 21% of the public. 68% say that they do not trust Corbyn to make the right decisions about Syria and ISIS, exactly the same percentage who distrust Russian president Vladimir Putin. 
PA image