While over two-thirds of Opinion Formers (68%) feel that all members of NATO should pledge the minimum 2% of GDP toward their nation's defence expenditure, over half (57%) think that the Government will use 'accounting tricks' to show that the UK is meeting this commitment.
American diplomats recently toured European capitals looking for NATO alliance members to adhere to the spending targets set out at last year's NATO conference in Wales. Currently, only four nations meet that goal of spending 2% of their GDP on defence; the United States, the United Kingdom, Greece and Estonia. YouGov asked its UK Opinion Formers Panel - which draws together leaders from the worlds of business, politics, the media, charities, public sector and academia among others – whether they thought the Alliance's members should commit to these expenditure targets.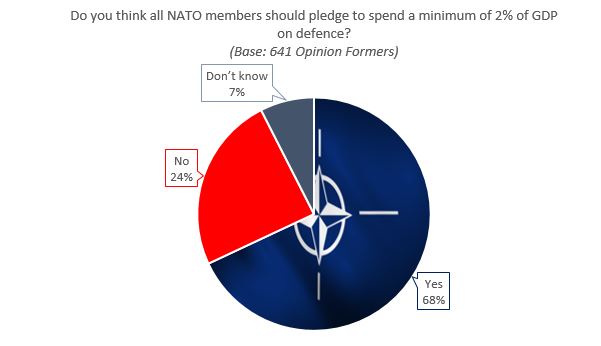 As a point of comparison, the US currently spends 3.3% of its GDP on defence and accounts for around 75% of all military spending within NATO, whereas economic powerhouse Germany expends only 1.2% on defence. Six other nations (Poland, Latvia, Lithuania, Norway, the Netherlands and Romania) have pledged to increase their budgets, although only Poland look on course to meet the 2% target. Another six (Germany, Canada, Italy, Hungary, Bulgaria and the UK) however are expected to spend less on defence per annum. The UK is currently meeting the 2% pledge, however spending in real terms has been reduced from £41.3bn in 2010 to £36.4bn in 2014 to help cut the nation's budget deficit leading to concerns about missing the target.
The recent 2015 Budget however appears to reaffirm Britain's commitment to the pledge, saying that defence spending would rise 0.5% above inflation each year until 2021. However, while three in ten (31%) UK Opinion Formers believe that 'the Government will honour its pledge' and maintain defence spending at the 2% level, almost double (57%) believe that 'the Government will use "accounting tricks" to make it appear that the pledge is being met when in reality spending will fall in real terms'. A further 2% believe the Government will 'renege on its pledge' altogether. Such 'tricks' include how the military budget is calculated. Chancellor George Osborne for example has recently changed the definition of defence spending; war pensions, UN peacekeeping missions, Ministry of Defence income and even some of the security services' budget now fall under the auspices of 'defence' for the first time. Defence think-tank RUSI (Royal United Services Institute) estimates this extended definition of defence spending could add up to 14% extra to the defence budget, masking a deficit of spending in real terms on traditional areas of military expenditure such as equipment and training.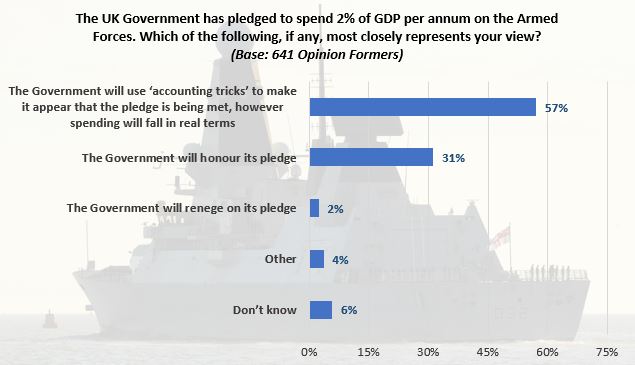 With security concerns and interests globally, the UK currently has the largest defence budget in Western Europe and is the fifth biggest spender globally. Whether the current level of military spending is sufficient to protect Britain's interests in the eyes of the current Government will have to wait until the spending review this autumn.
YouGov completed online interviews with 641 opinion formers from its UK Opinion Formers Panel. Opinion Formers are leaders in their field from business, media, politics, NGOs, academia and beyond. Fieldwork was undertaken between 15th and 25th July 2015. The figures have not been weighted.