We have launched an enhanced version of the free-to-use Profiles Lite app that provides users with even more data about what defines different groups
Profiles Lite allows people to search for a thing, brand or person and find out what its customer base is like, providing an overview of their lifestyles, personalities and the products they like. Since launching last November, Profiles Lite has become a valuable and reliable resource for people in advertising, PR and marketing. In recognition of this, YouGov has enhanced the app to make it more user-friendly for those working in agencies.

The updated version of Profiles Lite has been upgraded in two crucial ways: 
It has more data. From now on, every data point on Profiles Lite allows users to click and see the full background data – both the percentage within the group and the percentage within the whole population, as well as how strong the correlation is between them
In order to see all this extra data and profiles of brands, users will need to register for free. This will help YouGov ensure that the tool serves its users better. 
Profiles Lite provides a sense of the wealth of data available to subscribers of the full YouGov Profiles tool – the segmentation and media planning product for agencies and brands. 
Subscribers to the full Profiles tool have access to all the data in the YouGov Cube, YouGov's connected data vault that holds over 120,000 different data points from over 250,000 UK YouGov panel members. It means that subscribers can define any group they like and find out everything about them, no matter how large or how niche. 
Freddie Sayers, Editor-in-Chief of YouGov, says: 'When we launched Profiles Lite last November we could never have predicted the response it got. With over two million searches in the first week it struck a chord with people. It has been a great resource for brands and agencies since its launch last November and this update has made the data even more accessible, presenting it in a way that makes it even easier to use. 
'You hear a lot about "big data", but too often the stories seem either obscure and geeky or even slightly creepy. What YouGov Profiles does is use the power of big data to reveal ourselves as human beings, and confirm or refute things that previously have only been hunches. What could be more universally interesting than the collective character traits of rival football fans, or fellow followers of your favourite band? Are you typical of that group? Do you belong, or do you stand out?'
New topic pages
In addition to the enhanced Profiles Lite app, improvements have also been made for the opinion summary pages for the tens of thousands of topics included in YouGov's database. 
The changes make it possible to see in new detail how the positivity of opinions expressed about each topic have changed over time, as well as how the volume of opinions expressed has changed. Below is the evolution of opinion about singer Adele: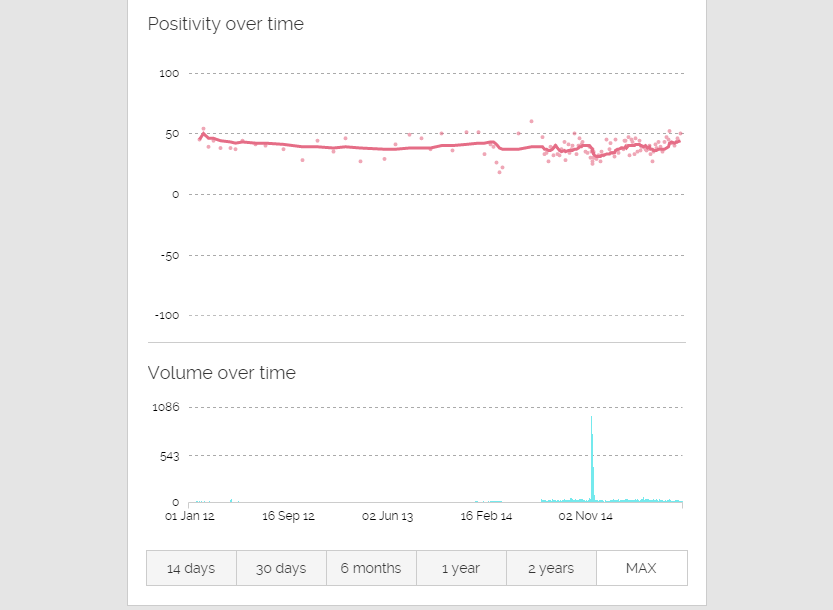 Each pink data point represents the positivity of 100 new opinions. In most cases the changes are subtle – on a macro scale, and in the absence of a major scandal or controversy, the balance of public perception of major people and organisations moves slowly, if at all. 
See Adele's full page here, or use the search bar in the top right hand corner of the screen to explore opinion data on virtually anything under the sun! 
---