Three-quarters of voters approve of the chancellor's changes to stamp duty, but there is no post-Autumn Statement boost for George Osborne himself
The Institute for Fiscal Studies (IFS) has described proposed changes to stamp duty – arguably the most headline-grabbing announcement from Wednesday's Autumn Statement – as "modest", but new YouGov polling for the Sun finds them to be overwhelming popular. At the same time, Osborne's speech seems to have had little impact on perceptions of the chancellor himself.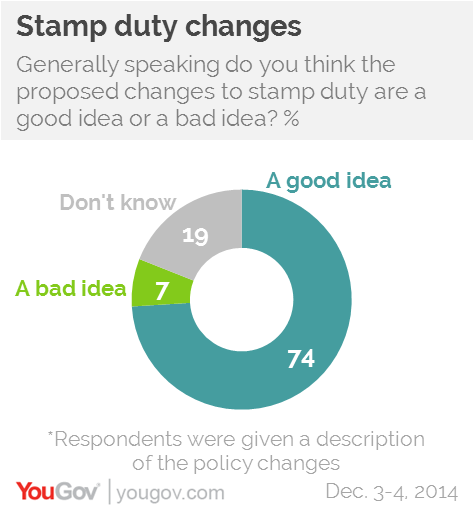 The survey explained that the changes will alter the way stamp duty is calculated so that it is paid on the amount over each threshold, like income tax, not the whole cost of the property as it was in the past. The effect will be to reduce the amount of stamp duty paid on property costing under £937,500, and increase the amount of stamp duty paid on property costing more than £937,500.
Three-quarters (74%) of voters, including at least two-thirds of voters from every major party, think the changes are a good idea. 7% say they are a bad idea, and 19% don't know.
Osborne has said the cut will affect 98% of homebuyers, though the Office for Budget Responsibility (OBR) has said the measures could also inflate house prices in some areas.  Only 23% of voters expect the measures to lead property prices more quickly. However, most people (58%) think it would be a bad thing if prices do rise more quickly as a result of the changes to stamp duty.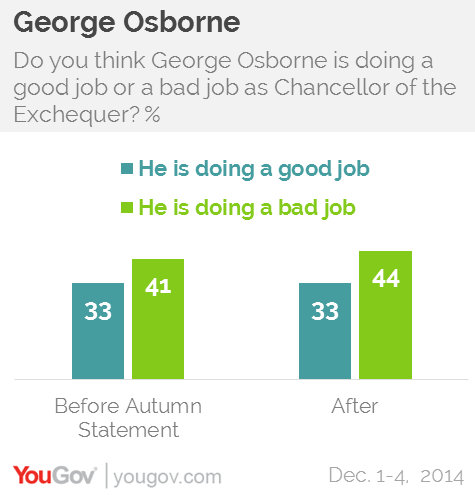 A separate survey, conducted in two waves immediately before and after the Autumn Statement, showed virtually no change in public approval of how the chancellor is doing his job. Before, 33% said George Osborne was doing a "good job" as chancellor and 41% said bad. After, the same number (33%) said he was doing a good job, and slightly more (44%) said bad. Previously, YouGov polling has suggested that economic confidence in Britain has stalled recently, after rising earlier in 2014.
The post-Autumn Statement survey did suggest that the Conservative party had improved their image on housing. Prior to the speech, a Miliband-led Labour government had an 11-point lead over a Cameron-led Conservative government on "helping people get onto the housing ladder". Post-speech, the two parties were virtually tied (25% Conservative to 26% Labour).  
PA image