Based on new research by YouGov America into all 36 Senate races, Republicans are narrowly favoured to win control of the chamber
The latest wave of Senate results from the New York Times / CBS News / YouGov Battleground Tracker finds Republican candidates leading in 6 states currently held by Democrats, enough to give them a 51-seat majority. Republican candidates are also within one point of their opponents in two other states, Colorado and Iowa. However, Democrats remain competitive in enough races to preserve a narrow pathway to keeping their majority.
Probabilities
Using the most recent data from the Battleground Tracker, YouGov's Senate model finds a 51-seat GOP majority to be the most likely Senate outcome. The combined probability of all the outcomes that give Republicans Senate control is 63.3%, just short of a two-in-three chance.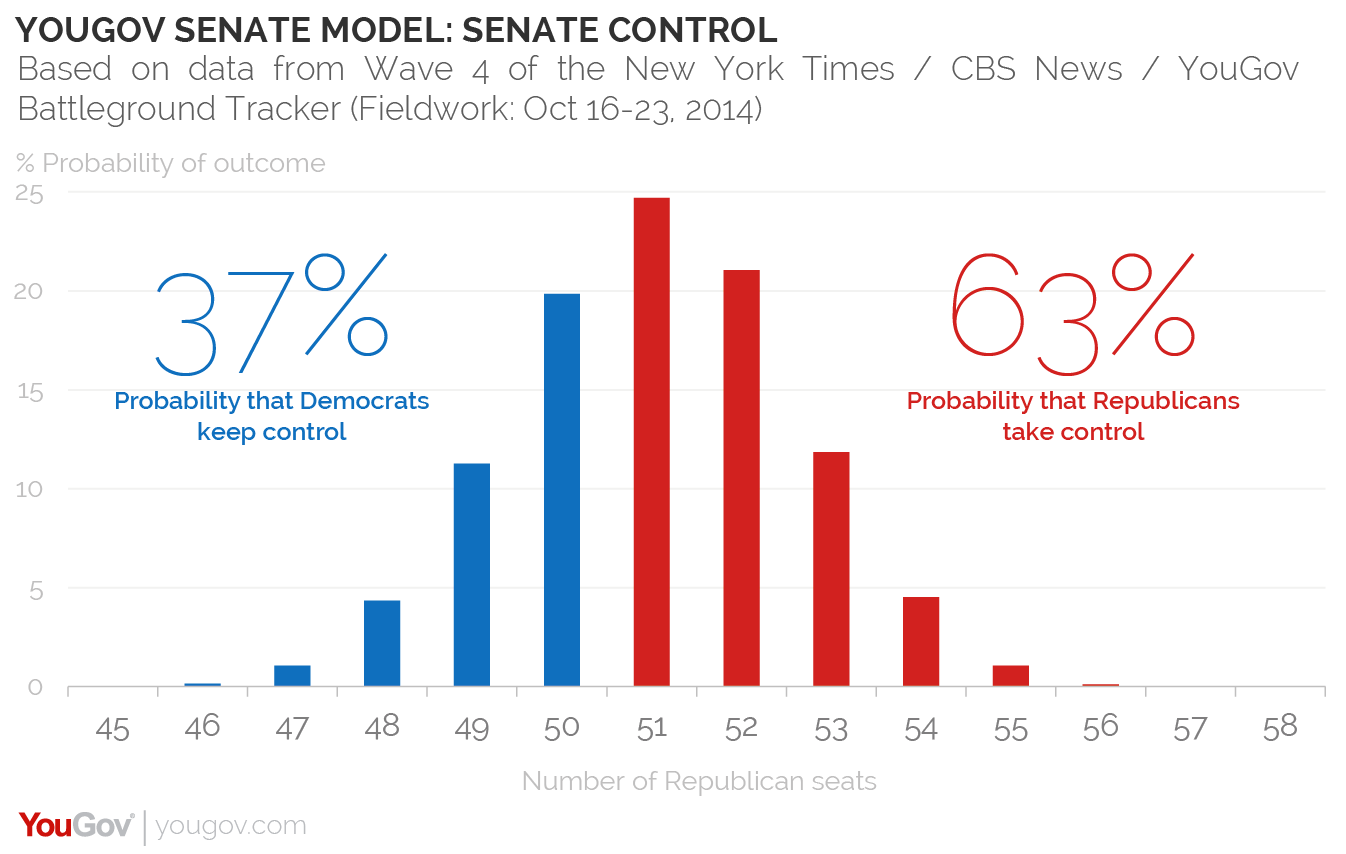 Looking at the probability of Republican victories in each of the 36 races this year gives a sense of why the odds tip towards the GOP. Republicans have very safe leads (with a probability of winning of 99% or greater) in 15 races, including in three races for seats currently held by retiring Democratic Senators (West Virginia, Montana and South Dakota). They need only to win three more seats held by Democrats out of the 10 closest races without losing any GOP-held seats from this group. And in fact, Republicans are favoured to win Democrat-held seats in Arkansas (82% probability of a GOP victory), Louisiana (70%) and Alaska (68%), as well as hold the three "close" GOP-held seats in Kentucky (88%), Kansas (76%) and Georgia (70%).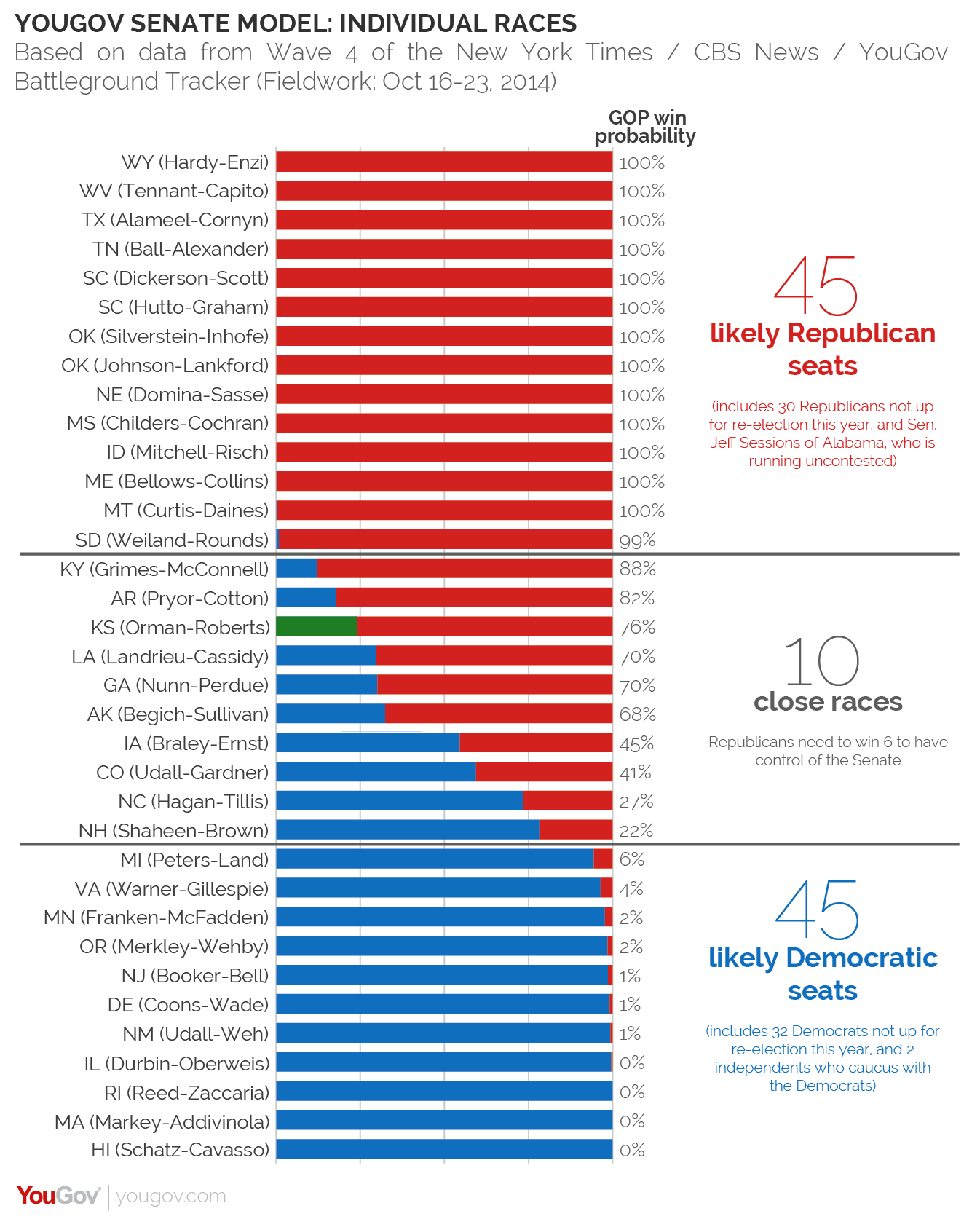 Movement
But Republicans also keep their edge because they have more pathways to victory than Democrats, even when compared to the state of the races in late September.
In Arkansas and Kentucky, Republican candidates have held onto solid leads. Particularly encouraging for the GOP is the shift in Kansas, where the Democratic candidate Chad Taylor dropped out and Greg Orman, an independent, had surged in his place, drawing level with Sen. Pat Roberts in late September. Now, Sen. Roberts leads by three points. The much-hyped potential for another independent candidate, Larry Pressler, to upset Republican former governor Mike Rounds in South Dakota appears unjustified. Rounds leads Pressler by 17 points (he also leads the Democrat, Rick Weiland, by 13 points).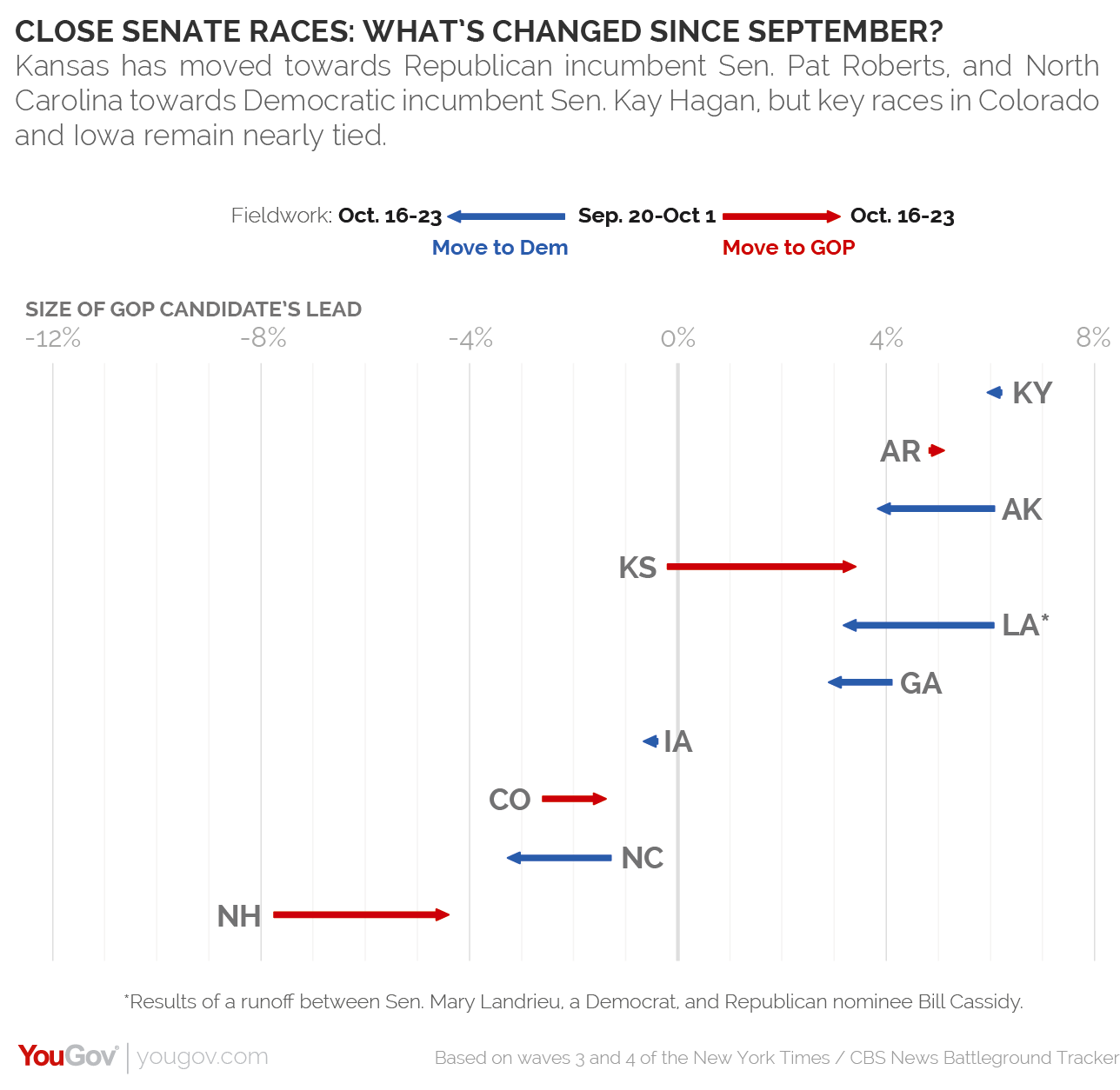 The race in Georgia appears to have tightened somewhat – the Republican candidate there, businessman David Perdue, leads by three, but had led by six points in August and by four in September. The findings might show the beginnings of movement towards the Democratic candidate, Michele Nunn, who has recently been attacking her opponent for his controversial statements about outsourcing. The movement in North Carolina, while it is modest – incumbent Sen. Kay Hagan's lead over state House Speaker Thom Tillis has gone from one to three points – is also good news for Democrats.
Even so, Republican gains elsewhere on the map mean they could possibly lose a state like Georgia and still win a majority. The Senate race in Colorado is now a 1-point race, essentially a toss-up, despite the presence of a Democratic incumbent (Sen. Mark Udall) running in more Democrat-friendly territory. The race in Iowa is in a similar place, virtually tied but very narrowly favouring the Democrat. Republicans can also receive a boost from a tightening race in New Hampshire, where Scott Brown has halved Democratic incumbent-Sen. Jeanne Shaheen's 8-point lead.
The data suggests it is reasonably possible Democrats will hold onto their majority. However, the Republicans who are leading in close races have more comfortable leads than the Democrats in the same situation. The once-tied race in Kansas, which could have promised Democrats a potential firewall if they lost one of the other too-close-to-call states, may be slipping out of reach. South Dakota, where the Democratic Senatorial Campaign Committee recently made a major ad buy, is probably out of reach. Lacking opportunities like these, and trailing elsewhere, Democrats must have a great night on November 4th to come out on top – Republicans only need an average one. 
Click here to see more on YouGov America's research into the midterm elections