Labour and UKIP are neck-and-neck at 27%, while the Conservatives trail at 23%
UPDATE: Click here for the final Euro Election voting intention results
YouGov's latest voting intention poll for the 2014 European Parliament elections, conducted from May 19th-20th for The Sun, finds Labour and UKIP each with 27%. UKIP has gained three points from yesterday's poll, while Labour has lost one. The Conservatives, who took first place in the 2009 Euro election with 28% of the vote, pick up two points from the previous poll but remain in third place with 23%.
The Green Party's two-point lead over the Lib Dems found in yesterday's poll has flipped: the Lib Dems now have a two-point edge with 10%. Support for the Lib Dems did not actually change (they had 10% in the previous poll, too), but the Green Party fell four points to 8%.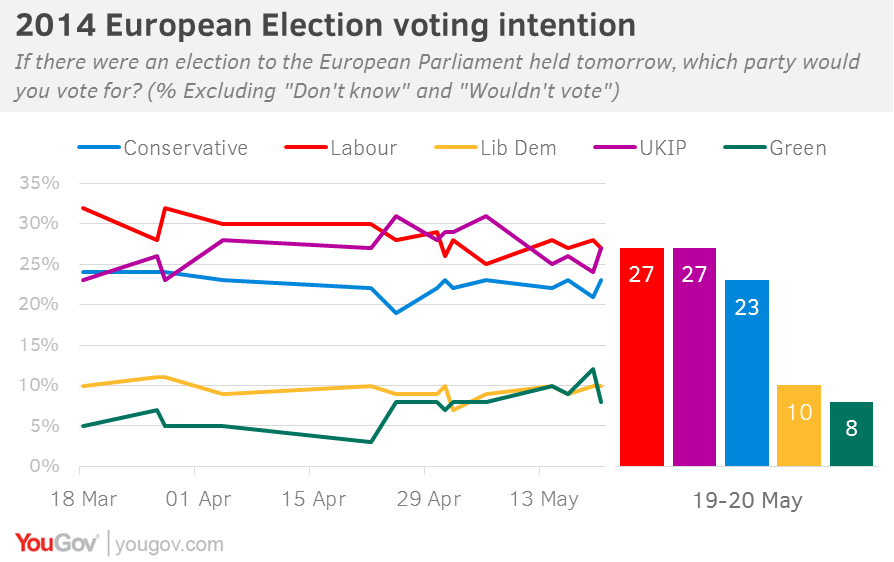 Voting in the UK for the 2014 European Parliament election will take place on Thursday, the 22nd of May.
Find more YouGov data on the Euro elections here
Image: Getty