Labour lead UKIP by four points, and the Green Party top the Lib Dems by two points
UPDATE: Click here for the final Euro Election voting intention results
YouGov's latest voting intention poll for the 2014 European Parliament elections, conducted from May 18th-19th for The Sun, finds Labour in the lead with 28% of the vote, up one point from May 15th-16th. UKIP are pushed to second place (as they have been in the previous two YouGov polls) losing two points to take 24%, their weakest showing in voting intentions recorded by YouGov since late March. The Conservatives are in third place with 21%, down two from the previous poll, but consistent with their level of support throughout this campaign period. 
The Green Party take fourth place in YouGov's latest polling, which began in January but has taken place regularly since March 17th-18th. 12% is the Green Party's highest number yet and the biggest gain (three points) of any party in this poll. This is the second time the Greens have received a higher share than the Lib Dems. On May 1st-2nd the Green Party topped the Lib Dems by one point.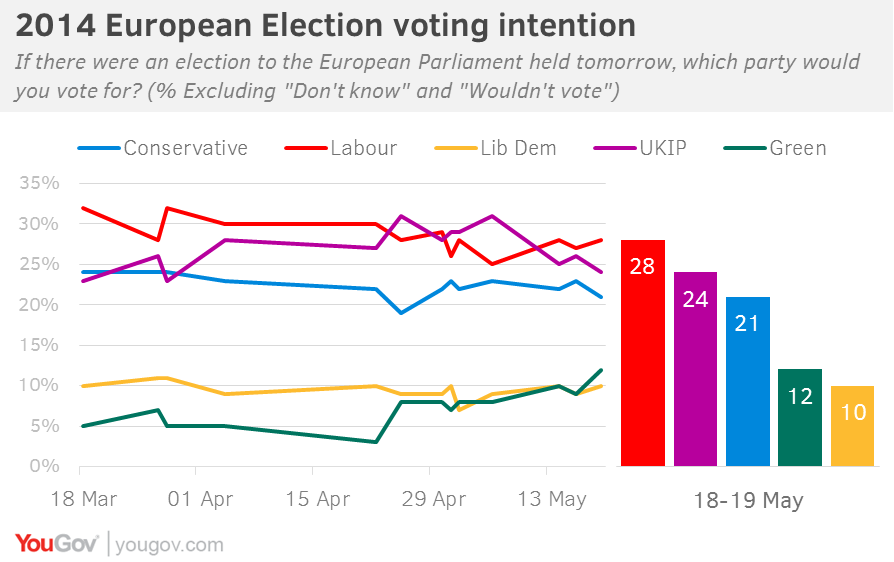 Voting in the UK for the 2014 European Parliament election will take place on Thursday, the 22nd of May.
Find more YouGov data on the Euro elections here
Image: Getty