For some time people have reported that the economy is improving but their personal financial prospects are not. That may be changing 
This week a drop in unemployment and an upgrade in the IMF's growth predictions for the UK were predicted. Our weekly poll for the Sunday Times found the public's economic optimism once again reaching new heights or, perhaps more accurately, their economic pessimism getting less bad. Looking at what we call the "feel good factor" (that is, the percentage of people who expect their personal finances to improve in the year ahead, minus those who expect it to get worse) our poll found the best figures since the general election back in May 2010.
---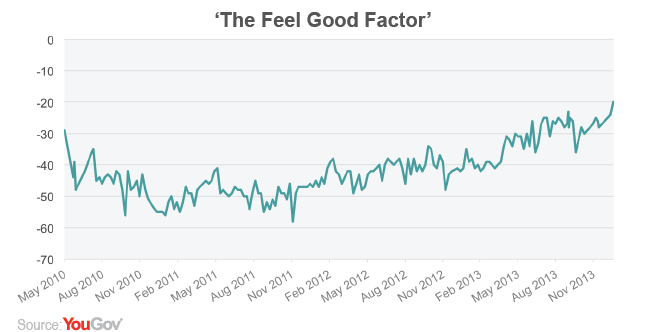 ---
This is good news in one sense, things are at least moving in the right direction, but look at how negative the figure is. Only 17% of people thought that their own household finances would get better in the year ahead, 40% of people thought it would stay the same, 37% of people thought it would get even worse. The minus 20 feel good factor may be much better than the minus 42 we found a year ago, or the minus 46 at the start of 2012, but it is still extremely negative. Despite the good economic news, almost four out of ten people still expect to become worse off in the year ahead, less than two out of ten expect to become better off.
This is not because people don't believe the economy itself is improving, in the same survey we found that 36% of people thought the British economy had got better in the last year compared to only 24% who thought it had continued to get worse. Rather it's a sign of a disconnect between people starting to see the economy around them recover, but not yet feeling it in their own pay packet or economic situation. It's this that the Labour party have shifted to focus on now polls show the Conservatives have started to move ahead on the economy, and it's this that could be an important factor in how the polls move in the year ahead. If the public continue to feel they themselves are getting worse off Labour will have an issue they can continue to push upon; if the trend continues upwards and more people start to feel they are benefitting personally from the economic recovery it could help the government's popularity.
Image: Getty