Help for Heroes, Cancer Research UK: How CharityIndex can track good & bad news for charities
They say bad news is better than no news, but the damaging effects of bad press on well-known brand names have been unequivocally unmasked recently via YouGov's new tracking tool, CharityIndex, which provides continuous measures of the British public's views on well-known charities nationwide.
High-profile names Help the Heroes and Cancer Research UK are just two of the charities to have hit the buffers recently when it comes to how the public view them – and CharityIndex's continuous stream of data allows us to posit exactly why this might be.
The 'Buzz' score – an especially useful figure making up the Index ‒ measures whether people have heard anything positive or negative about the charity, and then adds these figures together to create a 'net' score of how well the charity is seen to be doing among the general public.
In each case, a drop in Buzz scores corresponds sharply with news stories surrounding the charities, including allegations of misspent funds and cancelled fundraiser events, meaning that, overall, we can strongly suggest that negative press is likely to be the culprit behind the public's worsening views towards the previously-liked names.
Because CharityIndex continually measures perception, the tool can pinpoint with some precision exactly when, if at all, the public's perceptions of a charity and its work improved or deteriorated, and why. Other continually tracked metrics – such as the perceived quality of the charity or value of the work it does – allows us to understand the longer term implications of a negative story.
1. Help for Heroes
Armed forces charity Help for Heroes has suffered particularly badly in recent weeks.
The charity, which seeks to provide support for soldiers and returning servicemen, started the month with a very healthy Buzz score of 25.0 ‒ peaking at this on 6th July 2012 ‒ but dropped to an almost unprecedented level of -2.4 in recent weeks, going into definite free fall from August 10th this year.
The effect is especially pronounced for people aged 18-34, among whom the Buzz score had been fairly stable in late June, but whose number had plummeted in a few short days from 9.3 on August 9th to an unprecedented low of -27.5 yesterday. This is in comparison to the eldest age group, who still gave the charity a reduced yet still-positive net score of 13.4 on the same day.
The Buzz score among men was noticeably poorer than among women, too, with Buzz among men at a low of -4.9 yesterday in comparison to an exactly neutral 0.0 among women on the same day. 
The dates of this clear drop coincide almost exactly with indictments in the media accusing the charity of spending funds on building projects rather than on directly helping injured troops.
The first news stories, which included investigations by a BBC television documentary, broke on August 9th this year – a date precisely highlighted by the downwards trajectory of Help the Heroes Buzz scores ever since. The especially harsh scores among younger people suggests that this charity is particularly on their radar, and Help the Heroes may need to appeal to this demographic in particular if it is to regain lost ground.
The Help the Heroes case is a textbook example of how CharityIndex can help charities understand exactly why – and how ‒ current affairs and news events can affect their public standing.
2. Cancer Research UK
The cancer research charity is famous for its country-wide 'Race for Life', but this year's distinctly un-summery weather forced it to cancel several of its fundraising runs due to waterlogged ground ‒ palpably hitting the charity's public perception in the process, especially among women (the main marketing targets in the widespread Race for Life campaign).
This particular timeframe saw the charity's Buzz score peak at 22.4 on 6th August, up from 21.0 towards the beginning of the month – which was almost double the 12.4 score seen among men on the same date. So far, so good.
And yet, almost exactly when news of the cancellations started to filter through the affected towns – including Longbridge, Peterborough, Bury St Edmunds and the Isle of Wight ‒ as well as hit the national headlines, the charity's then-promising score started its downwards journey, and has been comparatively languishing in the late single figures ever since: seeing a fairly unspectacular 9.5 among women on 15th August (under half its previous peak score).
Save occasional spikes, Race for Life has seen a definite puncturing of its previous summer Buzz bubble following news of the cancellations, especially among the women who it tries so hard to mobilise (a Buzz of 9.5 among women yesterday compared to a somewhat healthier 13.4 among men).
Nonetheless, its overall score is still positive and it's clear that the cancellation of certain runs hasn't managed to crush the charity's Buzz entirely. Given that many of the runs were actually postponed rather than cancelled outright, and with several yet to take place, only time will tell whether the usually positively-viewed charity will succeed in pulling its Buzz score among women back up to the levels it previously enjoyed.
3. Macmillan
Very well-known cancer support charity Macmillan is a classic example of a name that has managed to escape any real adverse trends since CharityIndex began its measurements.
With its high-profile, simple and consistent green-and-white advertising campaigns, it is a charity that has presented a united and easy-to-understand marketing front, garnering it a respectably stable Buzz trajectory among the public of between 17.3 and 21.7 since June 26th.
And while overall its Buzz can be used as a benchmark by which to qualify Help the Heroes and Cancer Research UK's less-stable scores, Macmillan may be interested to see just how sensitive (and positive) older people are to its public presence, as shown by the comparatively high Buzz scores of 19.5 to 36.2 among the over-50s in recent weeks, compared to the 7.0 to 15.0 numbers seen among 18-34 year-olds.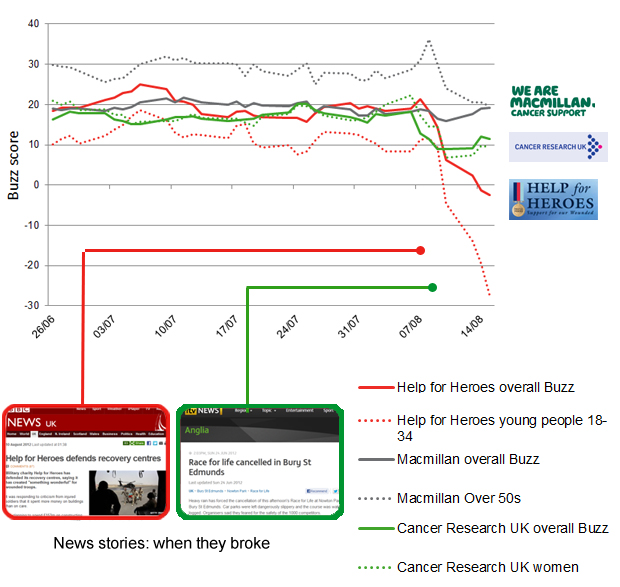 Measuring change for maximum effect
Through continuous tracking across seven different measures – of which Buzz is only one ‒ CharityIndex is able to demonstrate the up and downs, and short- and long-term trends, that news stories can have on the public's perception of well-known charities.
In providing a measure of a given charity's public standing, CharityIndex can show the names themselves just how – and often crucially, to whom – they should target their campaigns for maximum public effect.
To find out more about CharityIndex, please contact us