Peter Kellner reveals what voters really think of British Parliament and our politicians
We bring you the results of what we believe to be the most detailed survey ever into attitudes to British democracy and our political system. This extensive study, analysed by our president Peter Kellner, contains disturbing data for those who seek to defend our traditional system of representative democracy.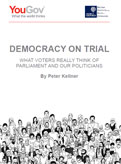 View the booklet containing the results and Peter Kellner's full analysis
See the survey details and full results
The results will inform the David Butler lecture, which Peter Kellner delivered at the BBC, on behalf of the BBC and the Reuters Institute for the Study of Journalism.
In his lecture Peter will warn against the rise of direct democracy and the use of referendums to take major political decisions.
Following Peter's lecture, its text can be viewed on the Reuters Institute website
Want to receive Peter Kellner's commentaries by email? Subscribe here