New YouGov research discovers how women would react to various incidences of sexual harassment
The issue of sexual harassment of women has become a subject of widespread debate following recent scandals. With an increasing number of women sharing their experiences and the success of the #MeToo social media campaign, discussion has also turned to how women react.
Now new YouGov research examines how women say they would respond to varying types of sexual harassment.
We asked female respondents how they would most likely respond to 12 different actions that are – or could potentially be seen as – sexual harassment. Of these, seven are seen as sexual harassment by the majority of women.
For four out of the seven actions that most see as sexual harassment, women are most likely to say they would confront the perpetrator. The majority of women would confront someone who pinched or grabbed their bum (56%) or danced by pressing themselves against them (51%), while 45% would confront someone who requested sexual favours from them as would 37% for someone who directed sexual jokes at them.
Despite these four types of harassment being serious enough to confront the person involved, far fewer women would actually report their behaviour to anyone in authority. Only 22% of women would report a person who had requested sexual favours – half the proportion who would confront it. Likewise, only 8% would reported having their bottom groped, 5% being pressed up against while dancing and 3% having sexual jokes directed against them.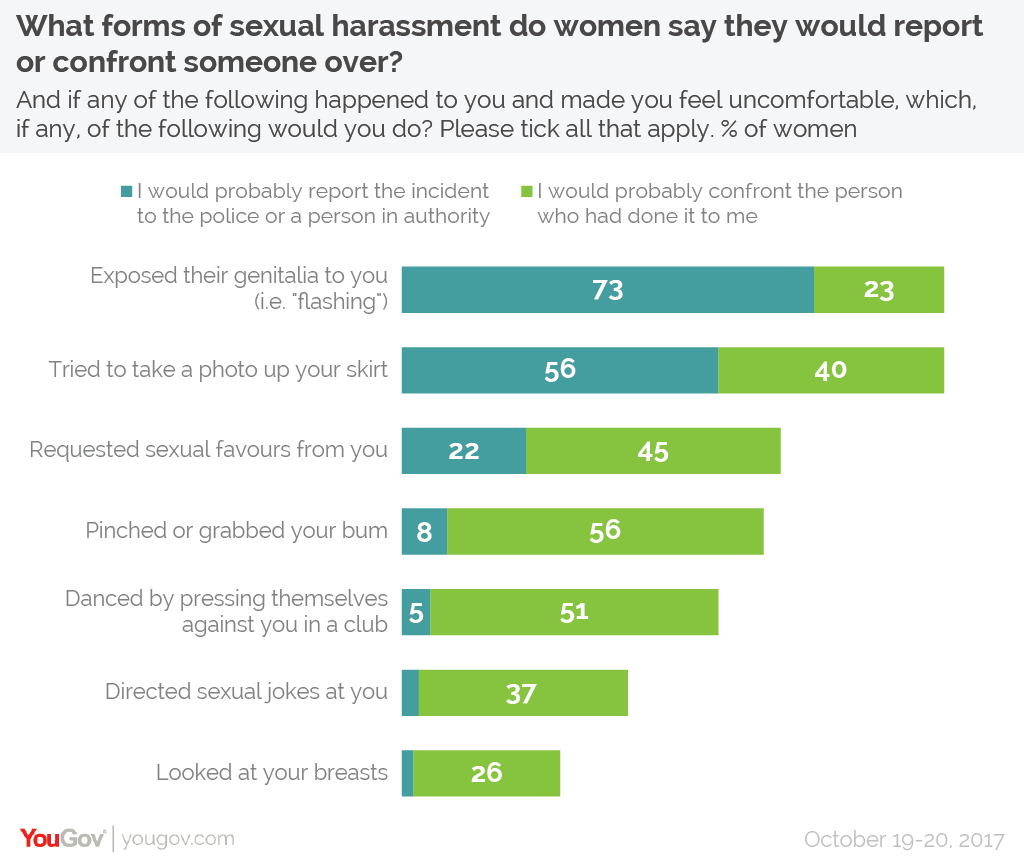 Only two actions were seen as so serious that significant proportions of women would report the person involved to the police or other authorities: flashing (which 73% of women would report) and trying to take upskirt photos (56%).
In none of the different behaviours asked about is the most common response to tell friends or family. Among those actions which are most widely regarded as sexual harassment, between 23% and 39% of women would let people close to them know they had been harassed.
Photo: Getty