Are Brussel sprouts beloved by Britons? Do people really love roast turkey, or is it just tradition? Does anyone actually like bread sauce? YouGov reveals all.
In what is probably the joint biggest news event this December, YouGov polling will reveal Britain's favourite Christmas foods. One savoury and one sweet food will be chosen in a knockout tournament to govern the festive period in a coalition of Christmassy cuisine.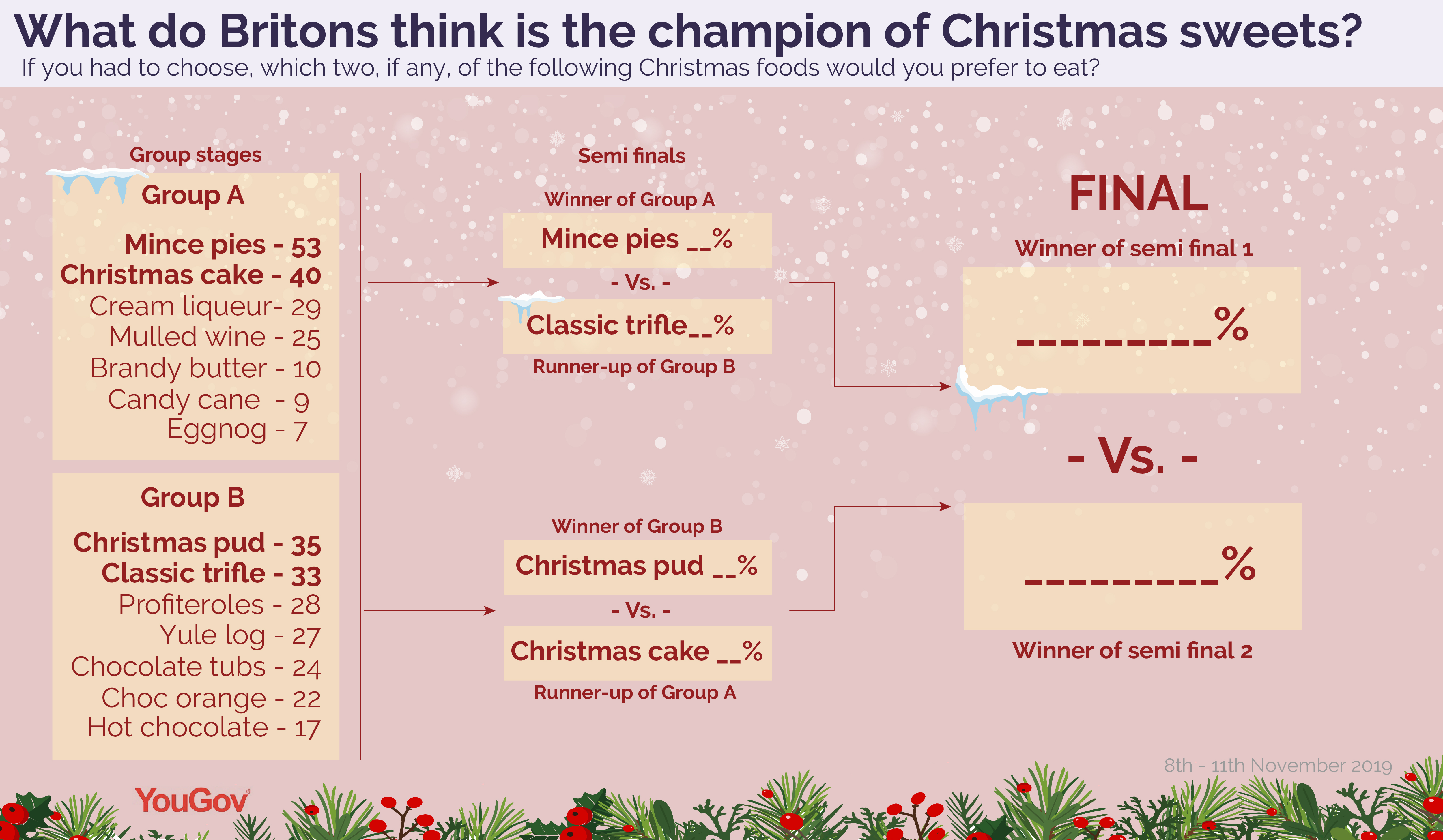 Group Stages – Results are in!
For the first round of voting our delicious candidates have been organised into randomised groups. From the savoury foods, the top two from each group will advance to the quarter finals, and in the sweets competition the top two from the groups will advance to the semi-finals.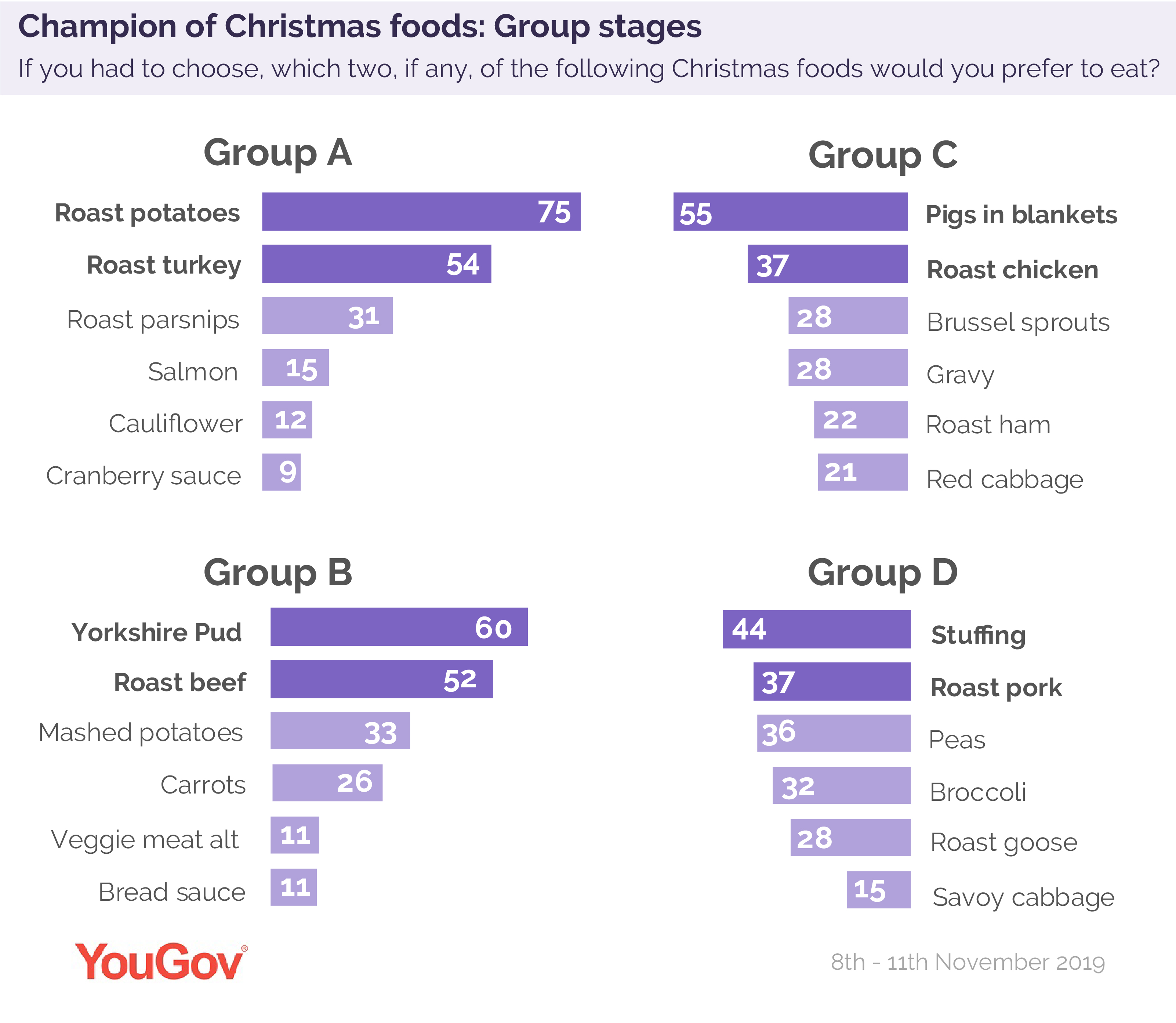 In Group A of the savoury competition, roast potatoes take an early lead with a group stage high score of 75%, followed by the traditional roast turkey coming in at 54%. Cranberry sauce was left behind by Brits, only wining 9% of the vote in its group.
Yorkshire puddings and roast beef did well in Group B, both advancing to the next stage with scores of 60% and 52% respectively. Only one in nine brits (11%) choose bread sauce as one of their preferred foods.
Pigs in blankets (44%) and roast chicken (37%) will also make it through to the next round from Group C, with Brussel Sprouts (36%) missing out on a quarter final slot by just a single percentage point. In a shocking twist of events however, sprouts did manage to defeat gravy which only garnered favour with a three in ten Brits (32%).
In Group D, stuffing (55%) and roast pork (37%) beat out competition from a variety of veg as well as the traditional Christmas goose (22%) to advance to the next stage.
Looking at the sweets, the traditional Christmas treats stormed into the semi-finals, with mince pies (53%), Christmas pudding (35%), and Christmas cake (40%) all securing a spot. Classic trifle beat out stiff competition from profiteroles (28%) and yule logs (27%) to join the others in the sweet semi-finals. 
Quarter finals – Results are in!
The quarter finals are over, with some surprising underdogs advancing into the semi-finals. 
In the first quarter final, roast potatoes continued their early lead from the group stages, winning two thirds of the vote (66%) to knock out roast beef on 29%.
Elsewhere, pigs in blankets defeated roast pork with the support of 54% of adults, compared to roast pork's 23%.
In perhaps the most shocking and closest result of the quarter finals, roast turkey sent Yorkshire puddings home by clinching 49% of the public vote, while the beloved battered treat mustered only 41%. Interestingly, six in ten (60%) younger Brits preferred Yorkshire puddings over turkey, and two thirds (66%) Brits over 55 chose the traditional turkey over the puddings.
The final savoury quarter final saw roast chicken and stuffing go toe-to-toe, with chicken ultimately winning the day by being the food of choice for 50% of Brits, while stuffing was chosen by just 38%.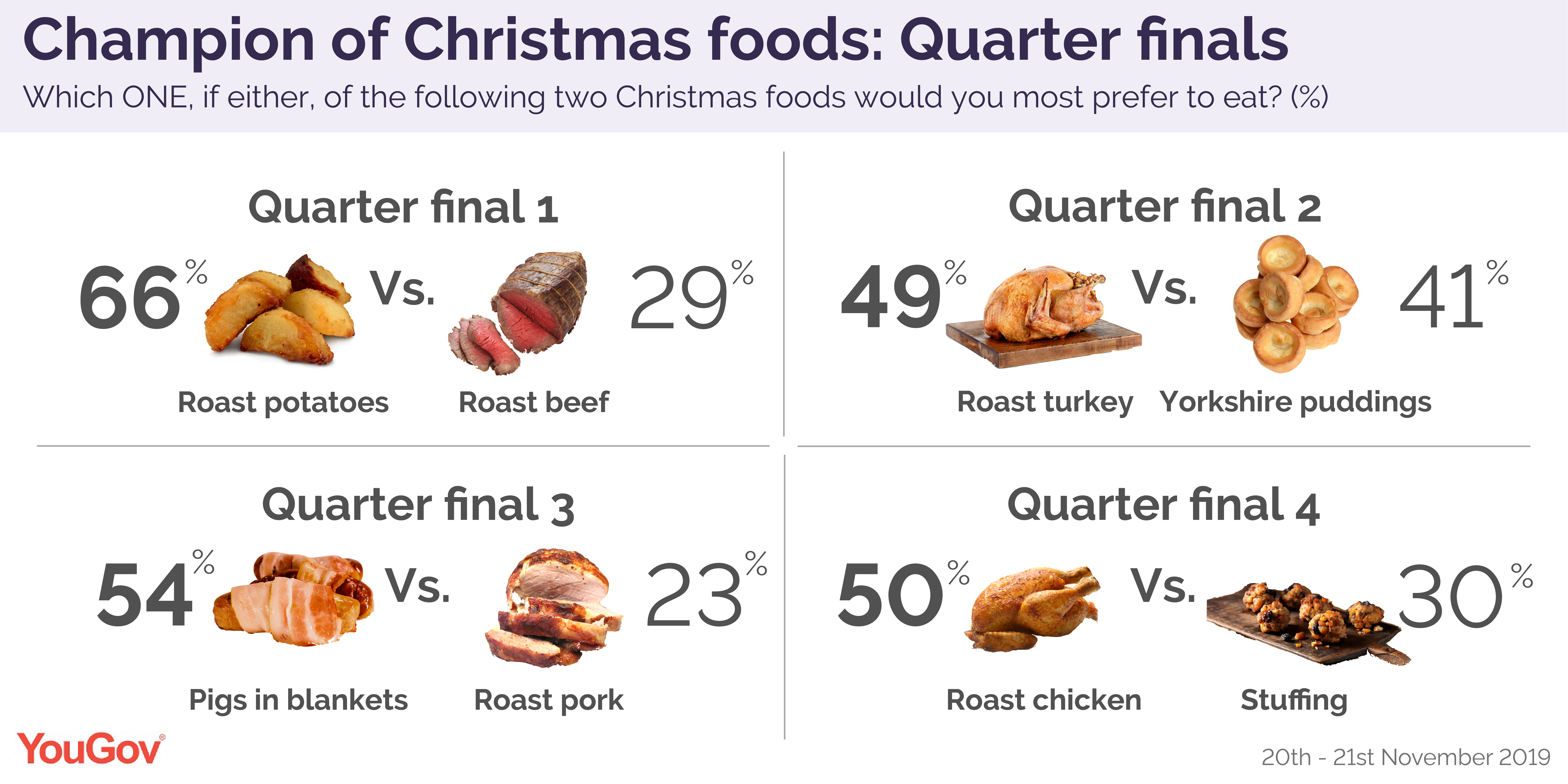 The sweets, being a smaller competition, are skipping quarter finals in favour of moving directly to the semi-finals, so check back soon for the new results.
Semi finals
Results coming soon!
Finals
Results coming soon!
Image: Getty