Office space company WeWork no longer allows staff to claim meat-based meals on expenses. YouGov research reveals Britons strongly disagree with the idea
WeWork, a company providing co-working spaces and private offices in 270 locations around the world, makes headlines more often than you might expect for a property rental business.
Over recent days it has been in the headlines again. Last Friday, it announced a policy that it says is part of an effort to reduce the company's environmental impact. In an email to the company's 6,000-person workforce, it said it would stop serving meat in its kiosks or at events, and would also forbid employees expensing meat-based meals.
The company stated that members and employees are still permitted to bring meat to the office, and those with medical or religious needs would be accommodated.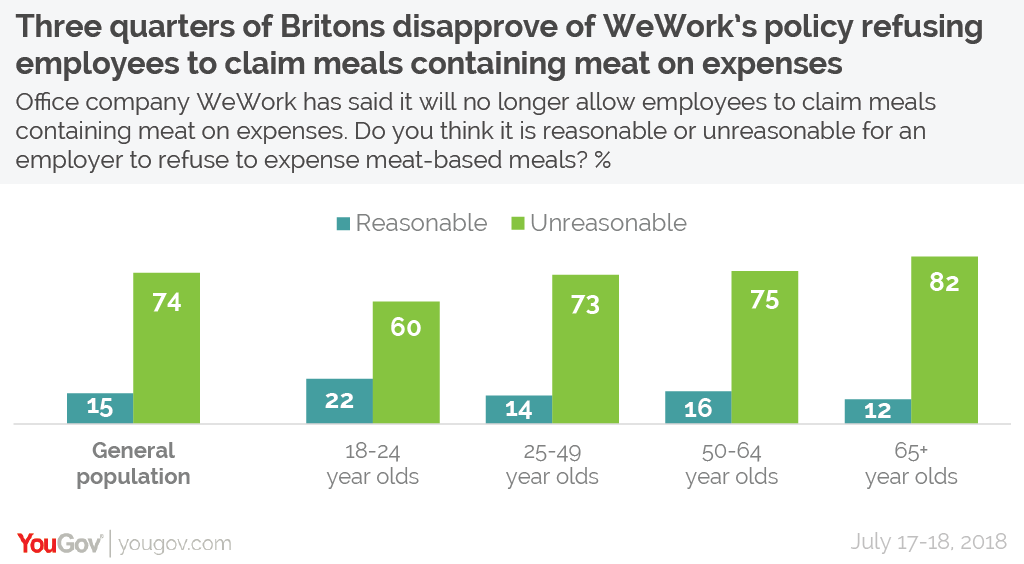 YouGov research reveals the idea is not a popular one among the British public. Three in four Brits (74%) think it is unreasonable for an employer to refuse to expense meat-based meals. Only one in six (15%) feel it is reasonable, while just over one in ten (11%) say they don't know.
The policy is thought of badly by a majority of people across all age groups (60% of 18 to 24 year olds, 73% of 25-49 year olds, 75% of 50-64 year olds, and 82% of 65 and above).
However, younger people are more likely to support it. While more than one in five (22%) 18-24 year-olds believe refusing meat-based meal expenses is reasonable, this number falls to just one in eight (12%) among those aged 65+.

Photo: Getty

See the full results here