Cambridge tops a list of 18 locations British workers would be willing to move to with work
As well as reporting the news, Channel 4 has also made the news with its announcement that it will be setting up a new national headquarters and two creative hubs in locations outside of London. At the end of May the broadcaster released a shortlist of 13 cities that it is considering for the new offices, to which 300 out of its 800 staff would move.
Moving offices carries a certain risk – many workers may not want to uproot their lives simply to keep their jobs. In fact, when the Office for National Statistics moved from London to Newport in the late 2000s reportedly as many as 90% of the staff quit instead of moving.
So how willing are Britons to move when their workplace does? A new YouGov Omnibus survey has asked how willing British workers would be to move to each of Channel 4's shortlisted locations in order to keep their job (as well as an additional five places that we have added).*
Topping the list is Cambridge – not on Channel 4's shortlist – which 45% of workers would be willing to move to if their work required it.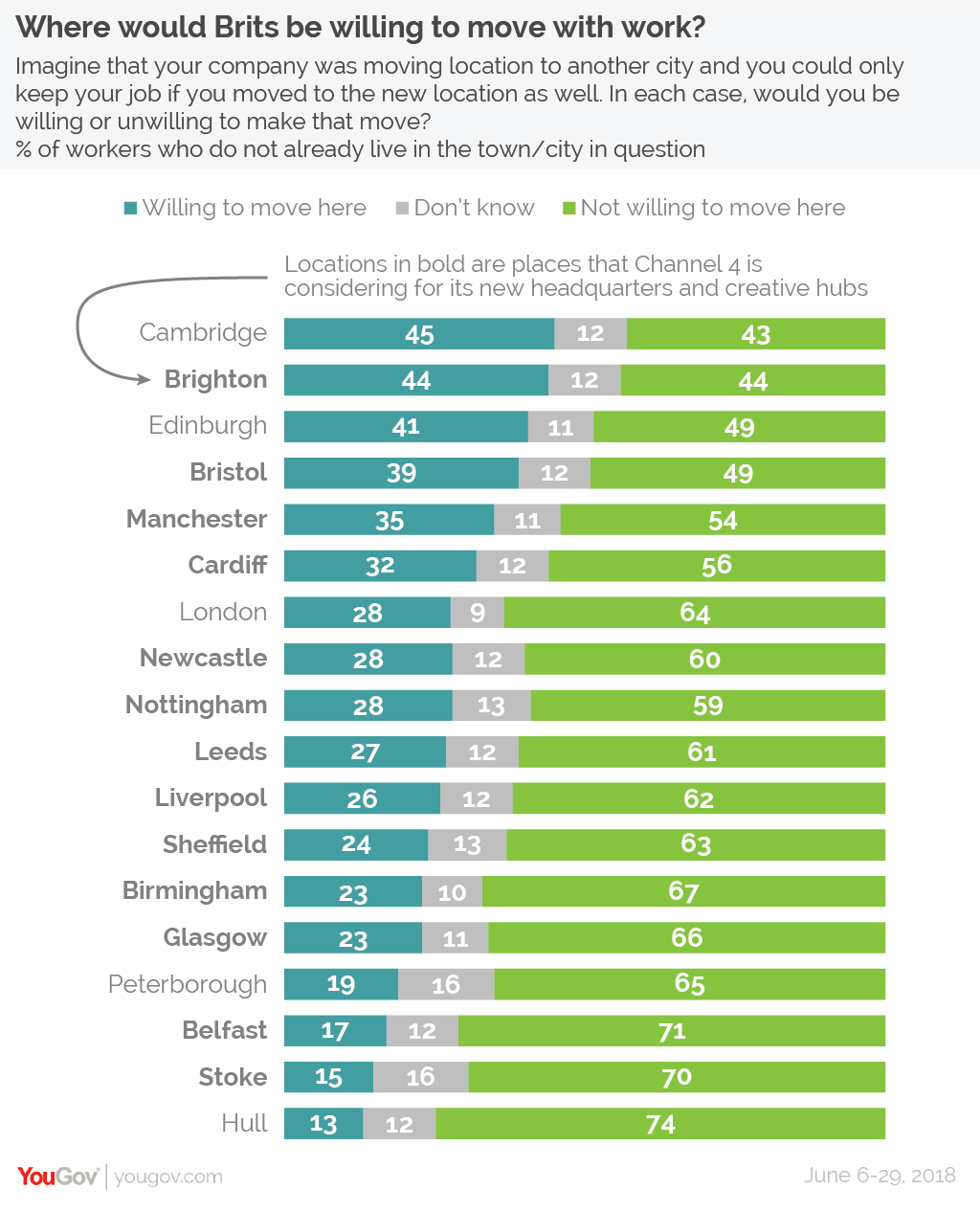 The second most popular location is Brighton, which is on Channel 4's shortlist, with 44% of workers saying they would be willing to move here with work. The next most popular Channel 4 locations are Bristol (39%), Manchester (35%) and Cardiff (32%) – although they fall behind third-placed Edinburgh (41%) which is again not a Channel 4 shortlist location.
When it comes to London, the site of Channel 4's current headquarters, only 28% of workers say they would be willing to move to there (note this figure excludes those already living in London). This puts the capital on a par with Newcastle and Nottingham.
The least desirable locations that Channel 4 is considering are Belfast (17%) and Stoke (15%), while at the very bottom of the list is Hull, to which only 13% of workers would be prepared to go.
Keeping it close
Unsurprisingly, geography plays a key role in people's willingness to move, with workers more willing to move to a location if it is relatively close.
For instance, Scots are far more likely to be willing to move to Edinburgh (71%) or Glasgow (66%), while 73% of North Eastern workers would be up for moving to Newcastle.
Similarly, 70% of Welsh people would be willing to move to Cardiff and 70% of workers living in the East of England would be willing to move to Cambridge.
*please note, respondents were not asked whether or not they would be willing to move to a city they currently live in - any such respondents were excluded from that specific question
Photo: Getty