This month's Children in Need fundraising appeal saw the charity achieve a notable uplift in several YouGov CharityIndex metrics.
While the live TV broadcast was on the 17th November, the charity's profile had been rising since mid-October as celebrities and public undertook a raft of fundraising activities.
YouGov CharityIndex data shows that Children in Need's Attention score (whether someone has heard of the charity) climbed steadily throughout the fundraising period, going from +6 on the 1st October to a peak of +32 in the week after the telethon. This high score beats those achieved in 2016 (+30) and 2015 (+24).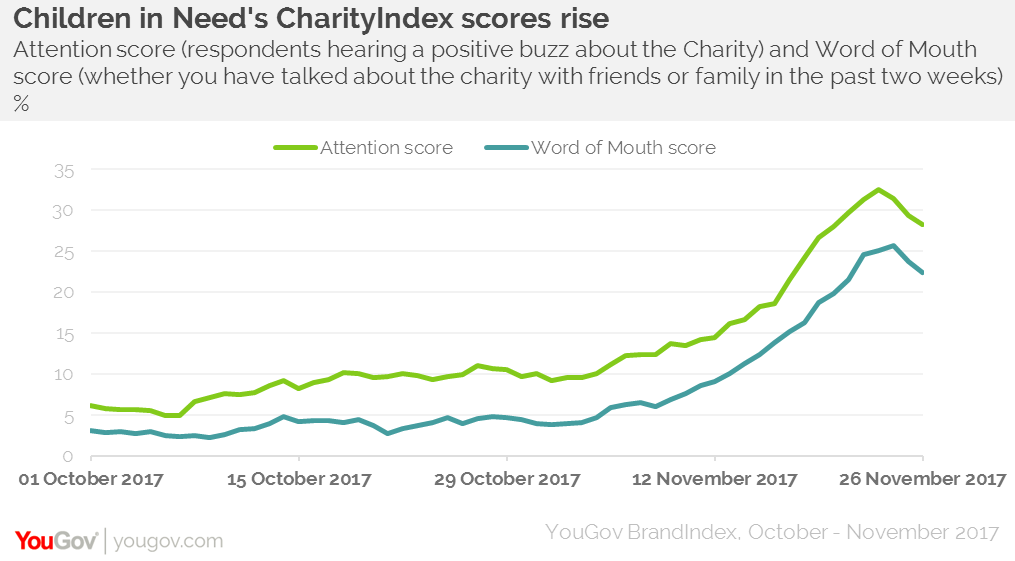 Given the prominence of the campaign across all BBC platforms Children in Need is always a much talked about campaign during this time of year. This year, its Word of Mouth score (whether or not someone has talked about the charity with friends and family), rose from +4 on the 1st November to +26 points in the week after the broadcast.
YouGov Profiles data suggests that Children in Need is especially popular among those who say they already believe in the cause, with 13% of this group saying that they have considered donating to it in the past 60 days (compared to 7% of the general public).
Children in Need can be sure that they have once again had a successful campaign that has got people talking while raising tens of millions of pounds for the charity.