As Samsung releases the Galaxy S8, it's a good time to look at how consumer perception of the brand has changed since the Note 7 scandal last year.
YouGov's new Product Recall report underlines the tough challenges the manufacturer has faced in restoring trust among the wider public over – and serves as a guide for other brands that have to pull items from the shelves.
When the story broke initially, Samsung's Buzz (whether someone has heard something positive or negative about the brand) and Impression scores (whether someone has a positive or negative impression of the brand) among the general public dropped considerably, and did so again once Samsung's initial reaction was shown to be inadequate.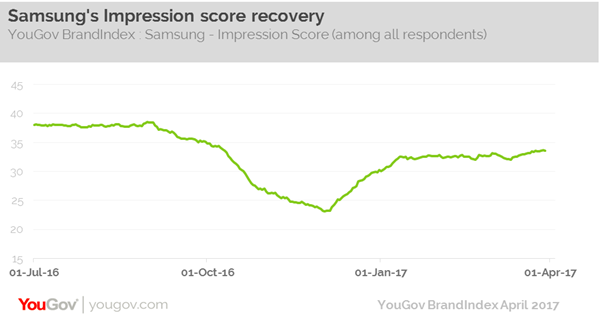 Our brand tracking data suggests that a quick and comprehensive response to a crisis leads to a quicker recovery in a brand's public perception. And so it proved for Samsung. It was only once it fully accepted the issue and made proper moves to rectify it, did its score improve. And though its Impression score has not recovered to its pre-fault level, it is moving in the right direction.
Notably though, the changes in its perception were driven by the public at large, not its customers. Indeed the satisfaction levels of those with Samsung products remain at around the same level as before the crisis (+83). This suggests that positive personal experience can trump even the most negative of headlines.
In an attempt to assuage doubts that potential customers may have, the brand's recent advertising has focused on reliability and repeated testing. And the adverts seem to be cutting through, with Samsung's Ad Awareness score (whether someone has seen an advert for the brand in the past fortnight) increasing by 7 points among the general public since mid-February.
The brand can launch its new device with optimism. Following its product recall Samsung can be confident it has retained the confidence of its key customer base, while the rehabilitation of its brand reputation among the wider public is well underway.
This article originally appeared in City A.M.
Image PA