Ikea and Ben and Jerry's are top among under 35s.
Marks and Spencer is the brand that British women have the best impression of, new YouGov analysis reveals.
The high street giant has an impression score of +58, ahead of fellow retail favourite, John Lewis, which has a score of +54. The rest of the top five is made up of Heinz (+53), Boots (+53) and BBC One (+51). 
In terms of brands where women's impression have improved most over the past year, Tesco comes out on top with an improvement of 13 points. Holiday operator Thomas Cook has seen the second-greatest improvement (12 points), just ahead of HSBC, WhatsApp and catch-up service All4.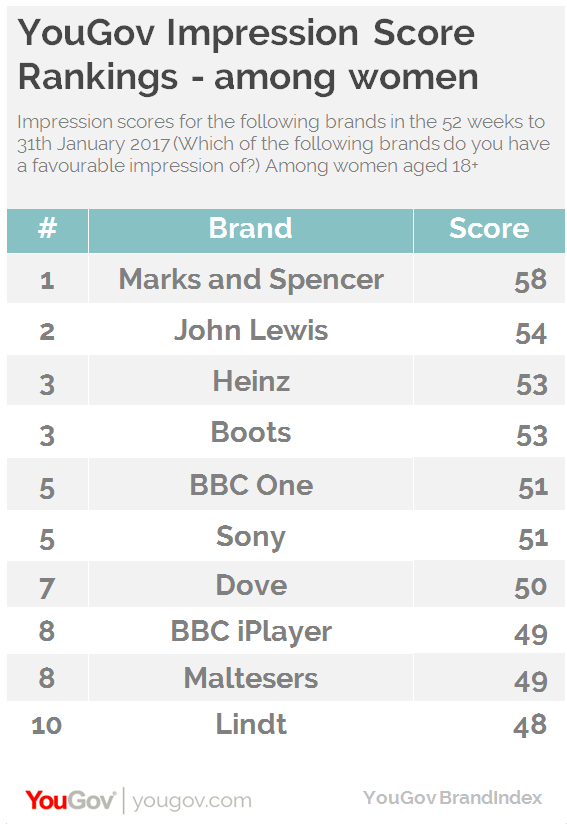 Naturally, there are large differences across age groups. While Marks and Spencer tops the list for those aged 34-54, and for the 55+, younger women have favourable impressions of different brands. Swedish furniture retailer Ikea is the brand making the best impression among women aged 18-34, with a score of +57 and the rest of the top five was made up of Ben and Jerry's (+55), Boots (+54), Heinz (+53) and YouTube (+52).
While Tesco is also the brand with the most-improved impression among women aged under-35 (12 point improvement), the rest of the top five is notably different with Snapchat (11 points), Just Eat (10), Spotify (9) and Uber (9). 
Despite reports of Marks and Spencer enduring a troubling time, particularly with regards to fashion, our findings indicate that underlying brand perception remains strong among women – which could be key if retail conditions deteriorate in the months ahead, as some analysts expect.
Tesco's comeback over the past year is reflected in its improving Impression score, while Ikea's position as the go-to furniture retailer for female millennials seems secure. Naturally, a focal point for all the brands on the list is to use this positive impression to nurture a long-term customer relationship that enhances good times and helps them through tougher times.
Image PA