As Europe grapples with its biggest migrant crisis since the end of the Second World War, the disunited and controversial response by some nations has sparked fierce debate on what is to be done. YouGov's Opinion Formers - which draws leaders from the worlds of business, politics, the media, charities, public sector and academia among others – were asked a battery of questions on the key issues surrounding the crisis.
People often have fears and preconceptions over the people migrating into their country, so YouGov wanted to know what 'types' of people should be allowed to come and live in Britain.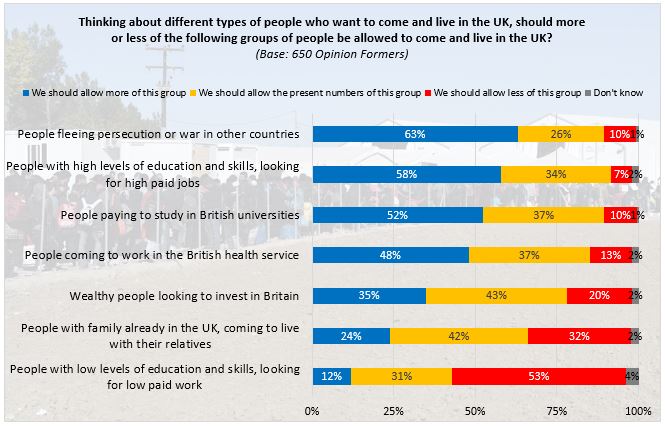 On balance, Opinion Formers feel priority for migrants coming into the UK should be given to those fleeing persecution or war in other countries (63%), followed by those with high levels of education and skills looking for high paid jobs (58%). Indeed, Yvette Cooper's suggestion that every town and city in Britain should take 10 Syrian refugee families, totalling 10,000 people overall, is seen as a good idea by nearly half those asked (47%). Not to be outdone, David Cameron also announced that the UK would take in 20,000 migrants from Syria over the next 5 years, although half of Opinion Formers feel this number too few (52%).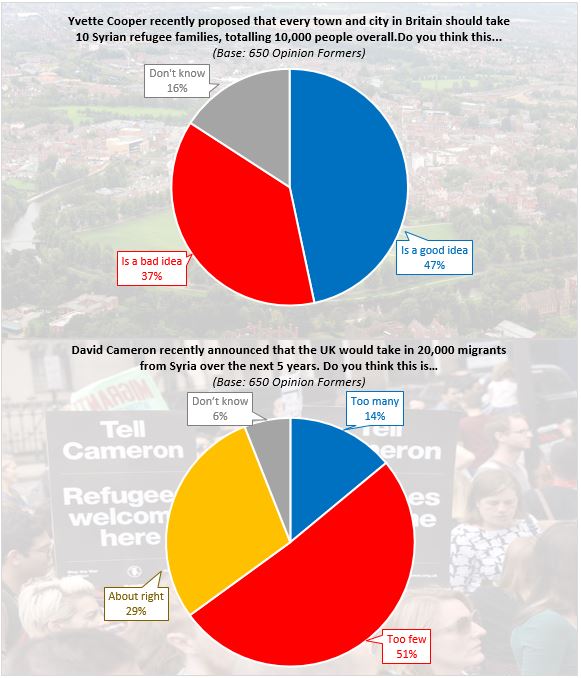 However, while there is no doubt Opinion Formers display a compassion toward those fleeing persecution, there is also a sterner conviction that the UK's generosity should not be taken advantage of. Around two-fifths (38%) remain unconvinced of Cooper's proposal, and Opinion Formers are less favourable toward wealthy people looking to invest in Britain (35%), people coming to live with their relatives already in the UK (24%) and people with low levels of education and skills, looking for low paid work (12%).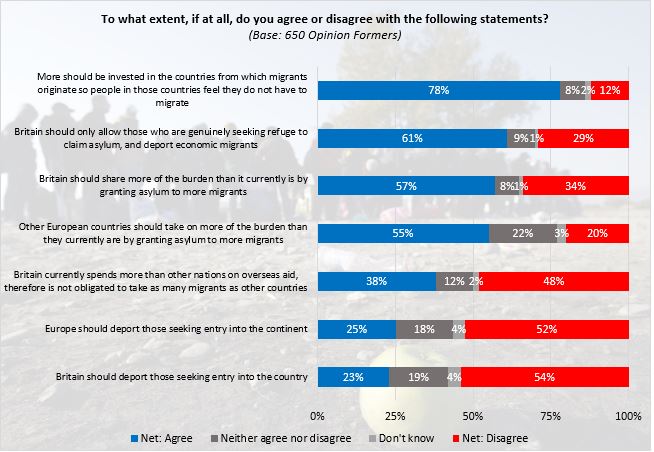 This is reflected by nearly two-thirds (61%) who feel that only those genuinely seeking refuge should be able to claim asylum, while economic migrants be deported. Identifying which are 'genuine' however has proven to be one of the main factors fuelling concerns about admitting unfettered numbers of migrants. Certainly there is a feeling that Britain, and indeed Europe, should be doing more, with 57% and 55% respectively thinking they should be taking more of the burden. There is also a rejection of the notion that just because Britain spends more than others on overseas aid, that it is less obligated to take as many migrants (48%), or that Europe (52%) and Britain (54%) should deport those seeking to enter their borders.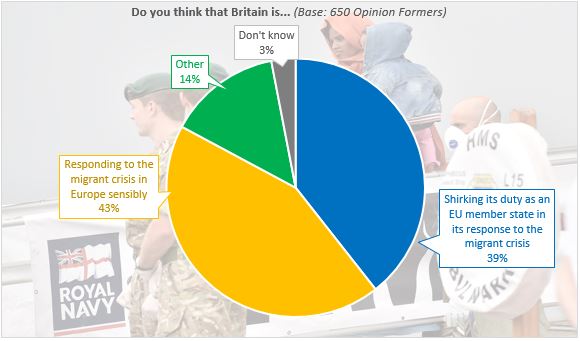 Yet while just over half feel that Britain should be sharing more of the burden, 43% of Opinion Formers believe that Britain has responded to the migrant crisis sensibly so far, contrasted with 39% who believe that the country has shirked its duty as an EU member state, perhaps drawing the comparison with Germany which has promised to take hundreds-of-thousands looking to claim asylum. This shows an interesting split among Opinion Formers in that while there is a consensus that more should be done, there is a discordance between those who wish for Britain to proceed cautiously and those demanding immediate action. For some, the issue has gone as far as to influence their vote in the upcoming EU referendum.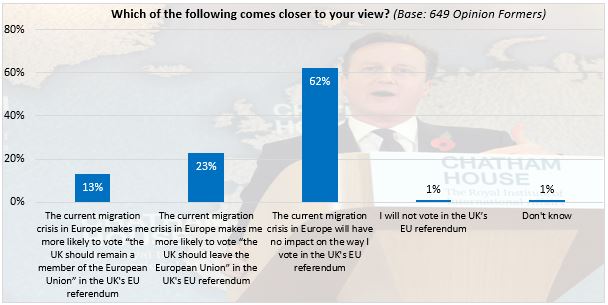 A third of Opinion Formers (36%) feel that the continuing migration crisis will affect their vote in the UK's EU referendum one way or the other, with 13% saying it will sway them to vote for the UK to "remain a member of the European Union" compared to 23% who would vote to "leave". Almost two-thirds however (62%) say the crisis will have no impact on the way they vote.
In the short-term at least, Opinion Formers think more effort should be made to relieve conditions where migrants are arriving (70%), that direct action be taken to prevent boats used by traffickers reaching Europe (58%) and that people be repatriated back to their homeland faster if their asylum request is turned down (55%).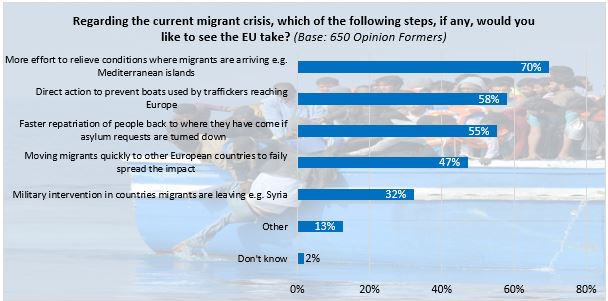 Moreover however, Opinion Formers recognise that a long-term solution is needed through investing in countries from where migrants originate so that people do not feel the need to make such perilous journeys (78%). Further, with conflict being the main reason driving the predominantly Syrian and Iraqi migrants toward Europe, three-quarters (75%) support the notion of extending efforts to train, equip and fund forces opposed to ISIS, as well as working with perhaps historical Western adversaries Russia and Iran (74%) to combat the terrorist group. Over half (55%) support working with what may be seen as a lesser evil in President Assad of Syria to combat ISIS, but only on the understanding that he hand over power over a 6 month transition period, compared to 16% who would support working with Assad and allowing him to remain in power after ISIS has been defeated. This could make working with the Russians all the more difficult, who have traditionally been supportive of President Assad and would be reluctant to lose him as an ally in the region. However, the appetite for direct Western intervention appears lacking; while half (51%) support extending British airstrikes into Syria, 34% are against with 15% remaining unconvinced, while deploying British and other Western troops back to Iraq to combat ISIS garners even less support (29%).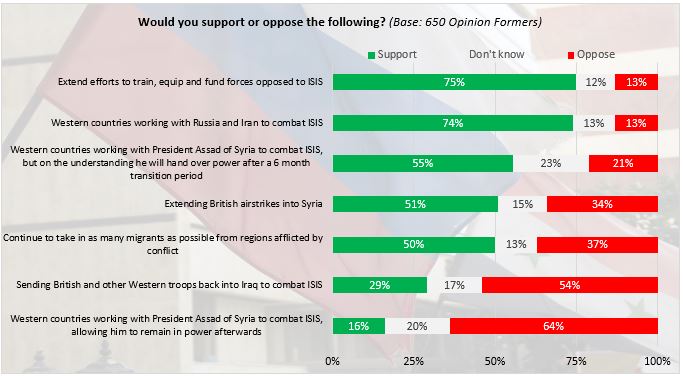 With a complex situation deteriorating day by day Opinion Formers are keen to aid those fleeing from desperate circumstances, taking in those in genuine distress while working with others to rid the Middle East of ISIS and committing to long-term investment programmes to make the region one worth living in.
YouGov completed online interviews with 650 opinion formers from its UK Opinion Formers Panel. Opinion Formers are leaders in their field from business, media, politics, NGOs, academia and beyond. Fieldwork was undertaken between 15th and 23rd September 2015. The figures have not been weighted