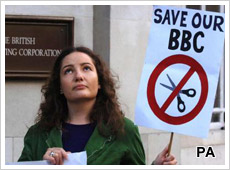 Many think the licence fee is poor value for money and are prepared to suffer fewer channels and lower standards to accommodate a reduction in price, a recent survey for the Sun suggests. A significant 60% of the public feel that the licence fee, currently at £145.50 for a colour TV licence, is poor value for money, while only 28% positively believe it is good value.
As with all publicly-funded institutions, how the BBC's funds are spent is an issue that never falls far from the spotlight. The Director-General's strategic review rarely fails to raise this buzz to fever pitch. On the 2nd March, the review saw director-general Mark Thompson announced that several programmes and websites will soon be cut in order to allocate more funds to programme-making.
BBC 6 Music, Asian Network and BBC websites Switch and Blast all face the axe, as do several other websites. A furore surrounding the proposed cuts ensued, with Facebook groups arguing why the changes were wrong popping up within days, and many high-profile celebrities such as Lily Allen and Lauren Laverne speaking out about why BBC 6 Music should stay on the air.
While the public debate still rages over these cuts, sentiment seems to lie quite heavily on one side. 30% believe Thompson was right to propose these cuts, and 52% believe the BBC should go further with cuts, with a corresponding decrease in the licence fee. A mere 12% believe that these cuts should not be made, and that the licence fee should be increased to cover the additional spending that would be needed to maintain the status quo.
Mark Thompson will no doubt be happy that the overwhelming majority of the public are behind his proposed cuts. However, with 82% supporting cuts of some kind, Thompson's popularity will now surely turn upon where exactly the cuts are made.
For survey details and full results, please click here