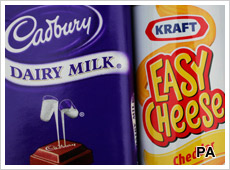 Since Kraft announced its much- debated takeover of Cadbury, YouGov's BrandIndex has shown a steep decline in public feeling for this iconic British brand.
Following weeks of speculation over the company's fate, it was announced on 19th of January this year that the newly-increased takeover offer of $11.9 billion had been accepted.
BrandIndex has measured 'buzz' and 'impression' scores for the Cadbury brand. These are measures of hot topics among consumers, whether they have heard anything either positive or negative about the brand, and what impression they have of the brand, in terms of reputation.  We found that both had significantly changed since the takeover was announced.
When analyzing the 'Buzz score' over the month of January it is clear that there has been a strong decline from a very positive 28.6 on the 18th of January to a low of -16.6 on the 25th of January – a drop of 45.2 points. This means Cadbury had gone from being positively talked about to negatively talked about. People are also less impressed by the brand with a low of 42.6 in the Impression score.
It is hardly surprising that Cadbury is a hot topic for UK consumers. The brand is synonymous with Great British values and there has been extensive publicity surrounding the takeover.  Cadbury has been plagued by negative press with the spectre of potential job losses looming for workers in the Birmingham factory, at a time when the UK job market has still not completely recovered from the recession.
Over the coming months we will be closely monitoring sentiment towards the brand to assess whether this is a knee jerk reaction to the take-over or an indication of long-term public feeling. Time will tell whether Kraft can win round unimpressed UK shoppers.