Young people are especially keen to avoid having to chat
"It's good to talk", the old BT adverts used to say. However, data from YouGov Profiles shows that is no longer the case, with the majority of Brits (55%) saying they would prefer to receive a text over a phone call.
Fewer than a third (31%) savour the sound of someone's voice over the written word, while another 14% don't feel strongly either way.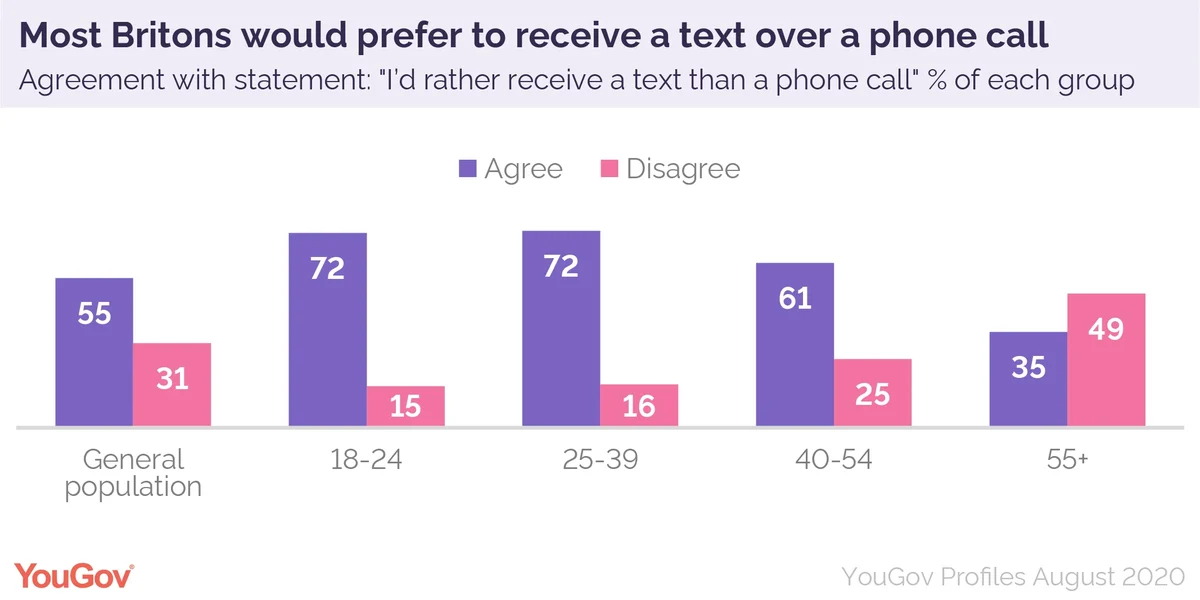 Age is a key factor – Britons under the age of 40 prefer texts by 72% to 15-16%. Those aged 40-54 also prefer text by a wide margin of 61% to 25%. Only the over 55s like to be called up, at a rate of 49% to 35%.
Texters are more likely to say that their mental weaknesses include "social skills" (33% vs 21% of callers), "verbal" (15% vs 10%) and "concentration span" (30% vs 25%). They are also more likely to say they don't like confrontation (38% vs 29%).
The vast majority of both groups use smartphones, although people who prefer to call are more likely to still use a feature phone than texters by 15% to 6%.
Both groups are most likely to be using an Android device (45% of texters and 43% of callers), but texters are far more likely to have an iOS phone (41% vs 28%).