Social media could offer charities a way to target those typically least likely to donate
While many non-essential shops and services begin to reopen, charities are continuing to struggle. New rules for keeping staff and customers safe mean charity shop donations have been become more difficult to process, not to mention new rules for social distancing that charity shops will need to implement. COVID-19 has also robbed charities of many of its traditional fundraisers such as the London Marathon, and other summer events are sure to suffer as well.
In a recent article YouGov took a brief look at the future of fundraising and how social media challenges had proved popular during lockdown – but how can social media platforms help directly drive donations?
YouGov asked Britons who donate to charity whether the ability to donate through a social media platform would make them more or less likely to donate. Overall, approaching a fifth (19%) of Brits who donate to charity said the feature would make them more likely to do so, the majority (63%) said it would make no difference on their decision to donate.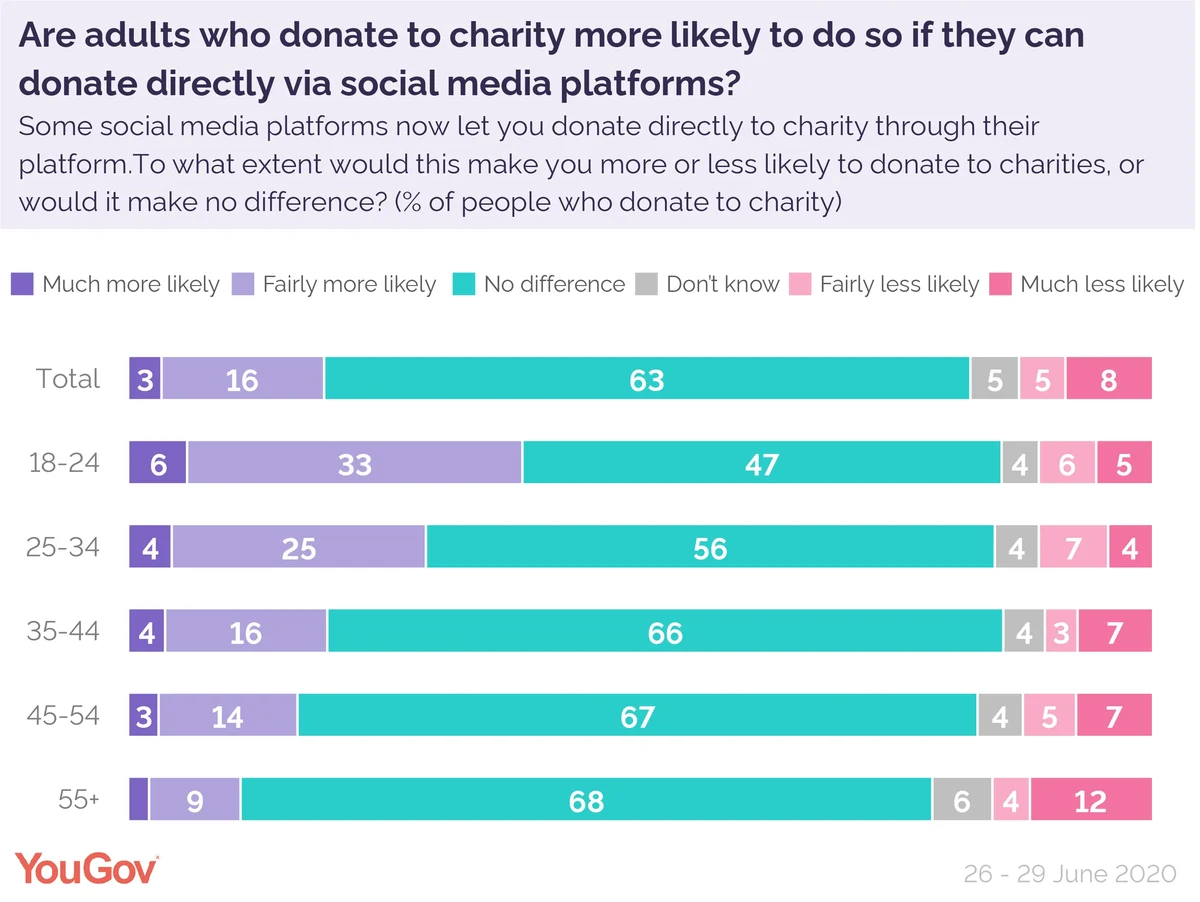 However, as we discussed previously, young adults are the least likely to donate to charity, according to YouGov Profiles data, but are most likely to use social media. Breaking this data down by age shows that double the amount of adults aged 18 to 24 (39%) compared to the general population would be more likely to donate to charity if they could do so directly through a social media platform.
While it is worth noting that social media usage among 19 to 24 year olds is higher, it is not overwhelmingly so. For example, 80% of this age group says they are members of Facebook, compared to 71% of those aged over 55.
Do users trust platforms to make donations?
One issue that arises from making such heavy use of a third party to gather donations is trust, and whether users think that social media platforms will pass on 100% of the donation they make to the charity it is meant for.
Internet savvy Britons are divided on the issue, with 42% trusting social media platforms not to take a cut of donations they make, compared to 40% who do not trust them at all.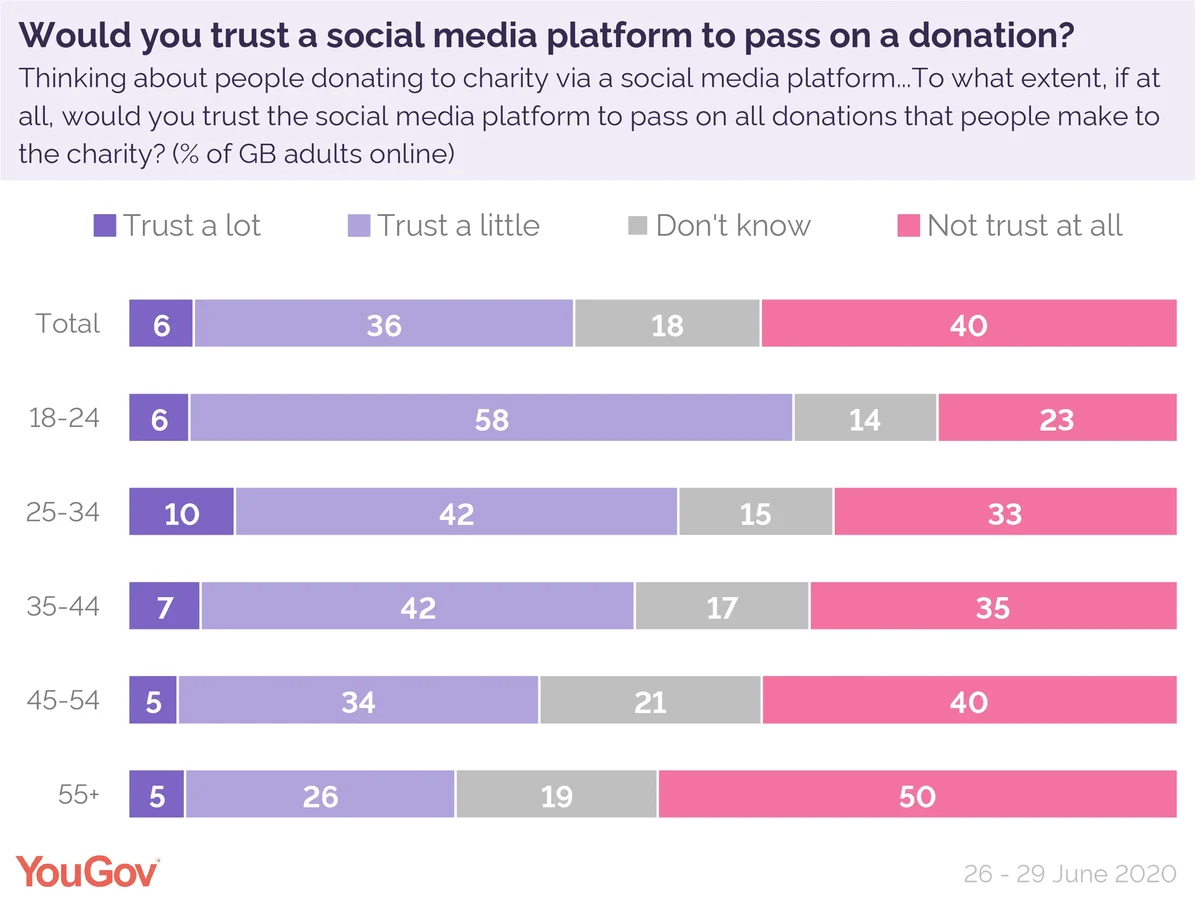 Once again those aged 18 to 24 stand out from the other age brackets as the most trusting of social platforms (64%) with only 23% of this group not trusting platforms to pass on their donations.
Among the older generations, only three in ten (31%) trust platforms to pass on all of the donations people make, with 50% no trust the platforms to do so at all.
What prompts social media users to donate?
As part of this research, YouGov also asked Brits how different types of social media posts would affect their donation habits, which reinforces that social media could be a useful tool for charities to target a younger audience.
Overall, 18% of adults who donate to charity would be more likely to do so after seeing posts from charities on social media, compared to 41% who would be more likely to give if they saw friends or family asking for donations.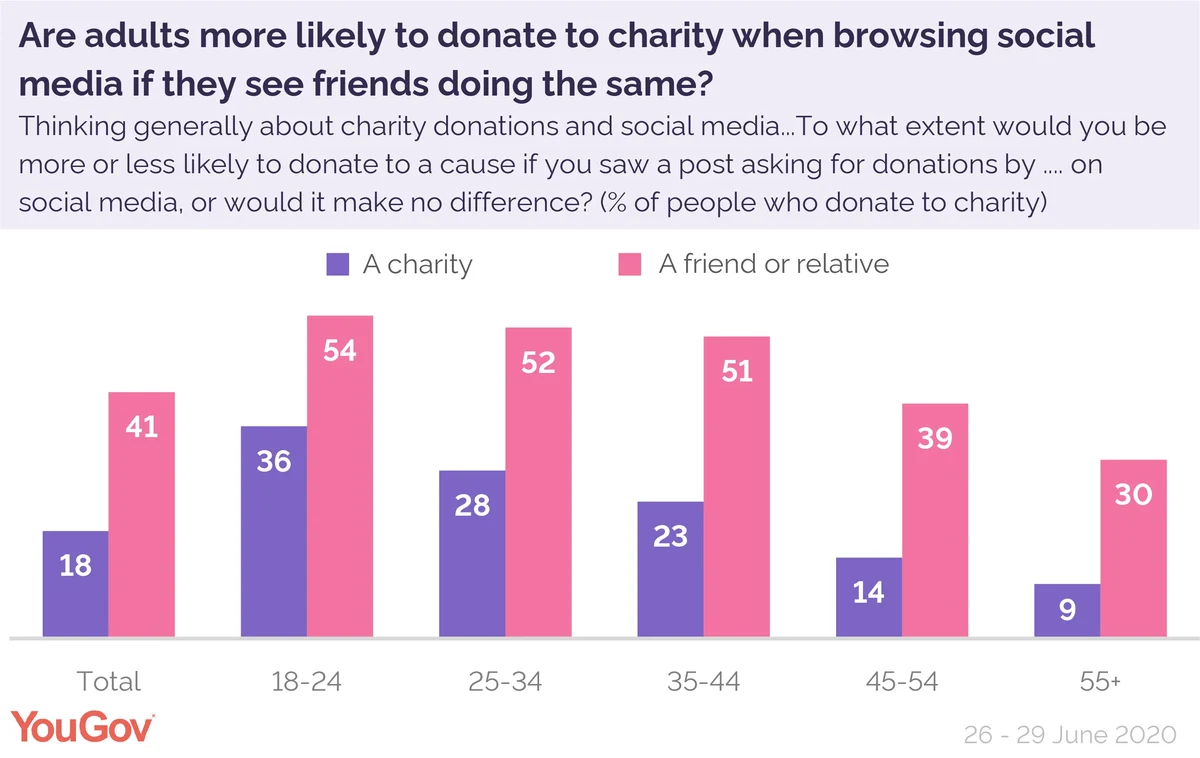 Of all the age brackets, those aged 18 to 24 are the most likely to respond positively to seeing both posts from charities and posts from friends raising funds – 54% of this group said they would be more likely to donate to a cause if they saw a friend or relative on social media asking for donations. This is compared to three in ten (30%) of the over 55's who say the same.
In summary, this research follows up and supports our findings in June that younger people can be effectively targeted by charities using social media. That research showed that 31% of British adults aged 18 to 24 who use social media took part in a social media fundraiser – further implying that generating donation challenges or other viral campaigns which get users to encourage others to donate could be an effective way to reach younger audiences.
The data used in this article previously appeared in the Third Sector
Learn more about YouGov RealTime research here