Awareness of the next-generation mobile phone network technology is high – but understanding and adoption are both low
The latest and greatest mobile phone network technology, 5G, began a staggered national rollout in May. It promises faster connections and higher bandwidth. But while 89% of Brits have heard of it, just 2% have adopted it so far, and only 27% intend to do so in future.
We asked over 2,500 people about their attitudes to 5G. Our findings revealed that Brits currently have a limited understanding of the technology – and, perhaps more worryingly for providers, a limited appetite for it.
Most Brits don't fully understand 5G – and don't intend to get it in future
Less than a quarter of Brits (24%) claim to have a "good" understanding of the technology and only 6% said they had an "excellent" understanding of it. Meanwhile, three in ten admit to having a "poor" understanding of 5G, and over two-fifths (41%) don't even know if their handset is 5G-enabled.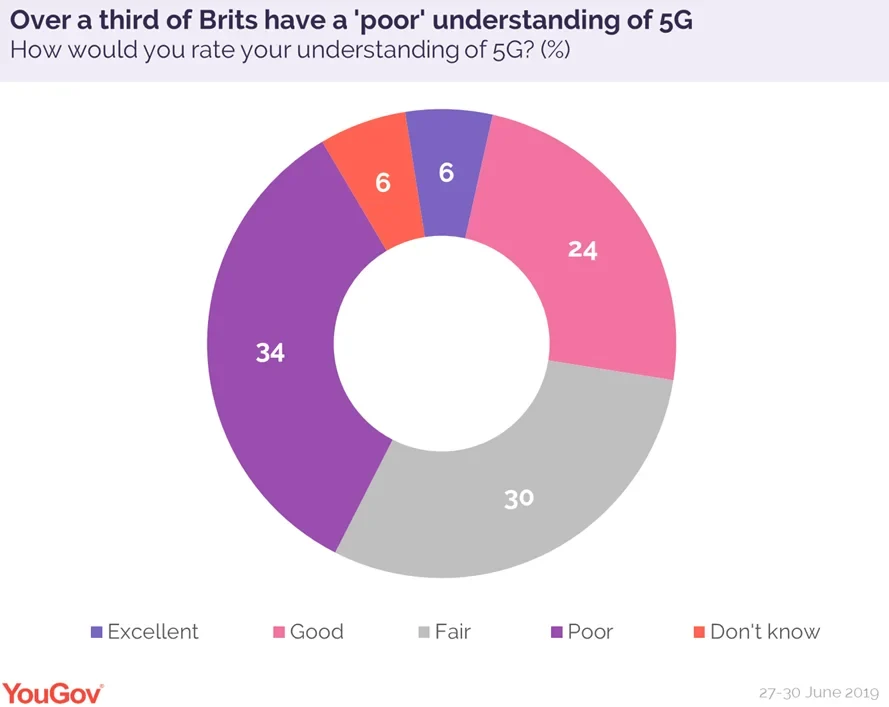 That most Brits don't yet fully understand the technology might explain their relatively muted feelings about it. Low adoption doesn't necessarily say much about public perception: it's only been available for a few months, it hasn't been rolled out across the entire country, and not every major provider offers it.
But what might concern providers is the fact that 28% of Brits say they're unlikely to get a 5G tariff in future, and 30% say they're neither likely nor unlikely to do so. Consumers who are ambivalent or negative about using the technology comfortably outnumber those who are more positive.
Of those who do intend to get 5G, only 10% say they'll switch in the next six months, 29% say they'll do so in the next 12 months, and a quarter (25%) expect to wait at least 18 months.
Why Brits do – and don't – want 5G
So what might motivate a decision to upgrade to 5G – or a decision to stick with an existing tariff?
Speed is a key driver for those who expect to switch: 46% of Brits want "super-fast connectivity with no lag time", over two-fifths (41%) want "better connections in busy places", 17% want to stream and download films/TV and 8% think 4G just isn't fast enough.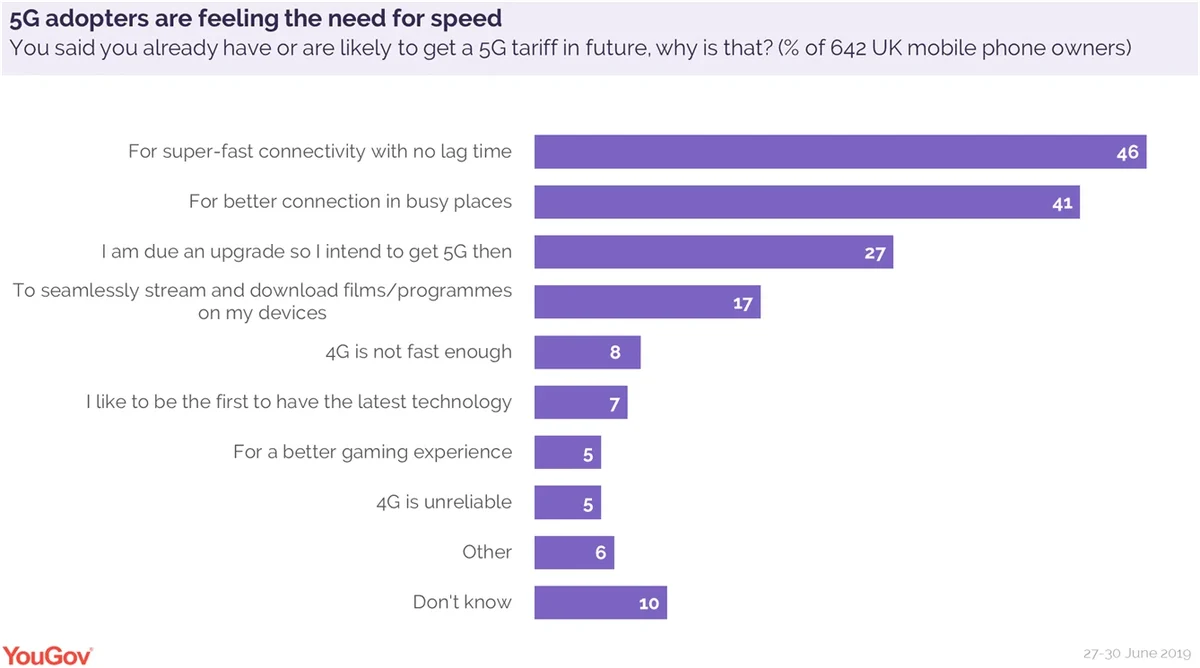 Among those who don't want 5G, speed also features: two-fifths (40%) of Brits think their current connection is fast enough for their purposes. Other reasons for snubbing the technology are more varied: 36% of those polled say its "too expensive", and a third (33%) say they don't have a handset that can use the service and don't intend to buy one.
Evolution, not revolution?
5G's most vocal advocates say it's going to change the way people interact with machines. But British consumers mostly emphasise speed – which suggests they see it as less a game-changer than an update of what came before.
This could just be what happens in the early stages of a new network's lifecycle – when the technology is less familiar and more expensive. Looking back at 2013, just over a fifth (21%) of UK consumers were confident that they knew what 4G had to offer, a third (33%) couldn't see the point of it, and less than a quarter (23%) said they were excited about it. Today, 73% of UK consumers with a smartphone have a 4G contract.
So as 5G continues its rollout and providers keep making the case for it, awareness and adoption may increase. At the moment, though, most Brits don't fully understand it, don't expect to use it in the near future, and aren't convinced that it's much better than what they already have.
See the full results here
Photo: Getty