Broadcast giants ITV and the BBC have joined forces to create an HD subscription service to rival the likes of Netflix, Amazon Prime and the host of smaller innovators.
Britbox will cost £5.99 per month and launch later this year, hosting archives of major BBC and ITV shows such as Love Island and Doctor Who. They will also start making their own exclusive new programmes from 2020.
Although this isn't the BBC and ITV's first foray into the world of commercial streaming, Britbox is the latest attempt to replicate the success of major players such as Netflix, who boast more than 150 million subscribers worldwide. YouGov data shows that one in five Brits (20%) mostly watch TV via streaming services, so the market is lucrative and still has plenty of room to grow.
Earlier in July, Netflix's share price took a 10% fall after paid-subscription growth failed to meet investor expectations, revealing a slight stumble in a long and steady period of growth. But 16% of the UK already has a paid subscription account with Netflix, while 8% share an account with someone else and another 1% have a free trial account. So their existing share of the market is significant.
YouGov data shows that Netflix's Buzz score (a net measure of whether consumers have heard anything positive or negative about the brand in the last fortnight) has been decreasing since May, having fallen 1.9 points since the share price announcement. Yet despite this, the majority of Netflix's brand health metrics are increasing, suggesting that while shareholders had a slight confidence wobble, customers are still invested and happy with the service.
Value scores (a net measure of whether consumers think the brand represents good or poor value for money) and Satisfaction scores (whether someone is a satisfied or dissatisfied customer) have remained steady in recent months among current customers. This is important because YouGov research shows that the number one reason (7%) people consider cancelling their paid-TV subscriptions is that the price has crept too high.
Similarly, Consideration scores (whether someone would consider purchasing from the brand in future) have increased from +46.9 to +50.2 in the last month suggesting that although paid-subscription rates have fallen, current customers are still considering the brand.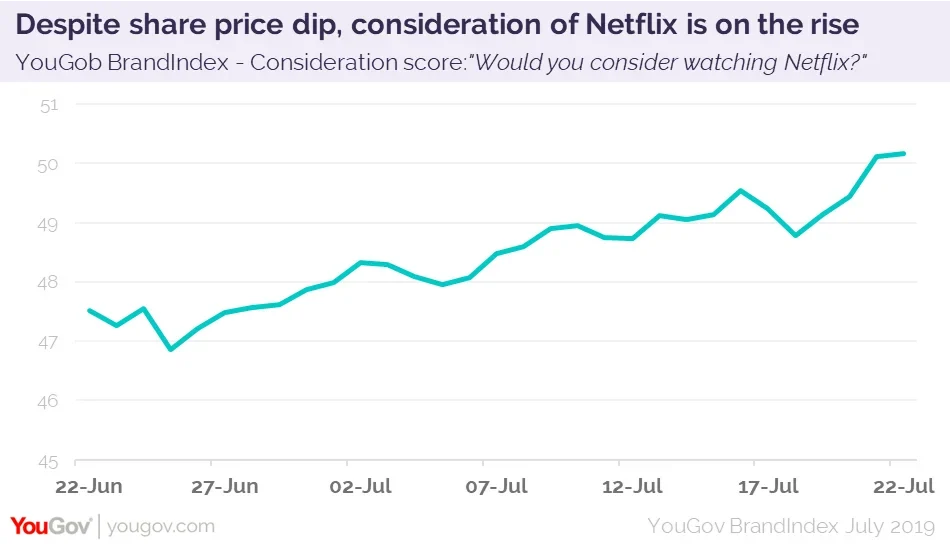 The BBC and ITV have long dominated British television, have a dedicated fan base and will populate the platform with some of their most popular content. Does this mean they will draw a new paying audience, take share from the likes of Netflix or stimulate further category growth? Time will tell.
This article previously appeared in City A.M.