Industry disruptors are hoovering up cost-conscious customers from MNOs.
Last year, 6% of UK adults changed mobile phone network – roughly 2.9 million people, or more than the population of Greater Manchester. But who are the winners and losers of this churn?
In the last few years there has been growing competition in the industry, offering more choice for consumers and meaning maintaining market share has become a tougher proposition for the established players.
The 'Big Four' mobile network operators (MNOs) - Vodafone, EE, O2 and Three - have come under increased pressure from rival mobile virtual network operators (MVNOs). MVNOs - such as iD, Sky Mobile, BT Mobile, PlusNet Mobile, and Giffgaff - don't build and maintain their own infrastructure but instead lease and licence it from those who do.
Over recent years MVNOs have driven down prices with aggressively low monthly contracts, but the flip-side is that they don't tend to offer the same premium handsets and packages as the more established suppliers.
It is a trade-off that many are willing to make. Our latest research among those who switched operators during 2018 saved an average of £1.88 a month from switching, which is slightly more than the £1.70 those who switched in 2017 trimmed from their bills.
However, it's not that switchers want to stop spending per se - it's more that if they can trim extraneous costs then they will. To this end, it's worth noting that despite switchers experiencing increased savings, people spent more on average in 2018 (£17.17) than they did the year before (£16.13). However this is likely due to operators increasing costs in 2017 and 2018 – particularly the MNOs.
So while some of the country is hunting for the best deal to trim their overheads, phones are such a vital part of modern life that many consumers are happy and willing to pay more - as long as it comes with the latest and greatest features.
Recently the MVNOs have been happily hoovering-up the cost-conscious customers from the 'Big Four'. Our research shows that the most common reasons switchers give for leaving the MNOs are high prices attached to contracts, poor customer service and unrewarded loyalty.
In fact when looking at the monthly spend, there is a stark difference between the two types of operators. Those with an MNO previously were spending on average £20.19 whereas now those on an MNO spend £22.33 – an increase of £2.14. In direct contract those who were with an MVNO previously spent £18.26. Those switching to an MVNO now spend on average £13.48 - a massive saving of almost a fiver.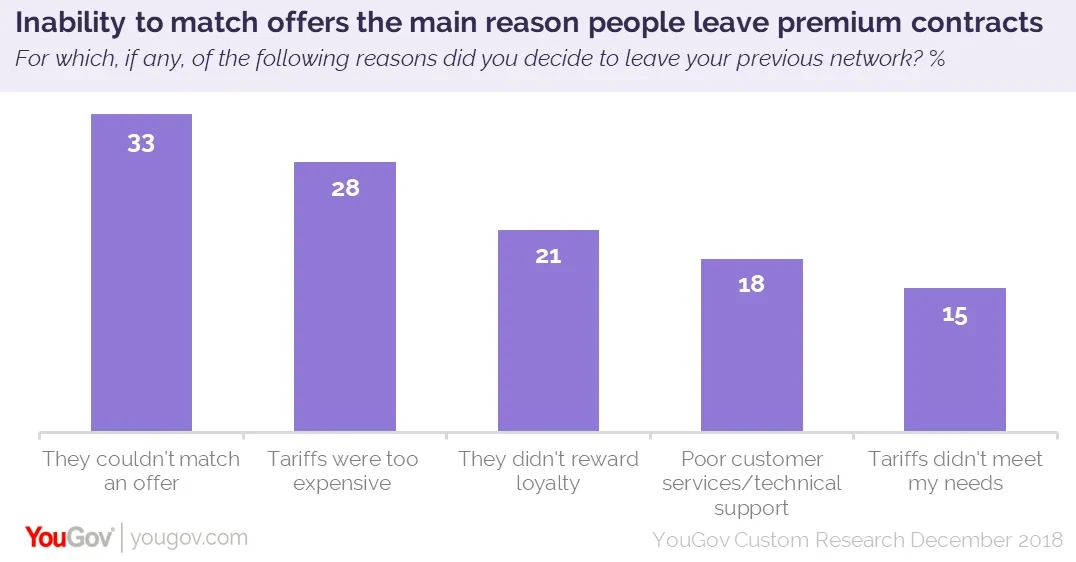 The continued rise of the disruptors is shown by the fact that while MVNOs enjoyed a net gain of 23% of switchers in 2018, MNOs had to absorb a net loss of 21%.
Yet while the most popular reason that switchers joined an MNO was because the tarifs available were good value (42%), a third (33%) of those leaving an MNO said that it was because there was an offer available elsewhere that their current provider couldn't match.
There appears to be a cyclical pattern to this. Cost-conscious consumers that intend to keep their handset move to an MVNO for a while to cut costs, but then return to an MNO when the time comes to replace a handset, as the overall package allows them to do it more cheaply, or at least spread the cost over a year or two.
This is backed up by our research which shows that 51% of those switching to an MVNO kept their existing handset, while 51% of those moving to an MNO got a new phone as part of the deal.
A good example of the first point comes among iPhone owners. The proportion of iPhone owners switching to an MNO fell 10% year-on-year, while at the same time almost all of the MVNOs saw a larger proportion of iPhone owners joining them. This highlights how the MVNOs offer an attractive proposition to those customers who already have a high-end handset – and therefore keep hold of it once out of contract with the previous operator and move to a SIMO offering with an MVNO which is often cheaper or better value with the MVNOs offerings.
But our data shows that switching is not only among high-end phone users looking at the end of their contracts - there is also a movement away from the premium end. Relative newcomer Huawei is continuing to take market share, particularly among those cost-conscious users who switch contracts. In 2017, only 2% of switchers used a phone from the Chinese maker, whereas in 2018 this had grown to one in ten.
It does remain to be seen what will happen with this brand in particular however given the recent worries about it and the increasing pressure from the US impacting the brand – but that's another story.
The continued rise of MVNOs comes from consumers feeling comfortable about switching phone networks in a way that they don't when it comes to moving bank. However, while the growth of MVNOs has clearly been welcomed by the public, it poses several challenges to both MNOs and also the wider industry (handset manufacturers, retailers etc). Only time will tell how the market adapts and responds to this change.