Huawei has made headlines since launching in the UK, both good and bad. Whilst the brand saw positive coverage after the release of its two flagship series, the P and the Mate, and its emergence as a new challenger to Western powerhouse tech brands like Apple, there have also been more negative stories surrounding network security, Huawei's CFO and tense relations between Northern America and China.
In light of these recent headlines, YouGov has extracted data on emerging smartphone brands such as Huawei, OnePlus and Xiaomi, to explore whether the reputation of these Eastern technology brands has been impacted.
Generally, attitudes to Chinese smartphone brands vary across Western markets. Western consumers struggle to trust them, with only 8% of Brits and 5% of Americans regarding Huawei as trustworthy – much lower than the trust in brands such as Apple and Samsung.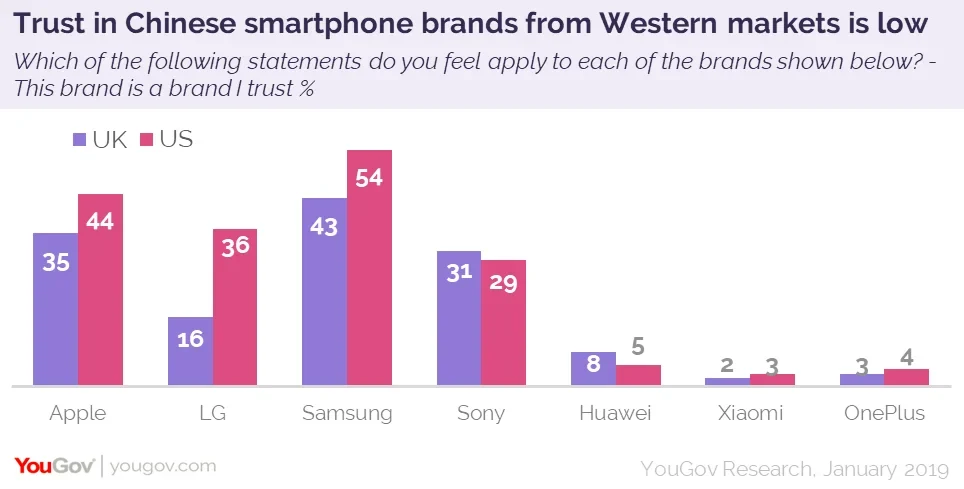 However, Huawei is the only one of these three Eastern brands which has been able to gain a foothold in the West in a relatively short time. Almost one in five Brits would consider a Huawei handset as their next phone (17%) and many have positive perceptions of the brand - a quarter see Huawei as up and coming (26%) and a fifth (21%) regard the brand as good value for money. This is notably higher than Apple and Samsung's value for money scores (11% and 16% respectively).
These views of Chinese phone brands are unsurprisingly less common in the home market, where respondents consider Huawei more trustworthy than Apple (53% vs 30%). Chinese respondents also hold more favourable views of OnePlus and Xiaomi, but Huawei is regarded as most reliable (51%) and the most preferred brand (54%). Huawei's lower up and coming score (33%) reflects the credibility already built up at home.
However, these views aren't exclusive to Eastern markets; Westernised markets such as in Hong Kong and Singapore are less trusting of Chinese brands, for example just over a fifth of Hongkongers regard Huawei as trustworthy (23%) and just one in five Singaporeans (20%). Despite this, 43% Hongkongers and 44% Singaporeans class Huawei as an up and coming brand, highlighting potential scope to win over more customers from these countries.
Although Huawei is the more recognised Chinese phone brand globally, other brands such as Xiaomi and OnePlus are emerging more into the public eye. Awareness levels are slow to grow, but these brands are beginning to be a threat to the more established brands, for example 2% of Americans who currently own an iPhone would like to try a OnePlus or Huawei as their next handset.
However, Huawei may have already converted many customers. Amongst existing customers, two thirds (67%) perceive it to be their preferred brand, whilst 70% believe the brand is right for them. Over half of Huawei current customers (56%) trust the brand.
All of this suggests that while the Huawei brand will face future difficulty in Western markets and increasingly, westernised Eastern markets from negative headlines and politics, gains made already in the home market and increasingly in Western markets mean that this shouldn't dampen Huawei's global performance overall.
Image: Kārlis Dambrāns
See the full results here: