Chinese phone maker Huawei has made strong inroads into Europe in the last couple of years, which we can see in steadily rising brand awareness and opinion data.
The company is firmly established in China but has worked hard to gain a foothold in Europe. YouGov BrandIndex data shows that far more people are familiar with Huawei in the UK than just two years ago. It's Awareness score has jumped from 45% to 66%.
It will be hoping that its latest model, the Mate 20 Pro, can continue that trend. Choosing to launch it in London on the doorstep of every European technology journalist was certainly no accident.
Alongside this, Huawei's Impression score (whether someone has a positive or negative opinion of a brand) has also grown. Over the same period of time, since October 2016, its rating has moved from +2 to +10. Existing customers have an even rosier view, with an Impression score of +70. This suggests that once someone makes the jump to the brand they are convinced of its quality.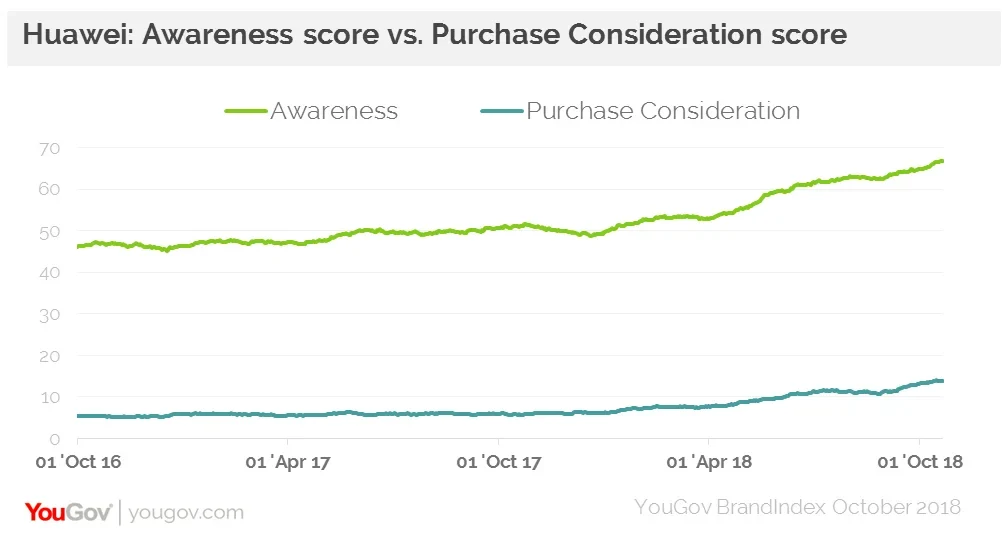 Those contented customers are crucial for Huawei in building its market share. Our data shows that Huawei's Word of Mouth score (whether someone has talked about a brand with friends, family or colleagues over the past two weeks) among current customers has recently peaked to 40%. At this point in 2016 its score was 20%. Similarly, its Satisfaction score among current customers is very solid, currently standing at +80.
Most importantly for Huawei, more potential customers are starting to come around - its Purchase Consideration has improved markedly. On this rating (whether someone would consider purchasing a Huawei phone) our data shows a jump from 5% to 14% in just two years.
Breaking Apple and Samsung's joint stranglehold on the market is an extremely tough task, as is stealing market share from other Android brands such as Sony or LG, but our data shows that Huawei is quickly and steadily building a solid brand in Europe.
Image Getty
This article originally appeared in City AM