New research from YouGov reveals that smart home devices are becoming more prevalent in UK households.
YouGov's Smart Homes 2018 Report indicates that close to a quarter of Britons (23%) own one or more smart home devices (excluding smart meters), while one in ten now (8%) have two or more, underlining the growth in the industry. Smart home devices include; smart lighting, smart security, smart speakers and smart thermostats.
Smart speakers remain most popular (11% own one of these), ahead of a smart thermostat (6%), lighting (5%) and security (3%).
The report shows that once someone buys one smart home device, they are more inclined to purchase another. Among people who currently own at least one smart appliance, consideration for getting other smart devices increases to 40%.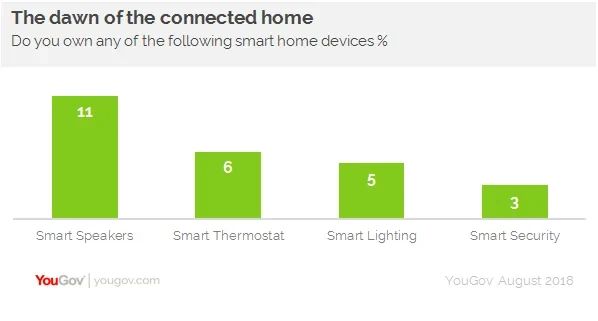 Smart speaker owners are much more likely to own another device. A fifth of smart speaker owners also own smart lighting, compared to 5% of the population. Similarly, 19% have a smart thermostat, against 6% of the public.
What are the barriers to further growth?
Three quarters (75%) of non-owners are aware of smart home appliances, but don't know much about them. Only 16% of non-owners believe they are fully aware of smart home appliances and know a lot about them (this rises to 39% among owners).
Looking specifically at digital assistants, 56% of smart home device non-owners say they don't see the need for them, as do 54% of owners.
YouGov's data underlines how security fears are one barrier to industry growth. Of the concerns people have about smart appliances, hacking/cyber-attacks come out on top, with 39% of non-owners saying this. Over a third (36%) of this group believe the appliances are too expensive, while the same percentage have fears over data privacy.
Ownership numbers are impressive, for this point in the product cycle. The key is to get people buying their first device. Once they do so, they are much more likely to go on and add to their smart home collection. This means that the smart home industry has two areas of growth that may require different strategies - existing entrants to the market, and those from outside.
Having said that, many people are either suspicious or don't see the need for the devices. To truly initiate a smart home revolution, prospective customers need not only to be convinced of the capabilities of the technology, but why they need it and how it can help them.
Download the report here