The 126th edition of the Wimbledon Championships tennis tournament will conclude this Sunday – possibly with Andy Murray in the final – and from Rafael Nadal's shock elimination, to the plethora of famous faces in the spectator stands, it's arguably been an exciting tournament so far.
Wimbledon is the oldest tennis tournament in the world, and while some things have changed, such as the 2009 addition of a retractable roof to protect centre court from rain showers, other things, like Pimm's and strawberries and cream, are timeless Wimbledon traditions.
In YouGov's SportsLab we invited you to tell us your views on a range of Wimbledon-related matters; from whether men's and women's champions should be awarded equal prize money in light of renewed debate among players, to which former Wimbledon champion deserves the 'greatest ever' title.

Read what our panellists had to say below!

We opened our Wimbledon Labs by inviting your take on whether the men's and women's champions should be awarded equal prize money, or if either the male or female champion should get more prize money than the other.
Some background:
In 2006, Roger Federer, the men's champion, earned £655,000 while the women's champion, Amelie Mauresmo, took home £625,000 – £30,000 less than her male counterpart. The following year, 2007, Wimbledon began awarding the male and female champions equal prize money – both Venus Williams and Federer were given £700,000 apiece.
Gilles Simon, the 13th seed at Wimbledon, said recently that "equality in salaries isn't something that works in sport", and that men should be paid more prize money than women, for the fact that men's matches can go up to five sets, where women's matches can go up to three.
However Marion Bartoli, the world No 9, argued that women's tennis players "put in as much as they (men) do. The physical demands, the training and the investment in ourselves are the same as theirs," she said.
While you were pretty evenly split on the issue, a slightly larger proportion of participants said the
men's champion

should be awarded MORE prize money than the women's champion. But what was the logic behind it?
Participants who were of this view agreed with Giles Simon's argument that the men's champion should be paid more simply because the men's matches can run into longer sets that the women's.
You also said you felt the men's game more entertaining, and thus a bigger draw, and should be acknowledged for this with a boost in the amount given in prize money.
Taking the opposite stance, a slightly smaller proportion of participants said the
men's and women's champion

should be awarded EQUAL prize money – as they are currently.
Those who supported the men's and women's champion receiving equal prize money argued that female players put in just as much of an effort and physical and emotional commitment to reaching the final stage of Wimbledon as the men – thus their prize should be equal. The number of sets played ultimately doesn't matter, came the argument, as it's all relative.
"The men have to play longer matches, which means more effort and this should be rewarded" T, East Midlands
"They play more sets and the prize money should reflect that. Any other dual Women's Tennis Association and Association of Tennis Professionals event, like the Eastbourne warm up event to Wimbledon, where both men and women compete at the same event and play a maximum of three sets should have equal prize money. But if the men are playing more tennis at one of the Slams, the prize money should reflect who has put in more at that event to get to the final" James H, London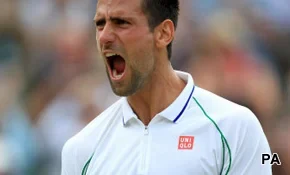 "It's chalk and cheese – like two different sports. When two women play a match lasting over five hours (or even over three hours) they may have a case for equal pay. No woman player would get into the men's top 200, and it's just absurd (and so PC) that they get equal prize money" Anon
"Men's matches are longer, more attractive, and more demanding. Men's tennis brings in more viewers and is generally a more popular sport. As with any other business, if they are bringing in more money for organisers and the sport in general they should have a bigger share of the prize" Anon
"Think of if we bought one apple at price of £1, if we bought three apples the price is £3, and if we bought two, the price should be £2 and not £3. In the name of equality, inequality is being promoted where men are facing discrimination compared to women" Anon
"More entertaining, much harder to win, and they have to play for five sets" Anon
"They both dedicate their lives to sport in the same way and are at equal risk of injury. Women train as hard as men" Kate, London
"They are both as tough, but women play fewer sets due to the differences between men and women. It still takes the same amount of effort" Joey
"A male athlete competing in five sets can be just as gruelling as a female taking part in a three set match. There should be no difference, as the achievement is exactly the same. Wimbledon champions nonetheless" Matt, Swansea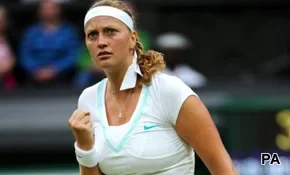 "It doesn't matter about the effort you put in in a single match, as it's all about getting to the stage of the championships in the first place. The women will have worked just as hard as the men to be able to qualify for these championships in the first place, and it is only fair that prize money should be equal – to think otherwise is just bigotry" Amy, Hull
"Bartoli is right – women's matches only go to three sets because they are physically less able than the men (in general), but that doesn't mean they don't exert as much effort" Anon
"Both men and women give their all throughout the championship, and they should be aiming for the same target" Anon
Q: Greatest ever gentlemen's singles champion?
Six-time Wimbledon champion
Roger Federer

was by far the favourite of those who took part in the discussion, of the men's winners.
An overwhelmingly large proportion of you said the Swiss player, who was the Wimbledon champion from 2003 to 2007, and then again in 2009, was the greatest tennis player ever.
Those who chose Federer said he was a 'complete player' who excels at all aspects of the game of tennis.
Federer-admirers also said that he had 'style', and described his performance on the court as 'artistic', 'elegant' and 'graceful'.
Participants expressed admiration for what they perceived as Mr Federer's good character, referring to his comportment on the court as 'sporting', 'respectful' and 'dignified'. Hence a sportsman with kudos both on and off the court.
Q: And what about the greatest ever ladies' singles champion?
For the women, participants were similarly decided in their choice of who was the best player ever:
Martina Navratilova

, who won the Wimbledon women's singles title a record nine times. Here's why they picked her:
Many participants who chose the American tennis player simply said that 'her record speaks for itself'.
Ms Navratilova reached the Wimbedon singles final 12 times, and won the championship in 1978 and 1979, and then from 1981 to 1987, before achieving her final Wimbledon victory in 1990.
Those who took part described her playing style as 'consistent', and praised her 'longevity', 'perseverance', and personal strength.
Many of you also said that her athletic prowess and force 'raised the standard' of women's tennis.
"In his time he played the complete game. He had no weaknesses. His serves, his returns, long shots, ground strokes, back hand. What can I say – on his best day he would have beaten any other player on his best day" Anon
"He has won many tournaments, and he is always calm, humble, magnanimous and gracious" Denise, E Scarborough
"He has incredible style, skill and grace in playing; a wonderful single handed backhand; a great serve he can vary from just fast to slice; he appears to have great concentration; he is gracious; he can play without all the stupid, and even rude, gestures so many players use nowadays" T, East Midlands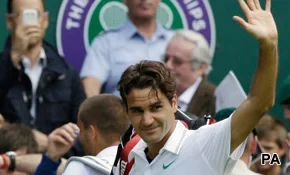 "He is a great player, rarely injured, and always plays at just the right level, not wasting energy but going up a gear when under pressure. He is a gentleman, always dignified, never making a fuss, articulate and a great ambassador for the sport" Anon
"He's simply a brilliant all-round player. He has managed his physical fitness extremely well and is rarely troubled by injuries. He has the ability to come back from almost certain defeat with skill and aplomb, and he is able to lift his game mid-match to a level that few other players can reach. He has won sixteen Grand Slam titles, and he is still competing at the top level at the age of thirty, and his sportsmanship and grace are clear for all to see" Melissa, Crewe
Trailing behind Federer, a much smaller proportion of you chose five-time Wimbledon champion Bjorn Borg as the best tennis player ever. The Swedish player won Wimbledon ever year from 1976 to 1980.
The third largest proportion of participants said that seven-time Wimbledon champion Pete Sampras was truly the best tennis player ever. The American was the winner of Wimbledon from 1993 to 1995, and then from 1997 to 2000.
"She was a complete player, and seemed to dominate the sport for so much longer than players in recent times" Anon
"Raised the game to a level where it could stand shoulder to shoulder with men's tennis" Kate, London
"For her longevity and the way she transformed the women's game with her strength. Her hard work and strong will made her a champion" Anon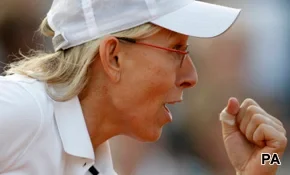 "She raised the standard of the women's game – won more Wimbledon titles than anyone, and not just in singles. Her record will probably not be bettered" Anon
"She has power, perseverance and a fantastic winning streak. She won nine Wimbledon titles and a total of 59 titles at Grand Slams. She has overcome so much in her life, but is still holding her own. I admire her greatly for her work within and outside the tennis world" Hanna O, Wales
A considerably smaller proportion of you nominated German player Steffi Graf, who won Wimbledon seven times between 1988 and 1996.
The third largest proportion said that American player Serena Williams, who has been the Wimbledon women's champion four times, was the greatest player ever – pipping sister Venus to the post, from the participants' perspective.
Q: What are the best and worse things about Wimbledon?
Then finally, we gave you space to tell us what you felt the best and worst things were about the tennis tournament - the most prominent themes as follows:

The
best

of Wimbledon:
Wimbledon-watchers told us that the 'atmosphere' of excitement at the tennis tournament was among the best things about it.
They also liked the 'traditions' of Wimbledon, now in its 126th year, such as eating strawberries and cream, and being the only major tennis tournament to still take place on grass courts.
You felt that Wimbledon was a positive representation of 'Britishness', and shined a positive light on the UK for the world to see.
The
worst

of Wimbledon:
Those who took part in the discussion had two principal gripes with the Wimbledon Championships: The delays and unpredictability caused by rain.
And what you saw as the 'futility' of trying to get tickets to the event.
To a lesser extent, participants complained about players 'grunting' being irritating.
"It is a great event – the tennis is brilliant and the atmosphere is brilliant" Anon
"The dramatics, the unpredictability, and the fact that it is really down to the game not necessarily past achievements, eg. Rafael Nadal" Amy, Hull
"Strawberries and Cream! The traditional side of it with the way things are done, the television coverage is among the best, doubles treated with slightly more respect than at other Grand Slams, and the overall quality of tennis during the two weeks on grass" Anon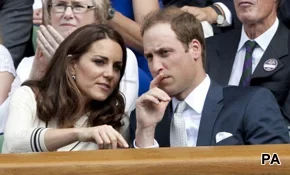 "Keeping up traditions and allowing the widest possible British audience by staying with the BBC" MO, Highlands
"The best thing about Wimbledon is that it provides a bit of an escape from the modern era: it highlights values we have lost. This includes its traditions, including formality" Chris, London
"The Britishness of Wimbledon; the fact it brings the country together to revel in the joys of healthy competition with the rest of the world! It's also a good show case for England and attracts tourists to the capital every year" Anon
"The possibility of rain. Rich people's seats empty on Centre court should be sold to people queuing" Anon
"The awful grunting especially from the female players – I find this becoming more and more irritating and should be banned. I have watched none of the female matches this year due to the awful noises they make" Charlie, Ipswich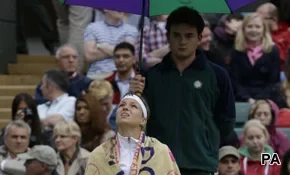 "It carries on broadcasting nothing even when there are rain delays and that gets really boring for the viewer (the presenters cover the same old discussion ground time and again)" Anon
"The rain, but unfortunately we cannot control the weather!" Kate, Wakefield
"Inability to cope with inclement weather and the futility of trying to get tickets" Anon
"The weather often stops play which is no one's fault except the weather. Perhaps now the roof is on we will be able to see live tennis while it's raining" Anon

What have you thought of this year's Wimbledon Championships?
Have your say in our Disqus comments section below