Stuart Pearce, coach of the Team GB football team for the London 2012 Olympics, ignited controversy last week with his decision not to select David Beckham as one of the three players over the age of 23 allowed on his 18-man squad.
Beckham, who now plays in a lower-tier league in California, was instrumental in making the UK's bid to host the Olympics a success, and many commentators have spoken up to say he should have been selected for Team GB. Some feel the 37 year-old former England captain is past his prime as a footballer, however, and others have argued that only the best players should represent Britain at the Olympics.
In YouGov's SportsLab, we wanted to hear your view – Do you think leaving David Beckham off Team GB was the right or wrong decision?
Over 1,000 of you took part in this discussion, and you were almost split down the middle over whether leaving David Beckham off Team GB was the right or wrong course of action.
We also invited you to give your reactions to comments made by Sir Ian Wright, the former Arsenal player and now football commentator, that football should not be part of the Olympics.
Scroll down to read our breakdown of your discussion here in Labs.

Tell us your view: Should David Beckham have been chosen for Team GB at the London 2012 Olympics?
How do you think the Team GB football squad will perform at the Olympics?

1. Was leaving David Beckham off Team GB the right or wrong decision?
A slightly higher proportion of participants said Stuart Pearce had made the wrong decision excluding Beckham.
Participants holding this stance argued that giving him one of 18 spots on the squad was a reasonable reward for all he has done for the London 2012 Olympics, football, and Britain as a whole.
Many of you told us that you view David Beckham as an effective and admirable ambassador for Britain, who has done a lot to raise the profile of his nation and his sport in a positive way. Participants' loyalty and gratitude for Beckham's contributions were reflected in their feeling strongly that he should have been given a spot on Team GB as a reward for his work.
You spoke admiringly of Beckham's 'leadership' qualities, the good example he would set for younger players, as well as the commercial impact of the increased buzz and attention he would attract to Olympic football matches.
Those who thought that Stuart Pearce made the right decision not to play Beckham felt, however, that the Olympics was a contest of athletic ability, and players should be selected on that criteria only.
While many of you who held this view expressed admiration for Beckham's past glories as a footballer and acknowledged his role as an informal ambassador for Britain, you argued that he is now more of a celebrity than a world-class athlete.
You told us that his inclusion on Team GB would ultimately overshadow the other players, and make what is supposed to be a contest of athletic ability into pure entertainment.
"David Beckham was an integral part of the campaign to get the Olympic Games, but more importantly he is still a good footballer – probably better than the ones they will pick. He is one of the best ambassadors the game of football and the country has; it's such a shame he has been left out" Anon, Durham
"David Beckham has been a great ambassador for the games, and Team GB in particular, and wherever he has played throughout the world shirt sales have benefitted. More interest would have been generated in the tournament worldwide if he was there. In addition, I still believe he is more than capable still at this level" Morgsuk, Rochford
"He has been such an ambassador for English football and the London Olympics. The Olympic football tournament shouldn't be taken as seriously as, say, the European Championship, and despite David Beckham no longer playing at the very top of domestic football, his inclusion in the squad would not have a negative effect on the collective ability" Neil B, Halifax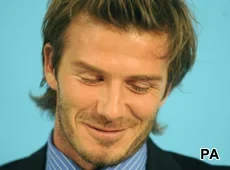 "David Beckham has played a crucial role in winning us the Olympics, as well as in the build-up to the games. Becks is known around the world and is probably as well known as the Queen. For all that he has done for charity, football, and the UK as a whole, I think that he deserves a place in the squad and I would have picked him over Craig Bellamy as an over 23 member" Anon
"After all he's done for football and the Olympic bid, he's one of the biggest sports stars on the planet, he would have put bums on seats and I'm sure the British public would have wanted to show their appreciation of him for, perhaps for the last time" Stu J, Westhoughton
"Having Becks in the team would be a great reward for his patriotism and all he's done to deliver the Olympics to London, and his contribution to football. Micah Richards is a player who decided not to be considered for the Euros because he was going to be on the reserve list – disgraceful. … I have tickets to the final hoping that Becks and the boys would be there. It's slightly tarnished now" Angie, London
"David Beckham has been an ambassador for sport in the UK including the Olympics. Surely he could have been included in the Team GB squad. His presence would have been an inspiration to the young members of the team and he did not have to be an automatic choice to play" Doug S, Emsworth
"He may well be past his best, but his knowledge of football and leadership on and off the pitch would be invaluable and an excellent incentive for the younger guys" Andi, Ebbw Vale
"I feel that David Beckham is an ideal diplomat on and off the field for Great Britain. He has been involved in all aspects of the games, and has worked his socks off. He is of a calibre that would motivate the rest of the team, as he would give 110% for his team, country and his own pride" Ken
"All the things Beckham has done for the London Olympics should alone be good enough to put him at least in the squad. Having him in the squad would increase interest from around the world (including us Brits) into Olympic football and the Olympics as a whole. Having him come on just as a sub would cause a buzz from fans around the stadium, plus shirt sales would also increase" Rob K, Rushden
"He's a famous name rather than a current high-status player; with such limited places available, precedence has to be given to someone who is currently at the top of their game" Cat, Pompey
"He's not one of the best players anymore. We should be playing to win, not building a team based on rewarding other activity or legacies" Beth J, Woking
"Beckham is too old and is no longer playing top, competitive football. He is a symbol now, a memory of a player that had his moments on the pitch, but has had more moments off the pitch in recent years. It was the right decision to omit him. No one has the right to a place simply because they are an Olympic ambassador" David P, Newcastle
"All Olympic teams should be chosen on merit. You can't buy everything in this world and he just isn't good enough. His time in the England team was extended way beyond what he merited, and it is about time he walked away with great satisfaction with what he has achieved in his career. In addition, it would be an even greater mistake for him to light the Olympic torch in the Olympic Stadium. It should be someone who has an Olympic history, such as Sir Steve Redgrave. Beckham wouldn't even begin to compare!" Laurie K, New Forest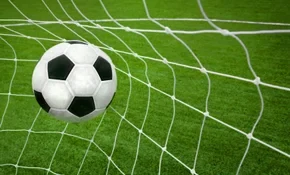 "He's not good enough to play for England (based on selection for the Euros), so why would he be good enough to play for the UK? He's popular, he's apparently a nice bloke, but would he make the team better?" Anon
"He is only wanted as a crowd puller. He is a favourite with the people making money, not the sports-minded people. He is a great example to other players on what is achievable, but he is past his best" George, Worcester
"Although an admirer of David Beckham, his decision to pursue a career playing soccer in America leaves him without match practice at an appropriate level. A Beckham in his prime would be good in any British team" Art L, Reading
"He would overshadow the whole team and hog the limelight. The object of entering is to win, not self-glorification. There are plenty of players who will not get the chances he had with United Real Madrid or England who deserve a chance for recognition" Dave, Edgware
"The team to compete at the Olympics is being selected on current footballing merit. No matter how good a player Beckham was, or how much he has given to our Olympic bid, he has no place in the team. He should surely have been able to recognise this" Bill G, Peckham
"It is meant to be a serious competition and he's probably too far over the hill to compete properly. Dedication to the cause goes with skill and physical ability – the latter likely to have deserted him somewhat. Conversely, Micah Richards, who may be selected because of his skill and physical ability, should not be selected because of his lack of dedication – his stance on not supporting England in current European competition" Anon
2. Should football even be part of the Olympics?
Talking about football in the Olympics in an interview with the Sun, Ian Wright, the former Arsenal player and now football commentator, said: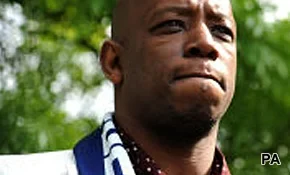 "I'm not a big fan of football in the Olympics. I think the Olympics should just be for track and field, and people who really aspire to win a gold medal and it's what their whole life's work's about, rather than it being in there for football … I was reading about a fella the other day who put himself on eBay to try to raise money to help him get to train, and you've got footballers saying 'should I, shouldn't I?' It ain't right for me."
Most of those who took part in the discussion agreed with Sir Ian, arguing that football gets enough attention with the wide variety of other tournaments and events serving the sport.
Participants argued that the Olympics isn't taken that seriously in the football world, and therefore often Olympic teams are not comprised of the best players. Many of you made the point that for athletes in sports like track and field, competing at the Olympic Games is the absolute pinnacle of their careers. While for footballers, the Olympics rank under other competitions, such as the European Championships and the World Cup.
Those of you who disagreed with Sir Ian said that the Olympics should be for all sports, and that excluding a massively popular one like football would only serve to diminish interest in the games as a whole. You also told us that with corporate sponsorship of amateur athletes the line between amateur and professional was blurred, and that professionals competed in other Olympic sports, such as tennis. Many argued that football was part of Britain's 'heritage', and that it was also a good opportunity for younger players on the Team GB squad to gain experience competing in a global sporting event.
"Football is a professional game, and we are not likely to see the best players at the Olympics. They will be too busy getting ready for the new season. It's the same with tennis and golf. Sports which have their own leagues and tours should not be included" Anon
"Football has lots of big competitions like the World Cup and European Cup. Footballers are paid massive amounts of money and the Olympics isn't relevant to them. For many sports it is the pinnacle of the athlete's career and football devalues that" Anon
"I don't necessarily feel that football shouldn't be in the Olympics, but it should be limited to amateur players rather than professionals; having the same teams and players competing here as in all other tournaments seems to go against the amateur ideal of the Olympics" Cat, Pompey
"The Olympics should not be for professional sportsmen, such as footballers and tennis players. It has become far too commercial and the sponsorship is way over the top" Alangb, Salford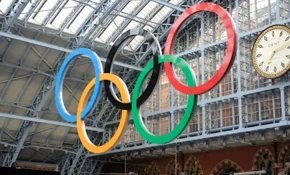 "[Sir Ian] makes a good point – football gets plenty of exposure elsewhere, and it's a bit pointless to have such a huge sport as part of the Games, at least for men. Women's football needs all the additional coverage it can get, so I'm all for that. Alternatively, only allow amateur footballers to compete" Iain, Glasgow
"The Olympics is primarily about individual achievement. Adding football is unnecessary and will not be of interest to most sports fans. With the wide choice of sports to watch on TV I will not be following football. The fact that football tickets have not sold well is surely evidence of a general apathy" Doug S, Emsworth
"I would prefer an amateur game for the Olympic not one full of overpaid prima-donnas" Anon
"Football has been out of the Olympics for far too long. The Premier League players complain of long seasons and not enough rest, yet now want to play in a competition which doesn't traditionally have football. They can't have it both ways" Martin, Runcorn
"The Olympics is about entertainment now, as is football. There is no real defining line between sponsored amateurs and professionals in sport, so football should be a part of the Olympics, as should darts, snooker and squash" Stu J, Westhoughton
"Having football in the Olympics can help to raise the profile of the whole event, and also the squads are in the main under-23, so a great opportunity for younger players to shine in the early days of their careers" Anon
"Football is the biggest game in the World and the Olympics are the biggest sporting event. To leave football out would be like ignoring the wishes of the majority of the world's population. There are many other sports I would question regarding their inclusion, before football !" Ken
"It only takes place every four years and is a very popular event which sports minded people want, so why not, a gold medal at the Olympics is something to be cherished" Terry, Exhall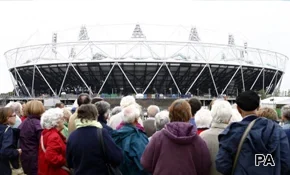 "If you look around the world most countries take the Olympic football seriously. It is viewed as a great experience for younger players to learn about major tournament football. Lionel Messi has a gold medal and countries such as Argentina, Brazil and Spain use this to build squads for future major tournaments" Neil B, Cambridge
"Olympics shouldn't exclude a sport such as football any more than hockey or even tennis. Olympics is about top athletes competing to be the best at their chosen sport" Phil, West Midlands
"Every host nation tries to include its national game in the Olympics, and we should be proud of our football heritage even though we are no longer the best in the world" Ray S, Manchester
"The Olympics should be inclusive and have something for everyone. Particularly in the UK, football is an important sport to bring people together and therefore it is likely to be a way to get people interested in the Olympics rather than through other events which many people may not follow" Anon

Tell us your view: Should David Beckham have been chosen for Team GB at the London 2012 Olympics?
How do you think the Team GB football squad will perform at the Olympics?