Euro 2012 fever is upon us!
YouGov's SportsLab invited our panel's dedicated football fans to tell us which teams and players they think will dominate UEFA's European Championships; how the England team will fare in the tournament; how many goals will be scored overall; and who they thought could be the underdog of the competition.
1,754 self-professed football fans from the YouGov panel took part to give their predictions in our Euro2012 SportsLab. Do you agree with their predictions? Read and comment below!
Q: Which two teams do you think will reach the final?
Those of you who took part predicted that Spain and Germany would be the two teams competing for the Henri Delaunay Trophy, named after the first General Secretary of UEFA.
Spain are the defending champions, having won its second title the last time the tournament was held, in 2008, when Germany came in second.
Germany is the most successful team in the history of the UEFA European Football Championships, having won the title three times.
Q: Which of these two teams do you think will win the Championships?
Although it was close, a slightly larger proportion of participants predicted that Spain would walk off with the trophy, and Germany would finish as the runner-up.
Those who thought Spain would be the ultimate winner cited the team's technical ability, tournament experience and confidence as reasons why.
Participants who said Germany would be the Euro 2012 victor said the team's youthfulness and superior organisation would enable it to triumph over Spain.
Q: Are there any teams you think will do better than people expect them to, despite being the underdogs of the competition?
Of those who took part in the discussion, the largest proportion said that Russia would be underdog most likely to surprise football fans with a good performance.
The second highest proportion said England would exceed expectations.
And finally Croatia was the third most popular underdog team that participants predicted would do better than expected.
The winner of Euro 2012 will be...

"Although they are probably not as good as they were at the World Cup, I think that their experience and class will prevail. They have a core of excellent players who are used to playing with each other" Doug S Emsworth
"Because of the strength-in-depth of their squad; all seem to be highly skilled, technically able players who are in demand to play in all of the major leagues around Europe" Richard W, Nantwich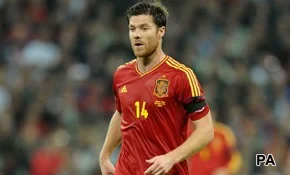 "They are a fantastic footballing side, with strength in depth in most positions in the squad (except maybe defence). Also, I think they may be a touch more versatile than Barcelona can be, and Del Bosque will mix it up if they are struggling" Andrew, London
"They have world class players who play in the best leagues in Europe. They are all technically very strong and they have great tournament experience" Anon
"Current world and European champions, strong Spanish league system and competition. Also, technically gifted players and a winning (and confident) mentality. … On paper the strongest team in the tournament. Most of their individual players would be first choice selections for other countries" Neil, Chichester
"Much more strength and depth than any other team; very little in the way of injury worries and the team are well used to playing together" Cat E, High Wycombe
"They have the best prepared team and several outstanding players. They also believe in their own ability to win and therefore have confidence. They have this ability in considerable depth, not just in their starting eleven" John B, Pompey
"Young team who have been gelling for a couple of years now. Dynamic and well organised. Nobody has ever successfully defended the Euros, so I think Spain will just fall short" Jim, Solihull
"They always play better in a big match where it matters. If it goes to penalties, they will win!" DFS, Guildford
"They have a squad which did well at the World up two years ago, and I feel that this squad would have learned from that experience and become a better team for it" Neil B, Cambridge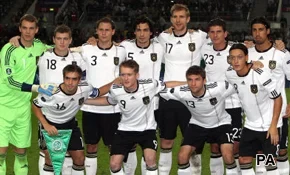 "Good mixture of youth and more experienced players. Good manager with good tactics, and good German winning mentality" Peter W, Watlington
"Many great young players, vibrant and play good football. Spain's players will probably be affected by fatigue" Anon
"Organisation, preparation, and it has been a long time since they did well, a situation that will not be tolerated. They are well balanced and seem to have few selection or injury problems" David U, Oxford
"They are a very well organised team, both physically and mentally and have the understanding of each other's strengths and weaknesses and play to them. They are defensively sound, majestic in midfield, and awesome in attack. It will be almost impossible to beat them" Angus N, London
Q: Who do you think will be the tournament's top goal scorer?
The highest proportion of participants thought that Dutch player Robin Van Persie, who is a striker for Arsenal and the Dutch national team, would be Euro 2012's top goal scorer.
The second largest proportion of those who took part in the discussion picked German striker Mario Gómez as the player most likely to be Euro 2012's top goal scorer.
And in a distant third place was Cristiano Ronaldo, who is the Captain of the Portuguese national team.
Q: How many goals do you think will be scored across the whole of the tournament?
75 was the number of goals that the largest proportion of participants predicted would be scored across the whole of the tournament, which runs from June 8th to July 1st. The last time the tournament was held, in 2008, 77 goals were scored in total.
If you had all guessed together as a group, the final prediction would have been 85 goals, which was the mean average guesstimate.
Q: How well or badly do you think the England football team will do in Euro 2012?
When it came to your predictions for how England would perform participants were split down the middle. Roughly half of you told us that England would do either very or fairly well, while the other half of you said England's football team would do either very or fairly badly.
Those who thought England would perform well said that Roy Hodgson's effective management and the low expectations the public had for the team would both work in England's favour.
Participants who said England would fare badly said the star players chosen by Roy Hodgson are too old, and the younger ones too inexperienced. Many of you also cited Wayne Rooney's suspension as a weakness for the team.
England's chances for Euro 2012?

"Everyone is making a great deal about the players that are missing, but the team will be playing without the huge pressure of expectation for the first time since, well, forever probably. A bit more freedom to be relaxed, Hodgson is a better manager than the press give him credit for - we won't win, but I doubt we'll tank like in South Africa" GM, Essex
"I think Roy Hodgson will have them well organised and hard to beat, which is good for tournament football, especially once you get into the knock-out stages. Moreover, and perhaps more importantly, I think expectations are much lower this time which I think will benefit England. In the past expectations have often been too high (often without justification) and this has put pressure on the players, who have then failed to perform to their best. I think England may surprise everyone by getting to the Semi-Finals" Anon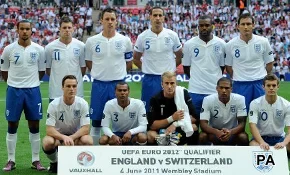 "There is no great over the top media expectation this time. Hodgson will have them well organised defensively and hard to beat. The lack of genuine attacking threats will stop them progressing in later stages" Patrick, Sheffield
"Lower expectations, so will play a more conservative game. The lack of stagnant players, like Lampard and Ferdinand is a positive, players like Jones, Kelly and Henderson are looking to step up and impress" Mike, Midlands
"Not enough time with a decent bloke in charge for a settled side and style to emerge, but his influence will make a reasonable performance happen. There is enough experience to avoid stupidly careless performances, but not enough togetherness to be a real team. The situation will improve when Hodgson gets rid of some of the old timers like Terry, and as he already has with Ferdinand" David U, Oxford
"There are very few world class players in the squad. Rooney has had a good season and is in good form but his suspension for the first two games is very unfortunate as we will struggle to score goals. … Hodgson is a good manager, but I don't believe our squad is talented enough to get out of the group" Anon
"They lack quality players. Lots of injuries and suspensions will make getting out of the group the best we can hope for. We look weak and without ideas unless Rooney has the ball. Terry is a divisive presence due to his discipline problems and upcoming court case. We have some promising young players but they are unproven at this level, and I think we will be well beaten against any of the big teams (France, Spain, Holland, Italy, Germany)" Anon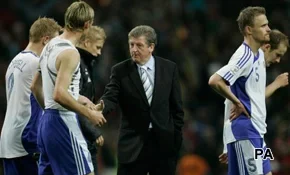 "Far better teams than England, who are a mix of has-beens and younger up-and-coming players. Dubious quality in attack, and should struggle to get out the first group" Anon
"Bad squad selection in the first place, especially the backup players who came in after injuries. Of all the players available Hodgson has picked a lot of the worst, including players that don't even play regularly for their teams" Anon
"They aren't very good, they have had injuries, and their only world class player is suspended for the first couple of matches" Stuart F, Wallasey
There are still three weeks to go until the final match of Euro 2012, and we want to hear more of your predictions and reflections as the tournament develops. Let's keep the discussion going!
Labs Method statement
YouGovLabs research is anecdotal, with polls being open to all panellists who wish to take part. In contrast to YouGov's Public Opinion polling, YouGov Labs seeks to get in touch with, and understand the attitudes of, specific subsets of people and their interests.
YouGovLabs results are unweighted, and figures reported do not reflect the attitudes of the population as a whole.


What are your predictions for Euro 2012?
Which teams and players will shine, and which will disappoint?