We ask football fans who will win the Premier League, who'll secure a Champions League spot, who will escape relegation...and who won't be so lucky
Ahead of this weekend's final round of fixtures in the Premier League, SportsLab's Premier League football fans have offered their predictions on how they see the season's key battles playing out this weekend.
Teams will be vying for the title, for a place in European football next season, as well as trying to avoid relegation.
The title race comes to a much-awaited end this weekend, as Manchester rivals City and United fight it out.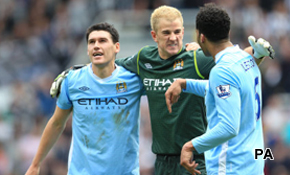 Amongst SportsLab respondents, Manchester City are the clear favourites to take the title, with 85% of respondents expecting them be victorious, with only 12% expecting Manchester United to take their 20th Premier League title.
Despite the two teams being level on points, the superior goal difference of Manchester City means that a win over QPR at the Etihad Stadium will almost certainly be enough to secure them the title.
For Manchester United, their only hope of retaining the title this year is to manage an away win against Sunderland and hope that Manchester City drop points.
However, SportsLab football fans are predicting wins for both sides in this pressure situation.
88% are backing Manchester City to beat QPR
75% expect Manchester United to get the victory they need over Sunderland.
This would leave both sides ending the season on 89 points, with Manchester City lifting the Premier League title on goal difference.
Another contest set to be resolved this weekend is the race to secure a place in next season's Champions League competition.
Arsenal, Tottenham and Newcastle are all in contention for the final two places in the competition via their League positions, whilst Chelsea may yet have an influence if they can win this season's Champions League.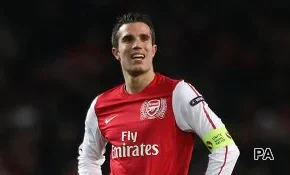 61% of SportsLab football fans expect Arsenal to win their game away against West Brom
71% expect Tottenham to win their home game against Fulham
Newcastle appear to have the most difficult game away to Everton, with 54% expecting this match to end in a draw
Arsenal and Tottenham are therefore expected to secure the final two Champions League positions with wins this weekend.
However, Chelsea's upcoming Champions League Final against Bayern Munich gives them an opportunity to change this, as a win would put them in next year's competition and remove 4th place in the Premier League.
SportsLab football fans do not expect this to happen though, with 65% predicting Bayern Munich will beat Chelsea and win the Champions League this season.
If QPR lose against City, as SportsLab fans predict, Bolton will still need to win their game to survive relegation.
While a Stoke win is the most probable outcome according to the Lab's Premier League fans, this is a tough-to-call match with a fifth of fans predicting a Bolton win.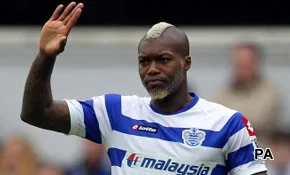 QPR and Bolton are the only teams who can finish in the final relegation spot following Wigan's Monday night survival win against Blackburn who were consequently relegated.
Mid table positions are also very dependent on final day fixtures. While Chelsea will finish sixth regardless, Liverpool, Everton and Fulham can all secure seventh place, but according to our fans Liverpool will clinch it.
40% of fans see them beating Swansea on the weekend
However 36% predict a draw in this match which would hand 7th place to Everton, or even Fulham if they can manage a win against Tottenham
Further down the table, any one of five teams can still take the final top half spot.
Sports Lab Premier League football fans predict final day wins for Stoke and Norwich, putting them on level points with West Brom, who they don't see beating Arsenal.
Because of their superior goal difference West Brom will most likely get 10th in this scenario.
Expected losses for Sunderland and Swansea, place them in thirteenth and fourteenth respectfully. While being guaranteed safety from relegation, the highest position Aston Villa and Wigan can hope for is fifteenth.
Following their phenomenal sprint to the finish, 74% of Premier League fans in YouGov's SportsLab predict a Wigan win against Wolves placing them just above Aston Villa, who are expected to lose against Norwich.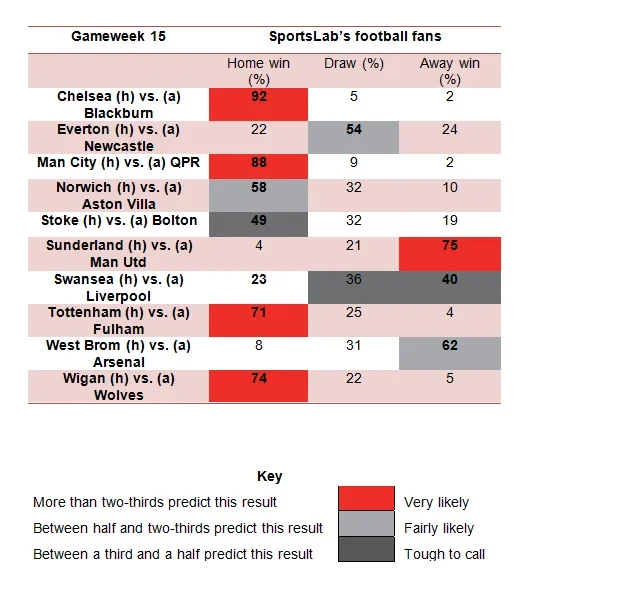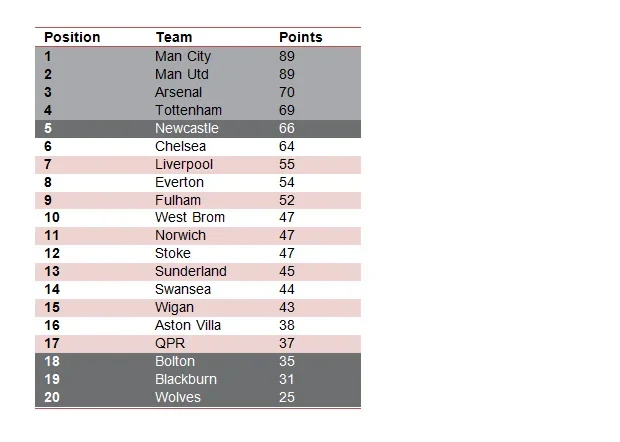 Please note that our predictions don't account for goal difference, so when calculating our virtual table we have assumed that all matches will either be won or lost 1-0 or drawn 0-0.
Labs Method statement
YouGovLabs research is anecdotal, with polls being open to all panellists who wish to take part. In contrast to YouGov's Public Opinion polling, YouGovLabs seeks to understand the attitudes of specific subsets of people: sports fans tell us how they feel about sports and music fans tell us how they feel about music, for example.
YouGovLabs results are unweighted, and figures reported do not reflect the attitudes of the population as a whole.