Is sport really a man's world? It seems it mostly is
Which Brits are addicted to watching sport on the TV? YouGov Profiles lets us explore and compare which adults tune in to competitive sport with those who don't.
Looking first to the demographics, YouGov Profiles reveals that 75% of Brits who said that they watch sport for any reason are male, compared to only 25% of sports watchers who are female.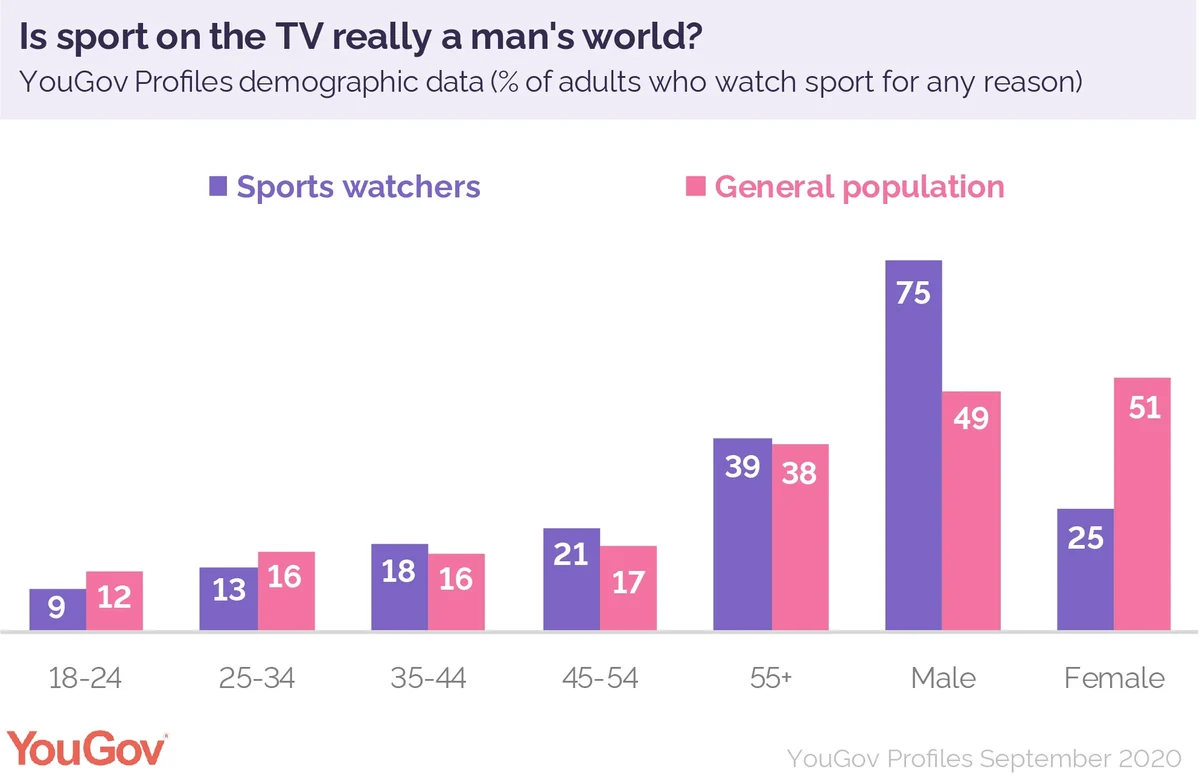 Despite this wide gender difference, sports fans are fairly well distributed across the generations. Sports watchers are slightly more likely than the general population to be middle aged, with 21% aged 45 to 54, compared to 17% of the general population.
Over a third (39%) of sports watchers are aged over 55, making them the largest group, compared to just 38% of the general population who are also aged over 55.
What sports gets the most attention? The most popular game for sports-watchers in Britain is football, chosen by 83% of viewers (who are undoubtedly enjoying the return of top-flight football). The second most popular sport is golf (46%) followed by cricket (41%).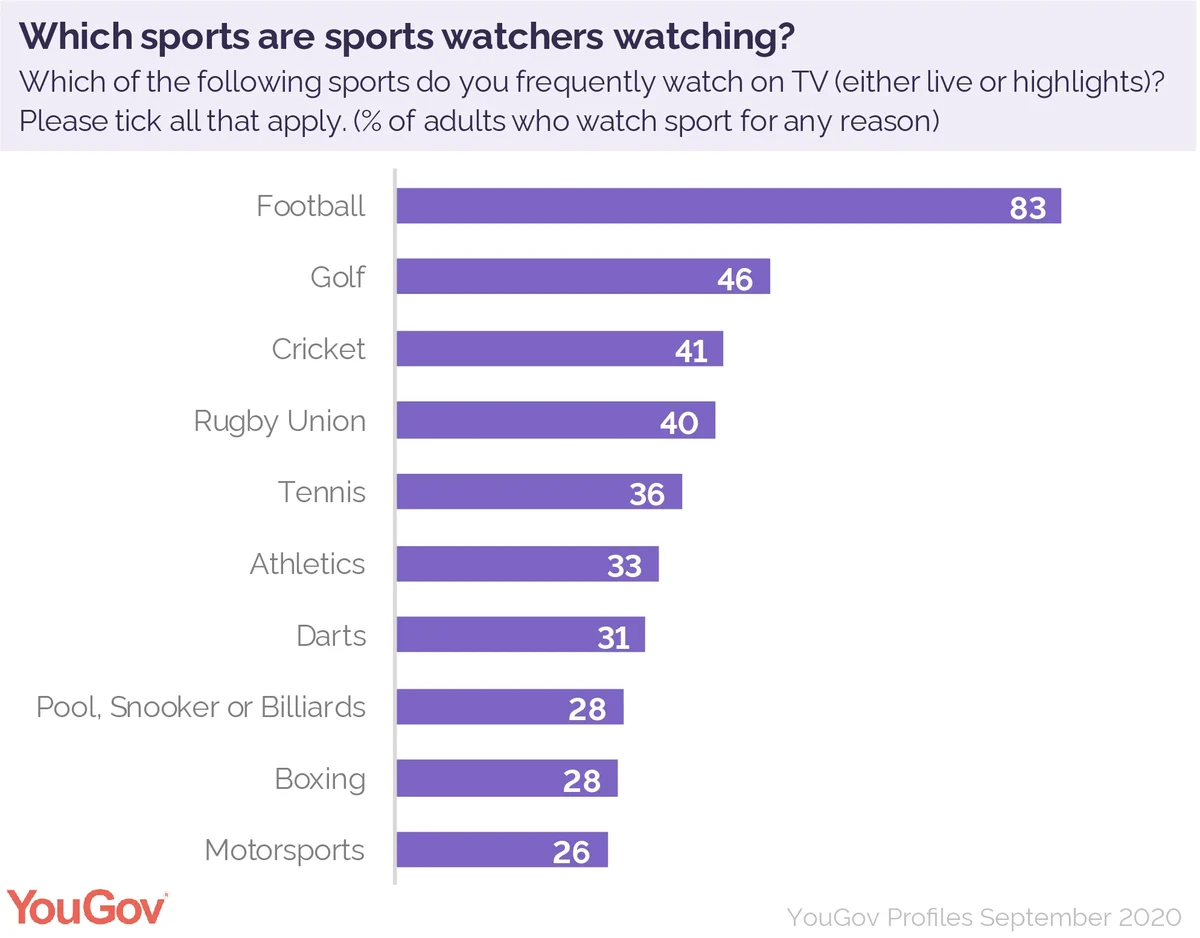 Rugby union (40%) and tennis are also popular with Britons, as is athletics (33%). Three in ten tune in for the darts (31%), and around a quarter (26%) also enjoy motorsport.
What aspect of sport keeps these Brits interested? The thrill of that last lap at Monaco, the extra time goal at Stamford Bridge, that crucial last wicket at Lords? Sports watchers are nearly tied, with 62% tuning in for the entertainment and 60% saying it's all about the competition.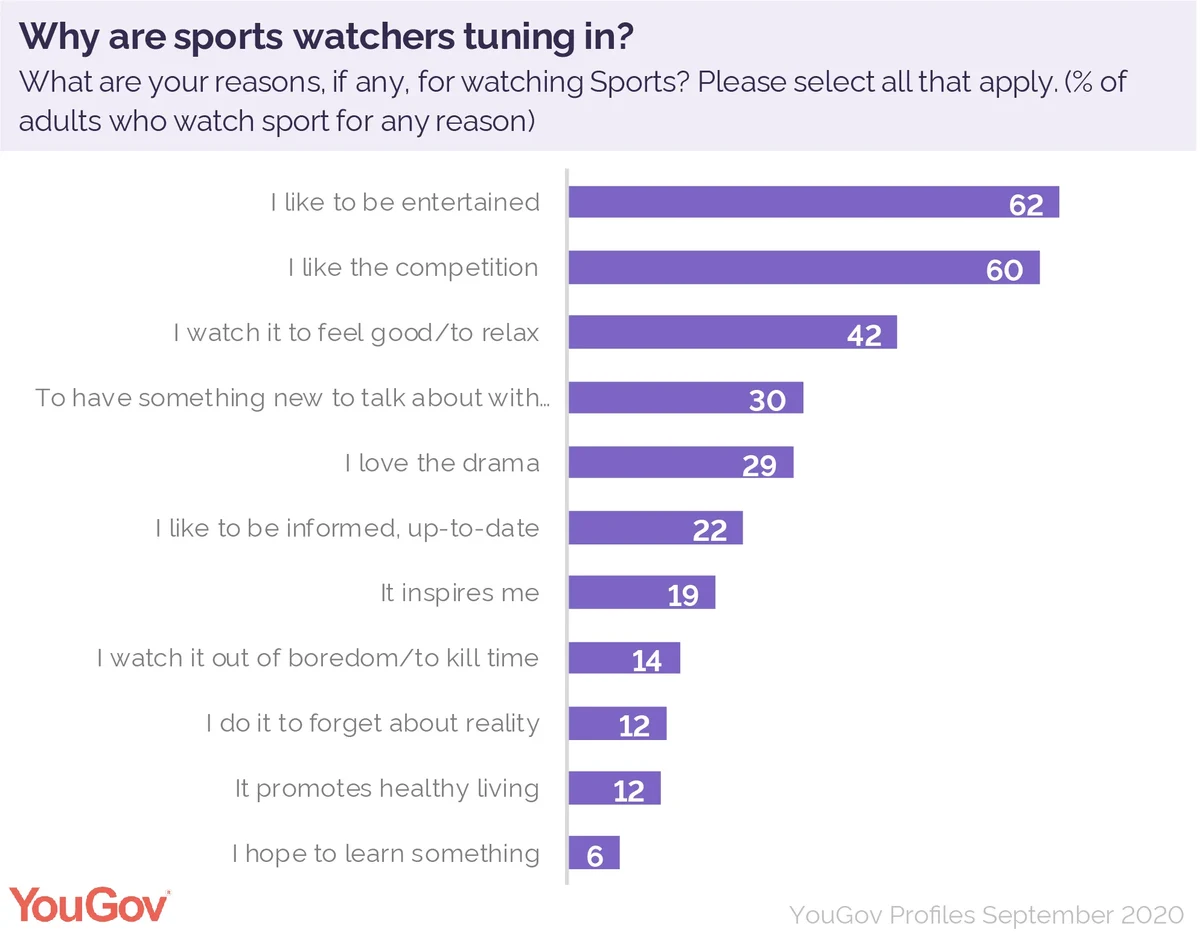 Another 42% say they watch sports to relax, while 30% watch sports so they have something to talk about. Around three in ten (29%) say they tune in for the drama of the game, while 22% are interested in being up to date with the latest sporting developments.
One in eight viewers (12%) tune in to zone out of reality, and the same amount say they do so because sport promotes a healthy lifestyle.
Learn more about YouGov Profiles here